New for 2018 Vacheron Constantin updates the ever popular Overseas range of watches, however, it has done the opposite of what most watchmakers do. That is, it has released a black dial collection after issuing a new watch. You may not have noticed, but there weren't any black dial watches before in the newly redesigned Overseas. It was a strange move, especially considering that there has been a black version of the Overseas for quite some time now.
Why is this important for Vacheron Constantin? Well, it's actually not, I mean, if you think about it it makes little difference to the watch, the movement inside hasn't changed, there's no brand new anything in it, other than the dial obviously. Yet, there is a very good reason why this is quite important for the brand, they are wearable. I know that sounds weird, given that you can put any of their watches on your wrist and it'll probably sit quite well. What I mean is black dial watches are wearable functionally, they are the all-in-one that anyone can wear anywhere, at any time, for any occasion.
Gone are the traditional ways of dressing, you can get away with wearing a Submariner with a black tie if you really wanted to. The key to that is to be subtle yet obvious when being observed, that is, the watch must be easily identifiable if you are looking at it on purpose, but someone who hasn't spotted it from half a mile away should see it as nothing more than a watch one might buy from a guy with a suspiciously long coat. The problem with blue or green, though attractive as they are (I wore the blue version of the three-hander for a bit not three days ago) is that they aren't going anywhere. When you add in colours to dials you get bogged down in colour matching the rest of your attire. Black is neutral, and therefore, wearable.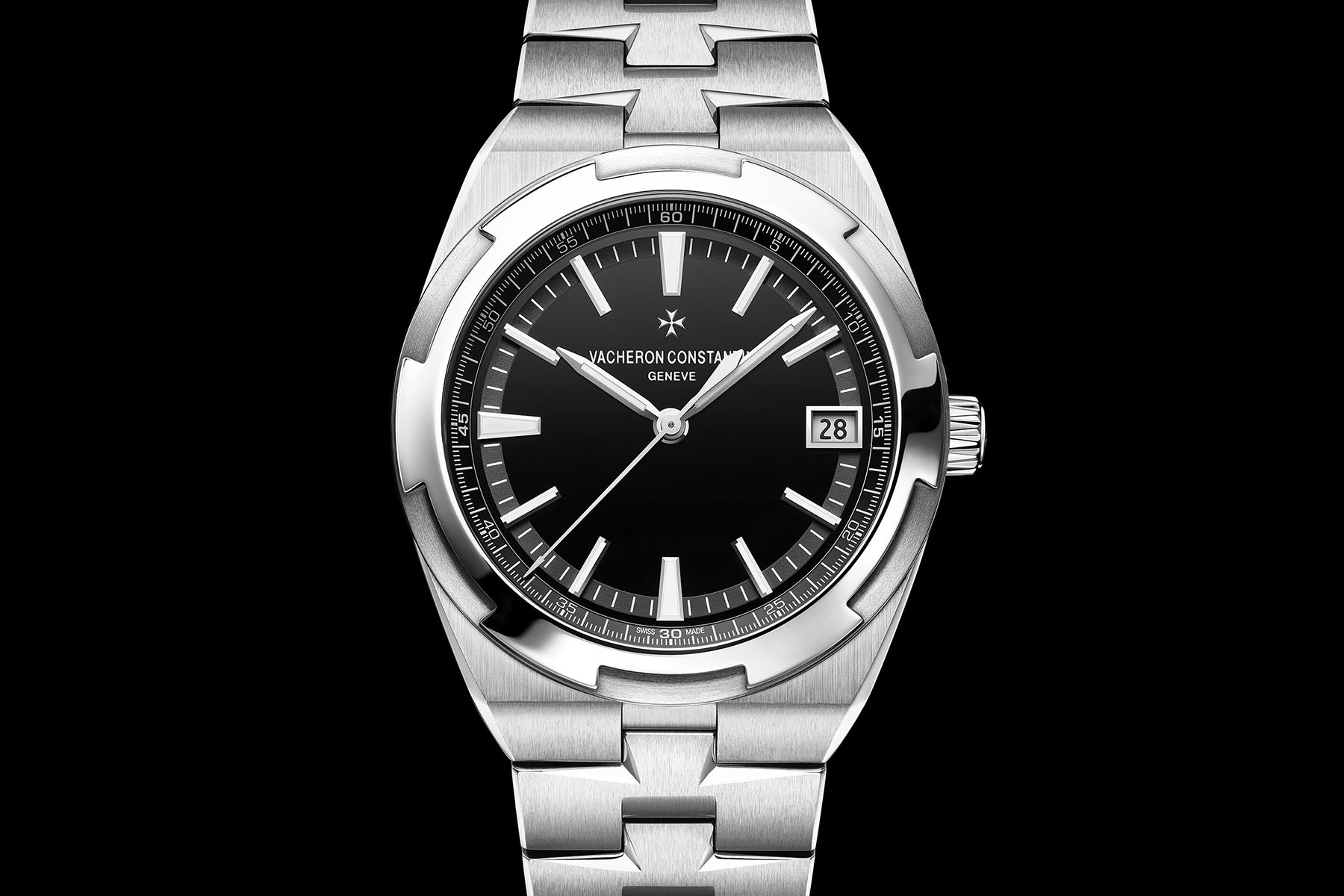 There are two versions of the black dial Overseas coming in. The first is the three-handed self-winding ref 4500 model. With a 41mm stainless steel case and a svelte 11mm thick movement, this watch is a little too small for my wrist, but nonetheless a very attractive piece in person. There's something to be said for the quality of lacquer on the dial, it's not actually ceramic, but it's polished so well that it looks very similar to it. Just like the existing variants, this watch features Vacheron's super awesome quick change system for the strap, which is the best system of its type this side of those found on Hublot watches, which are only better because of the larger and more obvious button. That means you can 'dress' this watch up with a rubber strap, a leather strap (both of which come in a wide variety of colours) and an excellent stainless steel bracelet.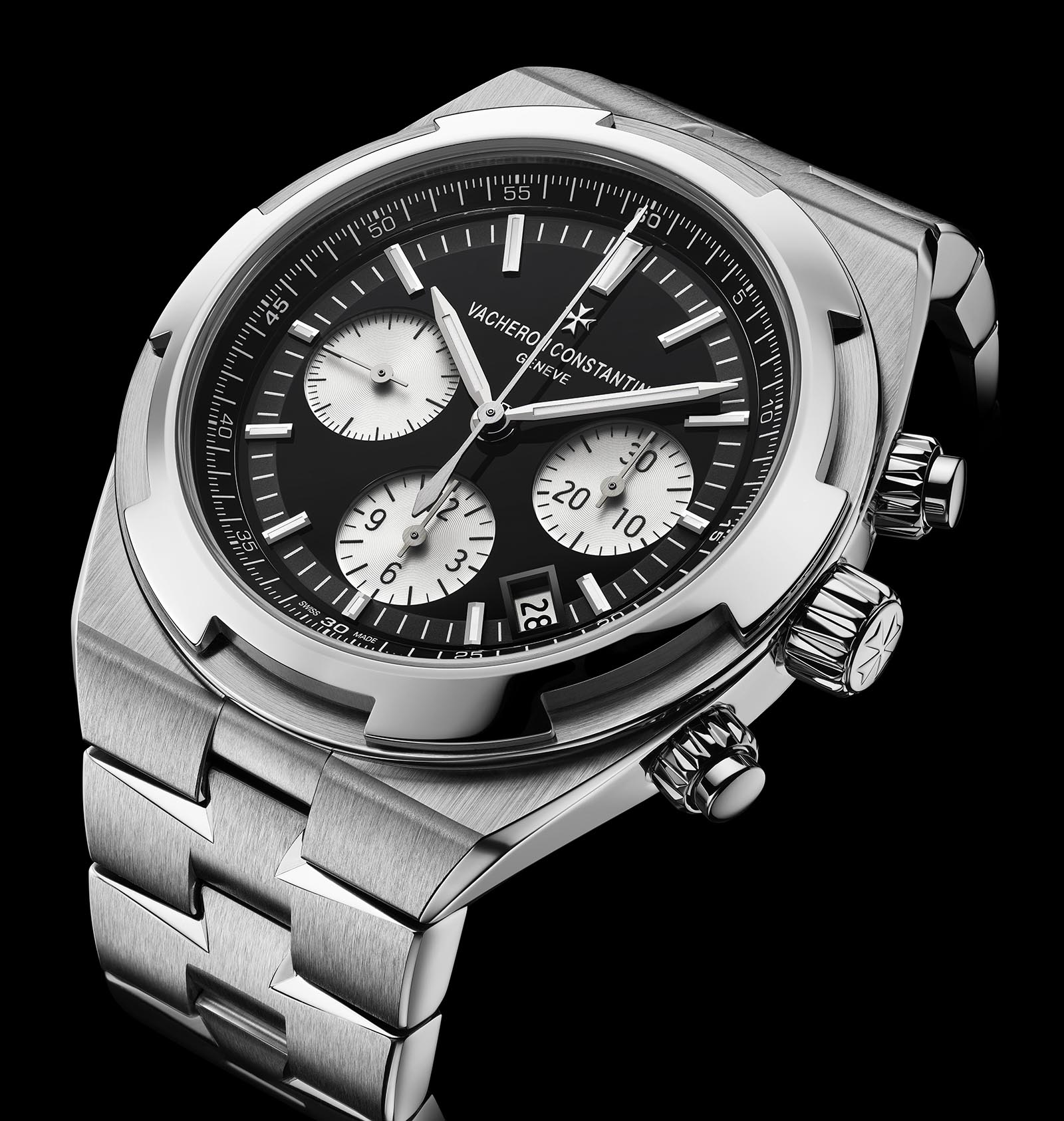 The chronograph ref 5500 version features all the doodads that the 4500 does, plus more on the inside. Of course, there's the bracelet which is solid, heavy and has a very high quality feel to it. Seriously, these are very well made, I'd even consider them to feel better than that which you'd find on a Nautilus. Also, inside the case around the movement is a soft iron band which helps to keep these watches resistant to magnetism. You may remember the last iteration of the Overseas had a closed caseback with a ship on it, that was because the movement had a soft iron shell acting as a Faraday cage and preventing magnetism taking effect on the watch. This has a band going around the movement, which allows it to be gazed upon through the sapphire crystal caseback. I have to say, the Geneva Seal calibre 5200 looks excellent, my favourite touch being the Maltese Cross (Vacheron's logo) on top of the column wheel, which looks so cool when compared to, say, Patek Philippe and Lange.
The case of the chronograph houses a bigger movement, so naturally, the case itself is bigger too, this time it's 42.5mm in diameter. This is the medium size for the gents Overseas collection, the world time watch is a millimeter bigger (and is the most comfortable for my wrist), but this is still a healthy size. I haven't made as much of a fuss about the reverse panda dial covering as others have. Being completely honest, it's not my style, and I feel that it doesn't look enthralling to me. Of course, there is a thing for panda dials and reverse pandas, but in this case, I feel a black on black dial might look a little sweeter in the metal.
Still, it's a very pretty, and very expensive watch. It's $30,300 if you want a chronograph, or $20,900 if you have it without. Is Vacheron Constantin finally catching up with Patek Philippe and Audemars Piguet, or are they destined to be playing the quiet third man forever? What do you think? For more info, visit Vacheron Constantin online.