Today we have some exciting news from the one and only MB&F, a brand that is known for making some of the most complex and visually stunning watches. For Only watch 2021, MB&F has just unveiled the HM10 'Panda', a watch inspired by the loving and adorable animal species, Panda.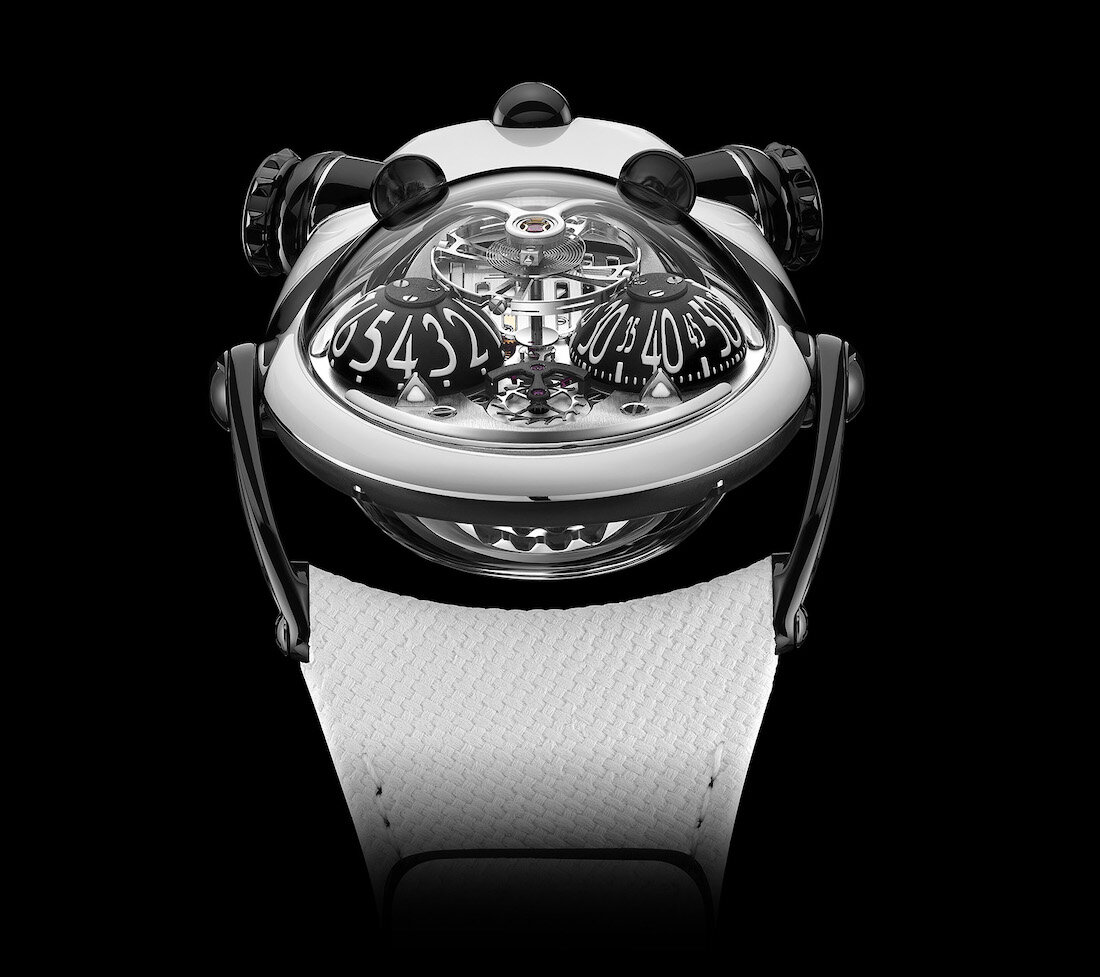 The 'Panda' theme is quite popular in the world of horology and immediately brings to mind chronograph watches with two black sub-registers placed on top of a black dial. And while the attractive white/black theme remains the same, the implementation on the HM10 Panda is as expected one of its kind. Based on the HM10 aka Bulldog, the HM10 Panda, the curvaceous stainless-steel case of the watch has been painted white for the most part just like the body of a Panda. The grade 5 titanium hands and legs of the HM10 'Panda' have been represented by the black curved elongated lugs and the twin crown setup at the back. Furthermore, to keep the theme authentic the watch two cute ears have been placed on top of the case. The two domed hour and minute black displays with white text resemble the eyes of the panda. And finally, my favorite detail on this watch is the uniquely shaped power reserve indicator that represents the teeth of a Panda.
Mechanically the HM10 'Panda' is identical to the original HM10. The technical tour de force behind this watch is a manually wound in-house movement that comprises 301 components and 34 jewels. The movement operates at a frequency of 2.5Hz and offers a power reserve of around 45 hours using a single barrel. Technical specifications aside it is the distinctive and visually arresting architecture of this movement that makes it special. The centerpiece is the suspended balance wheel that oscillates above the domed hour and minute discs underneath the dramatically domed sapphire crystal supported by a specially designed bridge.
The new MB&F HM10 'Panda' is accompanied by a hand sticker black and white strap with one side in black and the other in white. The watch would be auctioned at the 9th edition of the Only Watch charity event slated to be held on 6th November 2021. The watch has been estimated to fetch between CHF 10,000 and CHF 15,000, and the funds raised would be used towards the noble cause of supporting research on Muscular Dystrophy.
Visit Only Watch here.