It's easy to forget that most people don't give two hoots about the fine details of a mechanical wristwatch. I don't blame them. I have friends who are very interested in airplanes & buses and such, and my eyes glaze over when they excitedly tell me about the differences between the various Volvo Olympians, just like theirs do when I talk about watches. Remember that the average person probably knows of three particular makers of luxury watches: Rolex, Omega and Breitling. The last of those three is the one we'll be focusing on today, as we take a look at our Top 5 watches from this historied company.
5 – Emergency Ref. E7632522/BC02/159E
The world's first wristwatch to come with an automated distress beacon, the Emergency is designed for adventurers, navigators and people who like to imagine they're either of those two. First released in 1995, the Emergency's defining feature is a pair of antennae in the case which, when deployed, send out a dual-frequency distress beacon for 24-hours. If you're a fan of Top Gear, you'll have seen it used in episode 6 of series 22, where Richard Hammond is marooned on a mountain in Canada. While the program displayed a humorous rescue effort, a real activation contacts real rescue authorities, who will be really pissed if you misuse it. And the fine for calling them out wrongly is enormous, and so is the bill for resetting the beacon. This is about as useful as a watch can be.
4 – Avenger Chronograph 43 Ref. A13385101B1A1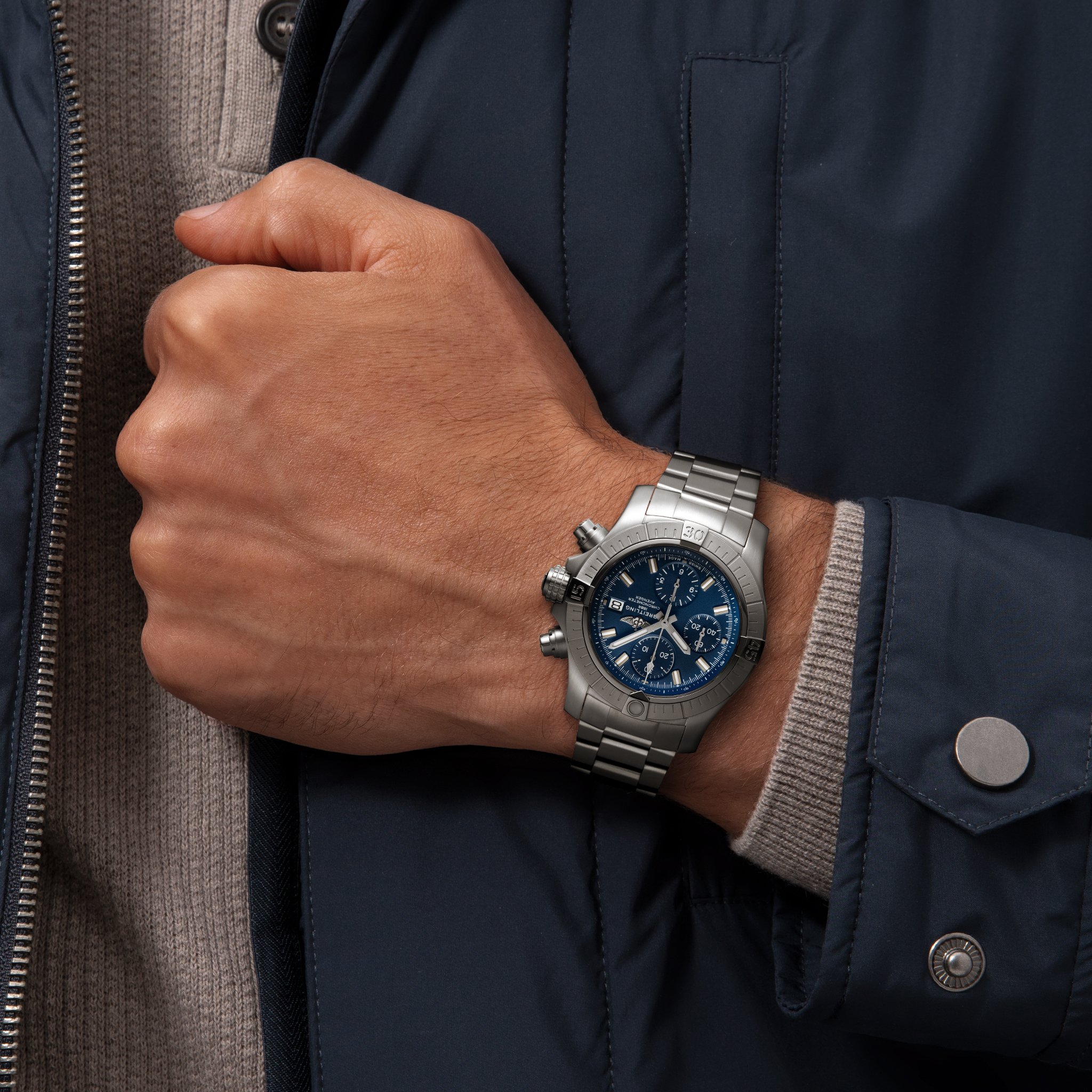 This is the only instance on this list where we haven't chosen a specific reference because, well, the Avenger is such an iconic watch of today that there are very few wrong turns to be made. It came along in 2001 with a grippy bezel, chunky case and legible dial. Most of the chronograph models use a Valjoux or ETA calibre within them, making them reliable workhorses. It's a design built on countless times over the years in models such as the Super Avenger, Avenger GMT and Avenger Blackbird. These can be picked up at a reasonable price on the pre-owned market, but don't be afraid to check out the current lineup from Breitling, and they're doing some cool work with white dials on the Avenger at the moment.
3 – Superocean Heritage B20 Automatic 42 Ref. AB2010121B1A1
The Superocean Heritage is easily the best-looking diving watch Breitling currently makes (in my opinion), not that Breitling makes a lot of them as they're really more of a pilot's watchmaker. This handsome 42mm diver comes on a luxurious Milanese loop bracelet (one that'll put Apple Watch owners to shame) while combining classic touches such as the triangular hands. It would easily be a great daily wear with an automatic movement and a date, plus 200m of water resistance, making it more than enough. The high polish case will catch scratches, but sporty watches like this are made to be worn. There is a 46mm version of this watch available too, but I'd steer clear of it. An Omega Seamaster Planet Ocean offers a lot more bang for your buck at those dimensions.
2 – Super Chronomat B01 44 Ref. AB0136161C1S1
The Chronomat was reworked in 2020 with a brand new look complete with a historically-inspired rouleaux (roller) bracelet. Earlier this year, Breitling introduced the Super Chronomat (Breitling's usage of the word 'super' indicates when a watch is bigger, generally speaking), which came in a few different colour and complication combinations. My favourite is the reference AB0136161C1S1 with its 44mm diameter stainless steel case and stepped blue ceramic bezel. It also has an in-house movement with column wheel and vertical clutch, a rarity and relative bargain at the $8500 starting price. The design of the first Chronomat was geared towards hotshot flyboys in the 1980s, but this new one carries itself with renewed vigour. It's one of the most handsome watches in the current range.
1 – Navitimer Ref. AB012012/BB01
The particular Navitimer model I chose is a slightly older version of the current generation watch. I like the applied gold winged Breitling badge more than the current ones, which have a simple (and more historically accurate) 'B' logo. The Navitimer is the classic pilot's watch with a slide rule bezel allowing you to perform numerous calculations without the need for a calculator. There's also a chronograph and a date function, which makes the whole thing a little confusing to read, but it looks very balanced with black, white and red in all the right places. On the fully polished bracelet, these watches look especially stunning and catch the light beautifully. This version has the same B01 calibre as the Super Chronomat above, so it also has a column-wheel and vertical clutch. However, the movement is not visible in the Navitimer as it has a conversion scale on the back instead.
That's the end of our list. What are your Top 5 Breitling watches? Let us know in the comments section below!