The French designer Alain Silberstein has another surprise for the horology fans looking for avant-garde ideas on watch designs. Well, sort of because the MB&F LM1 Silberstein is just a refreshed model inspired by the original LM1. To the less informed Silberstein's namesake company went bankrupt in 2012 hence the collaboration between the French designer and the MB&F. On the plus side, the new MB&F LM1 Silberstein looks almost the same as the original LM1 which is totally a pure Silberstein design that is if you really want his subtle taste for timepiece perfection.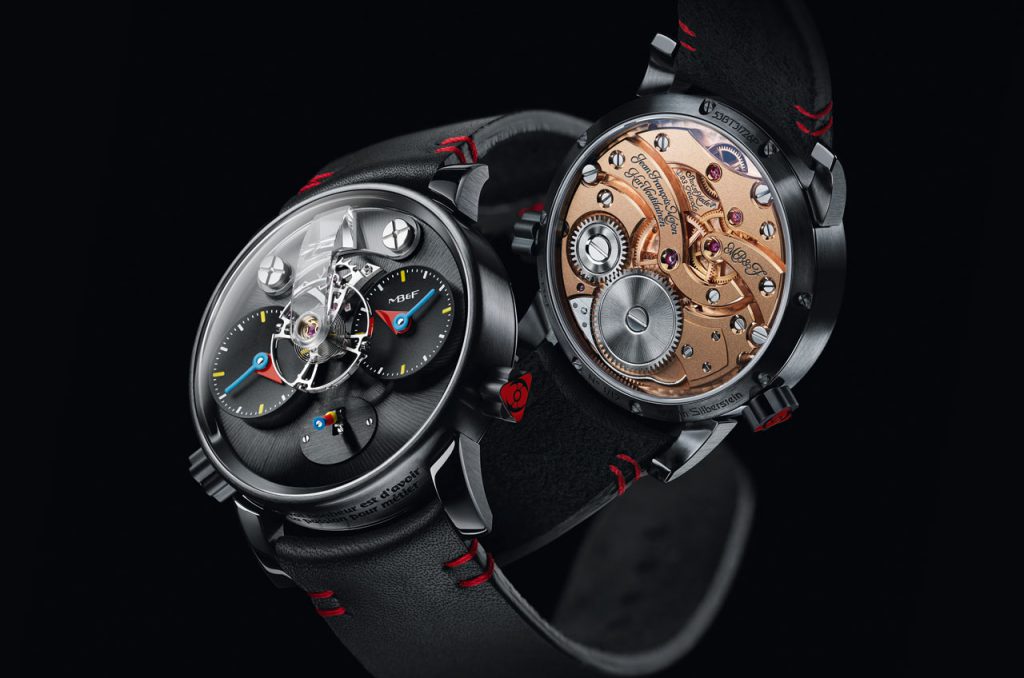 The MB&F LM1 Silberstein comes in three versions with each limited to 13 pieces making its rarity supreme at 39 pieces. There is the red gold, the titanium, and the black-coated titanium, and they're just lovely considering the expected price of USD 80,000 for the titanium variants and USD 89,000 for the red gold. So what do we really have here? Of course, it's a Silberstein.
As mentioned above that we are dealing with a refreshed model, the case of the new LM1 sports the same specs. The 42.5 mm wide × 17 mm high case also comes with a unique engraving on the case band just between the lugs and it reads, "Le vrai bonheur est d'avoir sa passion pour métier" which when translated to English means "True happiness is having one's passion for a profession." This quote is from Gustave Flaubert which really matters a lot for sophisticated wearers. Being an avant-garde design way back in its time, the new LM1 sports two crowns for setting the time of the two dials located opposite each other just beside the lugs at the traditional 6 o'clock.
Moreover, there is no bezel but a straight sided case. They also have distinctive six-pointed edges like a star which is formed by overlapping two triangles. I don't know about you but this makes for a lovely feel with style.
The dial is of course truly unique since it displays completely independent time zones. This makes time reading a lot easier plus it cleans the clutter too that is if you believe that one doesn't need to look at multiple time zones in one setting anyway. This is made possible by the Legacy Machine N. 1 that allows both hours and minutes of each dial to be set to the time the user wants. Silberstein's signature colors are touted on the watch face too. His three primary colours are found on the subdials with red for the hour hand, blue for the minutes, and yellow for the index markers. Together with the convex sapphire crystal dome and balance bridge the LM1 is truly a Silberstein creation.
The LM1 sports a unique three-dimensional movement featuring 14 mm balance wheel beating at 18,000 VPH. Yes, this movement is German Bauhaus movement inspired. It is artistic and full of detailed elegant touches which can be seen through the exhibition caseback of the LM1. Even though this movement is identical to the original ordinary LM1, it comes decorated with frosted finish instead of the usual Cotes de Geneve. Of course, it comes with a lovely leather strap too. For more info, please visit mbandf.com