You know I love the imagination of the independent watch brand. MB&F is surely one of the finest examples. Each piece is conceived as a work of art.
For some purists, it may be noted that their designs are too quirky, or even that they don't look like watches. This is where we are wrong. The creativity of the team managed to take what there is best in haute horlogerie, and mix it with a unique contemporary design, quite original, and a little crazy of course.
Wild, extreme, outrageous, unrestrained: might be used to describe MB&F's futuristic Horological Machines, but traditional and classical too at the image of the "Legacy Machine" collection. A 44mm traditional wristwatch, but still with trademark MB&F three dimensional characteristics. I must admit that this is my favourite MB&F.
A small tour around the LM1. How can we reinterpret traditional watchmaking as an object of contemporary art?
The first thing we see is of course the monumental central balance, which boasts a diameter of 14mm. It's clearly been well studied from every angle possible because it doesn't prevent reading of the two time zones, completely independent one of each other. These are controlled by the same regulator (balance and escapement).
Secondly, it's the innovation of the power reserve indicator, which is vertical and placed at 6 o'clock. How does it work? To be concise; when the lever is completely raised the capacity is full and when the lever is down the capacity is empty. The 3D character of this indicator is really clever.
All set in a round case makes it look very refined and harks back to the more traditional watchmaking industry.
The magic of the dial is topped only by a sapphire crystal dome which gives a very interesting volume to the watch itself.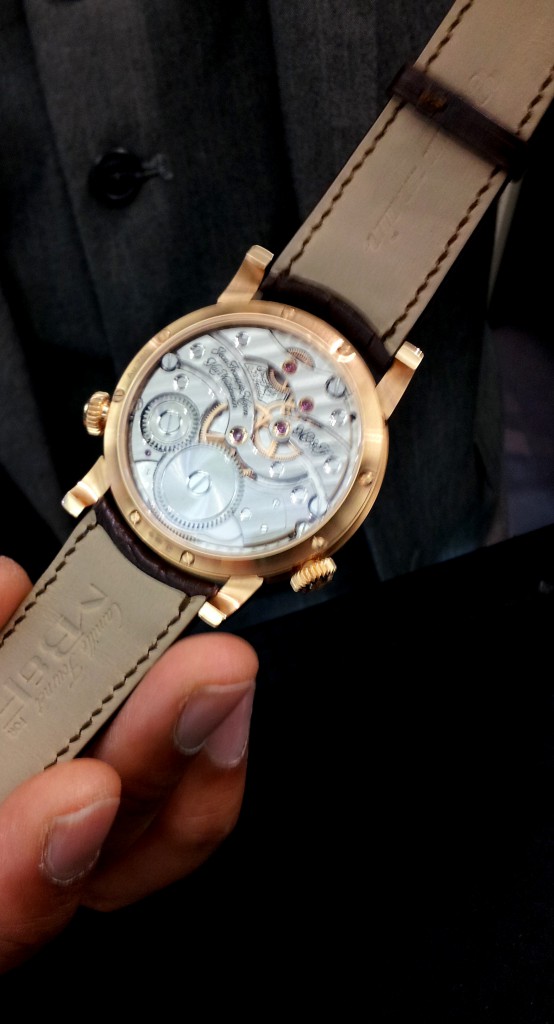 Finally, the LM1 was born in 2011 and the LM2 in 2013 Then it was the LM1 Xia Hang and this year was the launching year of the LM101.
The question is what could they add next? A good question for sure. Why isn't there a date yet? Or the downright madness a perpetual calendar or a minute repeater maybe? I don't think this is the philosophy of the line, but it could be interesting to see how the MB&F team could add these complications.
A sports version? It's true that the LM1 can be beautifully worn with a shirt in the evening, or a little sweater for the "cool" side during day. But I can't imagine it on my wrist to play golf. So a carbon version, or maybe a full black PVD coating with a rubber or kevlar strap. Now another question, could the balance wheel survive the shocks during your workout? It's unlikely.
Well anything is possible with the MB&F Team.  We'll just have to wait and see…
For more info, please visit mbandf.com
Technical Details
Case
Available in 18k red gold or 18k white gold
Dimensions: 44mm wide x 16mm high
Number of components: 65
Engine
Three-dimensional horological movement developed 100% for MB&F by Chronode and created by Jean-François Mojon and Kari Voutilainen
Manual winding with single mainspring barrel
Power reserve: 45 hours
Balance wheel: bespoke 14mm balance wheel with four traditional regulating screws suspended above the movement and dial
Balance spring: traditional Breguet curve terminating in mobile stud holder
Balance frequency: 18,000bph/2.5Hz
Number of components: 279
Number of jewels: 23
Chatons: gold chatons with polished countersinks
Fine finishing: superlative hand finishing throughout respecting 19th century style; internal bevel angles highlighting hand craft; polished bevels; Geneva waves; hand-made engravings
Functions
Hours and minutes; completely independent dual time zones displayed on two dials; unique vertical power reserve
Left crown at 8 o'clock for setting time of left dial; right crown at 4 o'clock for setting time of right dial and winding
Sapphire crystals
High domed sapphire crystal on top with anti-reflective coating on both sides; sapphire crystal on back with anti-reflective coating on both sides
Strap & Buckle
Black or brown hand-stitched alligator strap with gold tang buckle to match case

Jonathan Kopp – Contributing Writer
Jonathan Kopp has an avid enthusiasm for timepieces of all genre, from vintage timepieces to modern Luxury Haute Horology. His preference goes to small and independent high-end watchmakers. He loves the difference rather than classicism, although if he admits to being in love with several ultra-classics pieces. Jonathan was caught by the passion for watchmaking there are almost 6 years. For about 5 years, he wanders in this industry and was Communication-Marketing-PR Consultant for several brands. He has worked for over 2 years as a freelance for the development of the Swiss brand Arthur Oskar Stampfli (AOSWatches). To keep in touch with Jonathan you can follow him on the various social networks:Instagram,Facebook and Twitter. Read his articles here.