Undoubtedly the watch design MB&F is most known for is the Legacy Machine, which is characterised by having its balance wheel suspended above the dial. No other watch brand does it quite like MB&F, and it's been a unique selling point for pretty much all of its existence. The sequel to the original Legacy Machine is the Legacy Machine No.2, and it continues the work of legendary horologists such as Ferdinand Berthoud and Abraham Louis Breguet in the field of dual balance wheel watches.
The LM2 is characterised by the dual balance wheels suspended over the dial. What do these do precisely? Well, they aim to reduce the timing errors of the watch. Connected via a planetary gear differential which is visible on the dial, the two balance wheels and their assemblies are mirror images of each other, meaning that when MB&F makes one assembly they must then make the other in reverse. The genii behind the LM2 are Kari Voutilainen and Jean-François Mojon of Chronode. Together, they developed the 3D movement architecture and the coupling system for MB&F.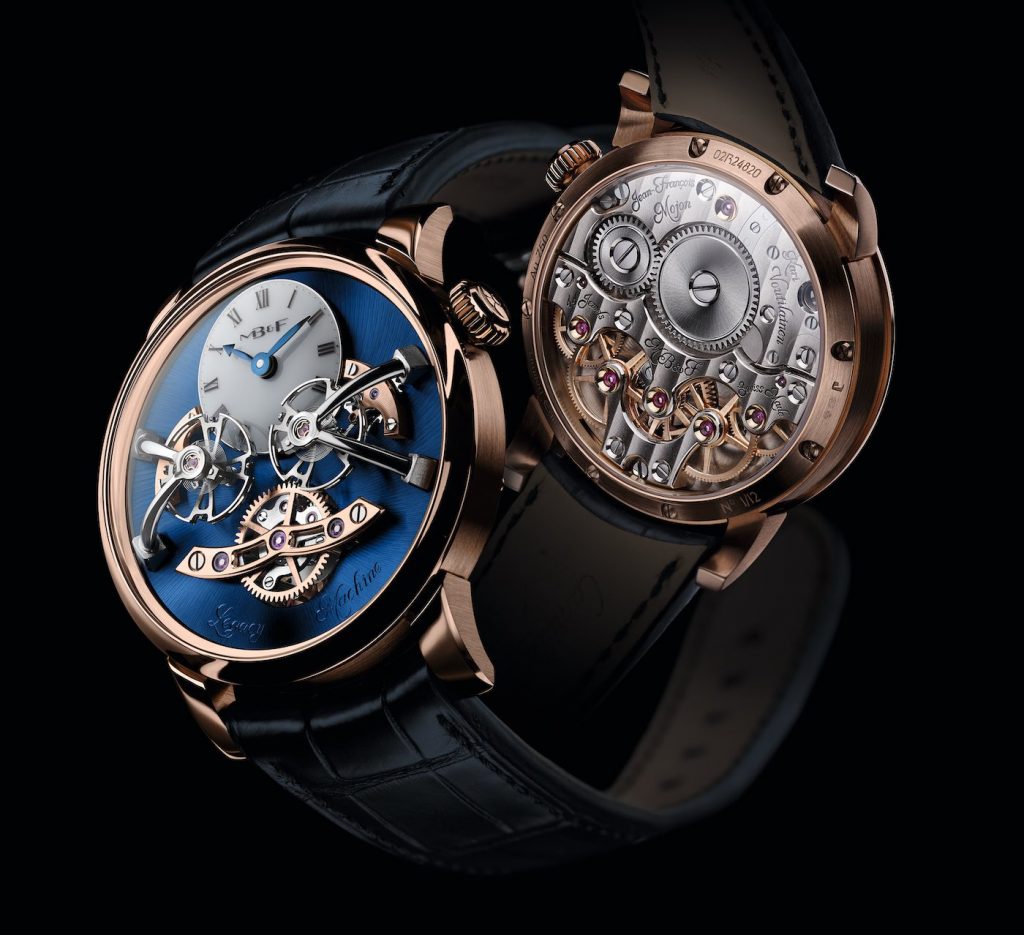 This particular version is quite a sad one, as it marks the last ever Legacy Machine to be made from 18K red gold, which was used on the first edition. The case is large, measuring 44mm by 19mm, and has a water resistance of just 30 meters. Underneath the sapphire crystal on the dial side sit the twin balance wheels and their exposed coupling system, and the hours and minutes are partially hidden underneath at the 12 o'clock position. The charismatic blue colour of the dial is achieved using a process called Chemical Vapour Deposition (CVD), and it has a light sunburst effect to help play with the light. Of course, the highly polished escapements do a grand job of that anyway, but a little more glitz never hurt anyone now did it?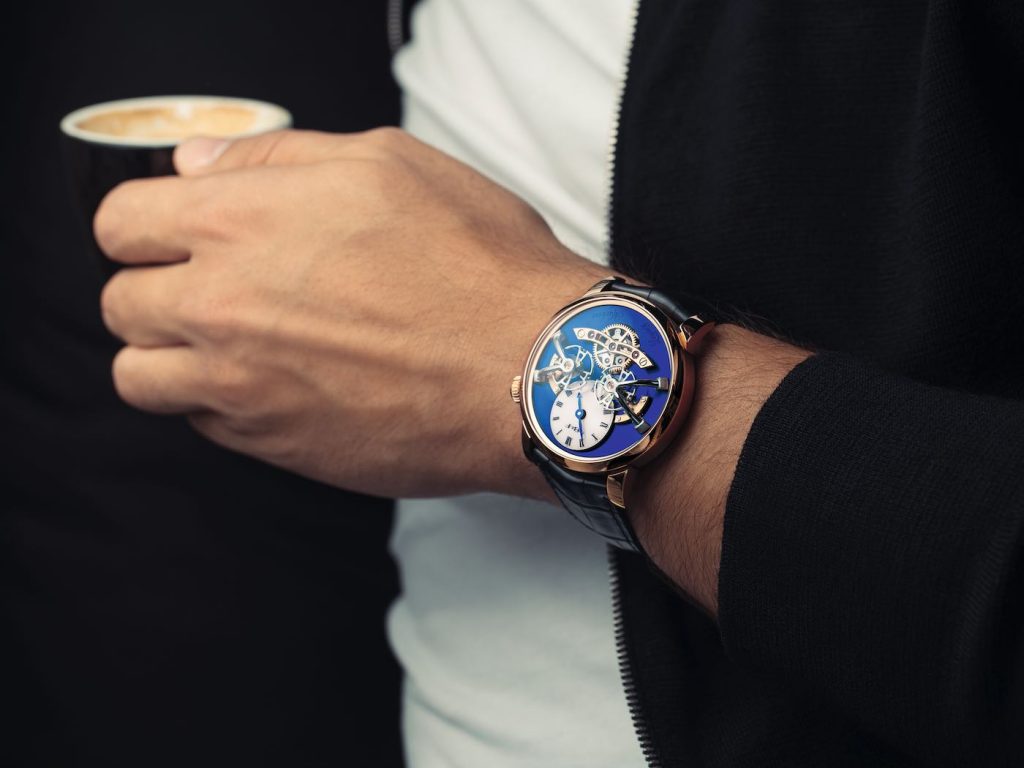 The movement is exposed around the back as well, though part of it is obscured by a highly decorated which undoubtedly holds the mainspring barrel underneath. All of the polishing and chamfering has been completed to a degree that would make even Philippe Dufour very happy indeed, as you'd expect from an MB&F wristwatch.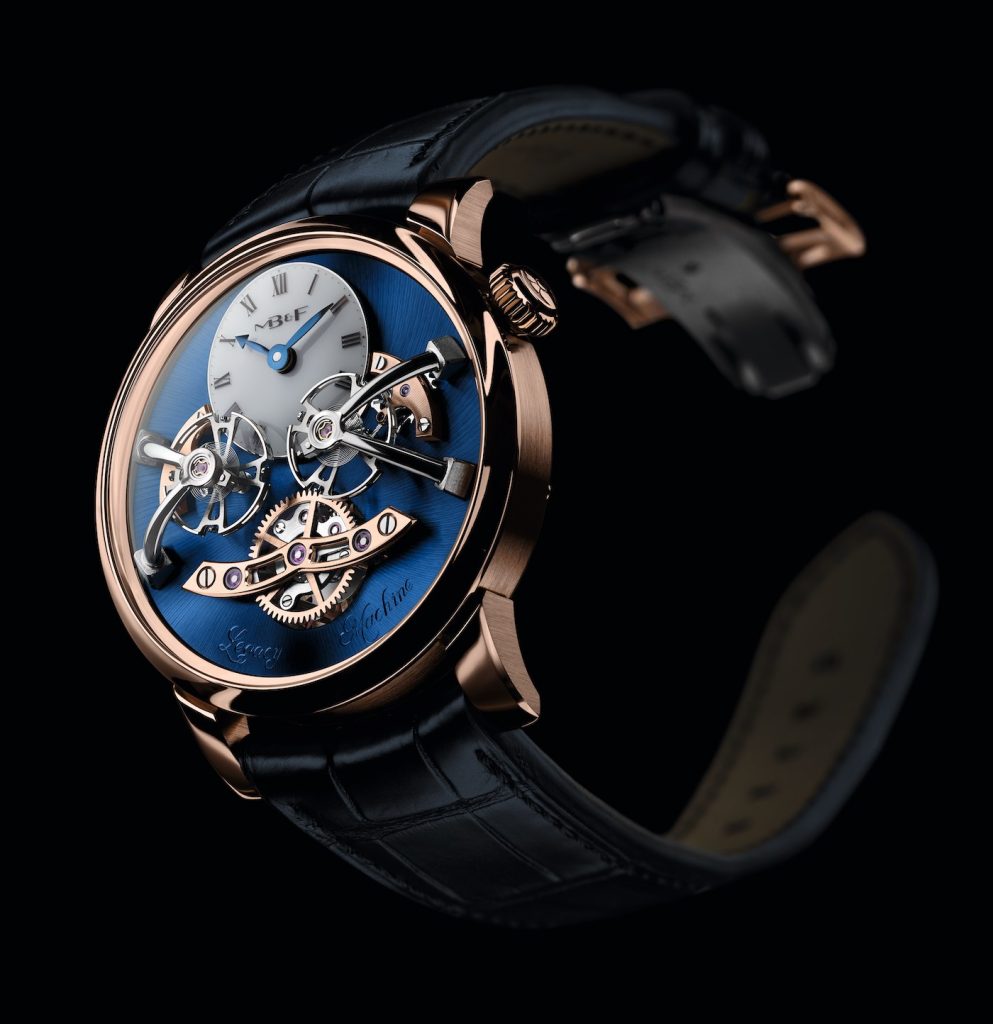 Of course, as you'd also expect, there's a high price to pay for this. The cost is $156,000, excluding taxes, and there will only be 12 ever made.
Visit MB&F here.