MB&F, I'm sure it's a maverick to some in the watch world, have released a limited edition of their Legacy machine piece in platinum with a stunning blue dial, when I was reading the press release before seeing pictures my thoughts straight away jumped to "it won't work, it'll ruin the aesthetics of the piece "but boy was I wrong. This really works and looks superb,the electric blue dial shows off the features of the piece with its large floating balance wheel in the middle of the dial held by a bridge that really jumps out at you when set against that brilliant blue background.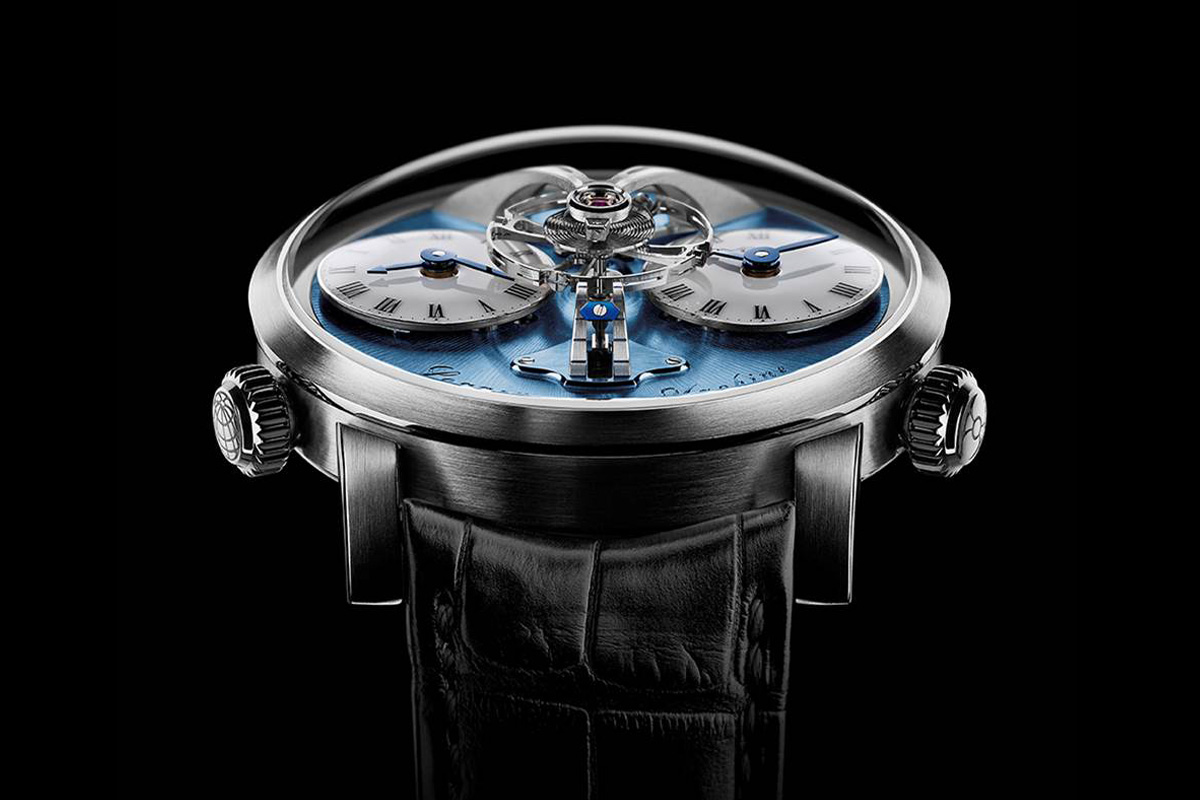 The twin time zone translucent dials seem to float with their own hint of old porcelain. Just below it the vertical power reserve indicator. At 44mm this is not a small watch but neither does it seem to wear large, much of this is down to the twin crowns set at 4 and 8 O'Clock. The height of the piece is a hefty 16mm but that is because the glass is domed to give the wearer a panoramic view of the balance wheel and vertical power reserve.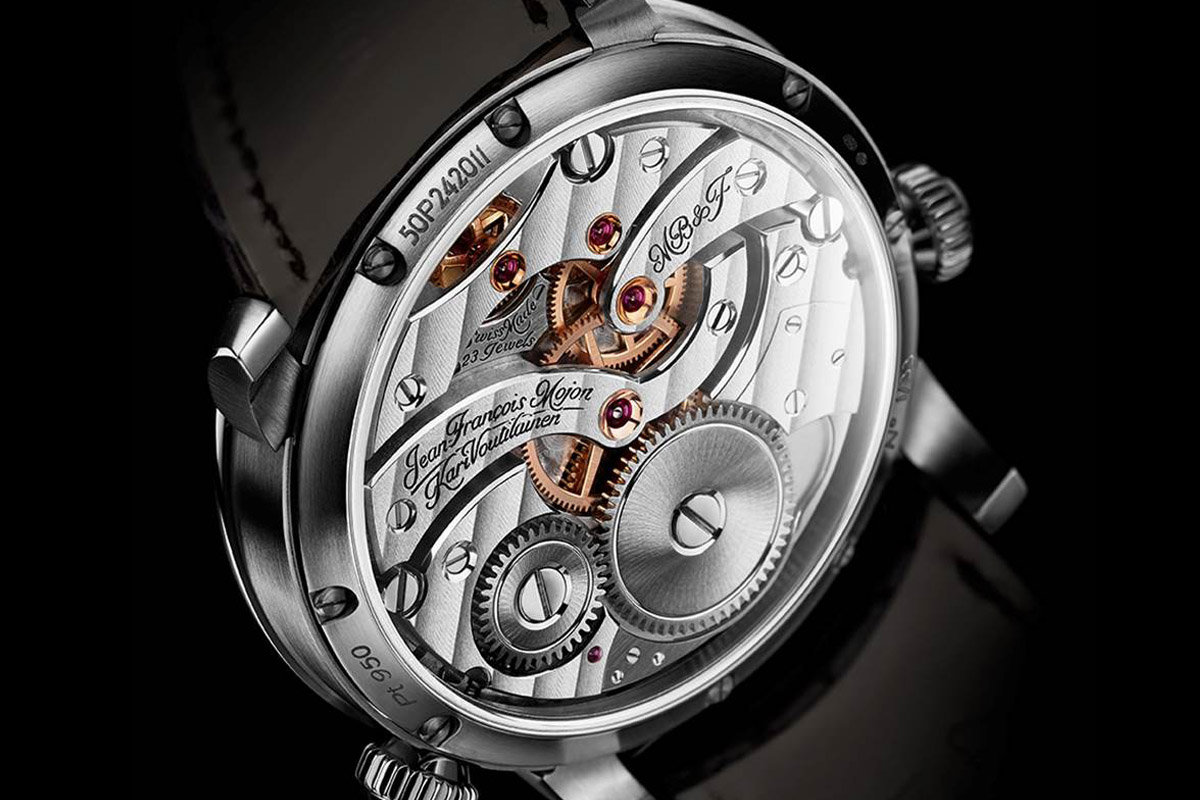 Turn the piece over and as soon as you peer through the exhibition case back you are greeted by a movement that has the look of an old pocket watch movement with a large barrel and hatch wheel. The finishing is of an extremely high standard and is all down to the genius that is Kari Voutilainen with large geneva stripes, hand carved names, logos and very large bevelled angles which are only possible by hand, all in all a truly stunning movement.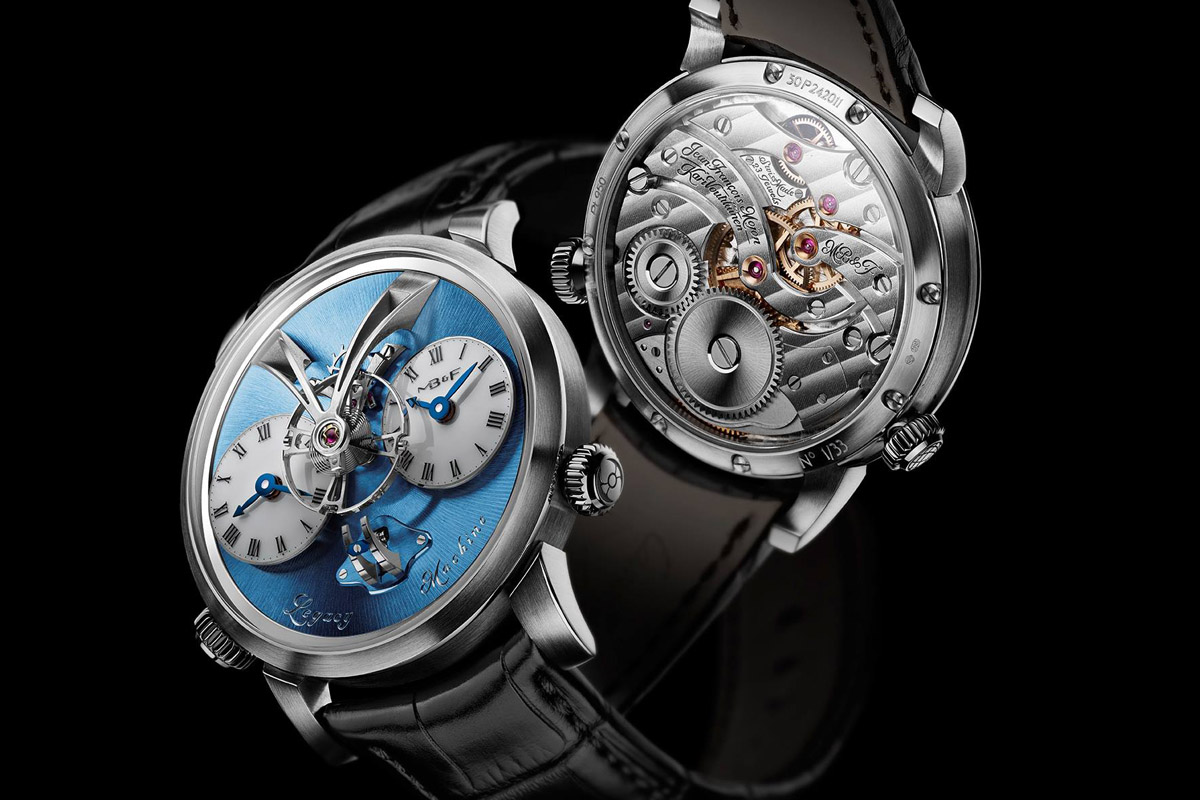 The MB&F LM1 Platinum blue dial is limited to 33 pieces and priced at 98,000EUR.
Conclusion
Personally I was very wary of this version until I saw the strange mix of years gone by and steampunk mixed with electric blue and platinum realy shouldn't work in a wrist watch BUT some how the combination does. With the magic that is MB&F they have created a truly beautiful piece and I for one would love to own one. For more info, please visit mbandf.com

John Galt – Contributing Editor
John Galt caught the horology bug 4 years ago on his first visit to a London watch show and has snowballed since; John has become an avid writer and blogger of timepieces of all kinds, from everyday timepieces to modern Luxury Haute Horology, his favorite brands being HYT and Greubel Forsey that push the bounders of modern watch-making. John keeps a keen interest in the UK watch scene with their many emerging brands and timepiece's. John Galt currently contributes watch related articles for online publications in the UK and USA. You can follow John on Twitter @johng73 Read his articles here.