Michael Phelps is part of a very elite group of people from all around the world. He has more Olympic medals under his swimming cap than anyone else, so as such he deserves a timepiece of distinction. It should be made clear now that Omega has been a sponsor of Michael Phelps for some time, but it's only now that they decide to work together and create a unique and exciting version of one of Omega's most popular lines (and my personal favourite too), the Seamaster Planet Ocean.
In this case, it's the chronograph model on the podium. For an athlete such as Michael Phelps it's all about intense training and preparing for the real thing, when you're on the centre stage of global television and every second counts, every heartbeat thumps in your ears and you know you just have to go for it. Although Michael himself is retired now, we bet he probably still loves to swim in his spare time and can make full use of his watch as well, all functions are usable under water. Yup, you got that right, apart from the diving bezel which you could use anyway, you can also operate the chronograph pushers and even open the helium valve whilst submerged with no adverse effects to the watch. This is not new for Omega either, all of their current diving Seamaster Chronograph watches have this ability (admittedly I do not know whether this is the case for the Aqua Terra line as well), Omega is one of only two companies that I can think of to do this, Blancpain does it too on a couple of their watches I seem to recall.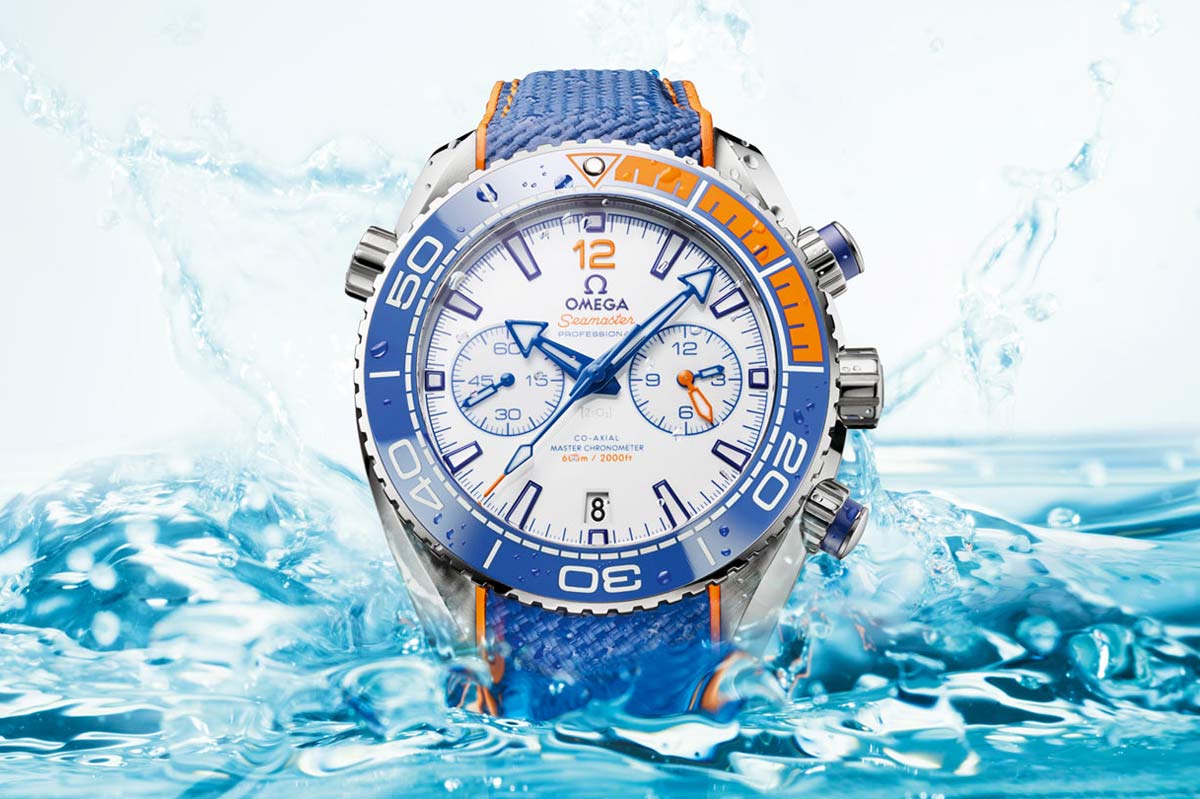 The watch has heft too, though I suppose this is no problem for someone of Michael's build. The Planet Ocean watches are not slim by any means, and the largest of the large are the 45.5mm chronograph models which are 18.87mm thick, yeah, they stand out and if you don't have larger wrists this will dwarf your arm. They are ansi incredibly heavy, Omega doesn't make a titanium or ceramic version of this watch so you're gonna notice (and have a bulky arm on one side).
I can handle the size and mass of the Planet Ocean, I'm of a larger build than some and freely state it, but what annoys me most is the caseback which has Michael Phelp's logo printed on the sapphire, kudos for not putting a signature no one will be able to make out there instead. Underneath is the Calibre 9900 which is a modern day gem of the mass produced movements market, truly special and something that outclasses the competition time and time again. It comes with the usual stats, magnetic resistance of over 15,000 gauss, a silicon balance and over 60 hours of power reserve, so while interesting nothing really new there.
The watch is limited to 280 examples worldwide, ten times the amount of medals Michael won over his career (because why just make 28 of these, right?). I like it, but priced at $9000 I wouldn't be sure that a couple of different dial colours and some other stuff would be enough to make me part with my cash, especially with Omega's trend of releasing as many 'limited editions' as possible before they just become 'editions'.
For more info, please visit omegawatches.com