Minimalism is a difficult art to master. Coming to think of it, pulling off a simple looking three hand watch might look like an easy task, but in reality, it is otherwise. A nicely executed minimalist watch is indeed hard to implement as even the minutest of flaws are easily identifiable and can lead to the entire product fall apart. That said, there are some brands out there who do minimalist watches exceptionally well and one of them is Junghans. Junghans is a German watch brand known for their Bauhaus inspired Max Bill line of watches and today we would be taking a look at a special watch by the brand called the Junghans Max Bill edition 2017. This watch embodies Max Bill's design elements not only on the dial, but also on the case back in the form of one of the artist's modern artwork.
Max Bill was a profound Swiss artist who studied at the Bauhaus school of art and his learnings from the school are very much evident in his work. One of the basic tenets of the Bauhaus design philosophy is that "form follows function" and the dial of the Max Bill edition 2017 is in line with this theory. Starting from the neatly laid out and highly legible dial to a beautifully proportioned handset, there is nothing unnecessary or out of place on this dial. There are two different dial variations to choose from: one with elongated lined hour markers and the other with Arabic numerals. I personally find the one with the Arabic numerals more intriguing, because of its typography (Have a look at the numeral at 4). The minute markers on this watch come in the form of small printed batons, along with single circular lume pips at 3, 6, 9 and a double lume pip at 12. Even the hour and minute hands have been applied with some lume, and as mentioned before have been nicely sized making it a breeze to read the time. The only gripe that I have with this watch is that date window at 3. Yes, this is arguably one of the more controversial statements in the world of watches and I do agree that it is one of the most practical complication as well. But, because of the purist that I am, I'd rather not have it, especially on a Bauhaus inspired watch.
This watch like some other Max bill watches has a 38 mm stainless steel case with a height of just 7.9 mm, which means that the watch should wear comfortably on most wrist sizes and it should also be easy to slide under that cuff. The powerhouse of this watch is the Junghans J645.33 quartz movement and as a result which it has a screw down case back. Though we would have liked an automatic in there, with an exhibition window, Junghans has made great use of the case back on this watch by printing on it the "variation 1" an artwork from the range of "grafische reihen" (graphic series) by Max Bill. So, in case you are an admirer of art, you would definitely enjoy your time flipping over this watch even if it is a quartz powered watch.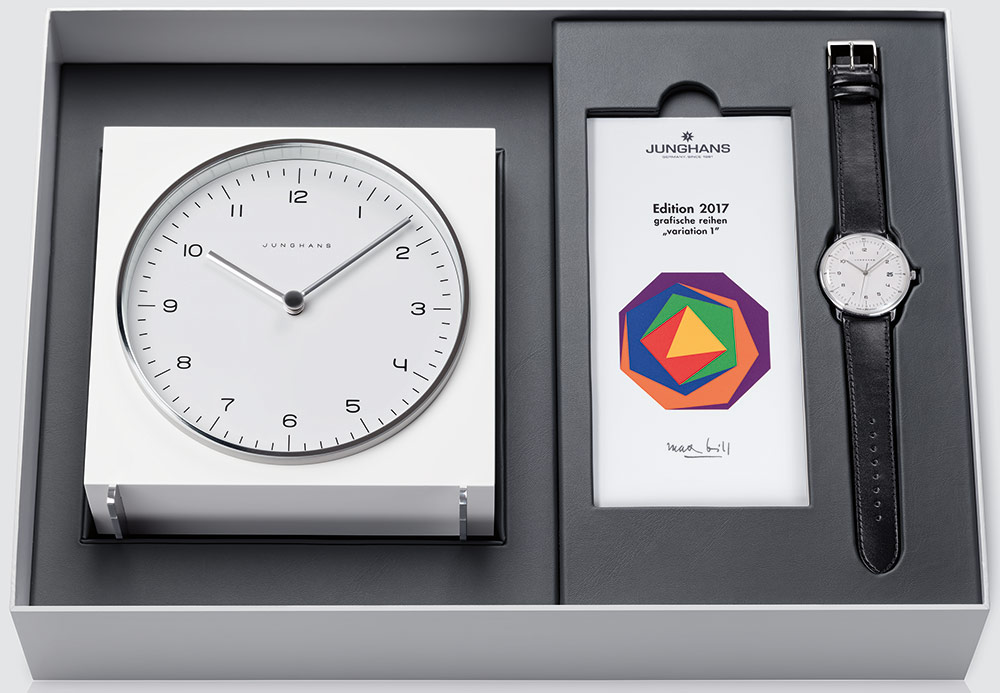 The Junghans Max Bill edition 2017, in my opinion, is a nice looking watch that can be a daily beater, especially for those of you with a desk job. On top of that, the inclusion of Max Bill's special artwork on this watch, makes it all the more special. The watch would come fitted on a calfskin strap, with a blue or green lining leather to match the limited edition print. Interestingly, this watch individually is not limited edition, there is limited edition box set for all the collectors out there. The box set would include the watch, along with a Bauhaus style table clock, the back of which also displays the same artwork as present on the watch and would be limited to a production run of 222. For more info, please visit junghans.de