Only Watch is the bi-annual charity auction which calls for brands to come together with unique watches that are put up for auction with the funds going to research into Duchenne Muscular Dystrophy, one of the most severe forms of Muscular Dystrophy. This time, we focus on one of our favourite independent brands: Armin Strom. Armin Strom is one of a small, elite selection of watchmakers that has a watch which uses the phenomenon of mechanical resonance to increase the accuracy of its watches.
In traditional resonance watches, the proximity of the balance wheels to each other and the vibrations they cause is enough to create a resonation in the watch which synchronises the balance wheels and allows for increased accuracy, in short. However, Armin Strom's design makes use of a cleverly designed clutch spring which can be seen between the two vertically placed balance wheels on the left-hand side of the dial. This physical connection between the balance wheels ensures the same increase of accuracy without the hours of fiddling around trying to place the balance wheels in exactly the right position.
"Based on our patented Resonance movement we used a small detail for a big cause: The two different blue tons (sic) on the dials creates a magical synthesis of the power of colors and cutting-edge haute horlogerie. We wanted to create something which is instantly recognizable"
Claude Greisler, CEO & Technical Director of Armin Strom
The calibre ARF16 is visible on both the front and back of the watch. The front has the twin escapements, a small seconds dial which has been coloured the shade of blue that OnlyWatch is using as its theme this time around, and the primary time dial as well. Of course, there's some glorious striping to view as well. Around the back, there isn't a whole lot of action going on, but you can see some more of that stripe polishing and the twin mainspring barrels as well. Those two barrels provide a power reserve of 48 hours at the operating speed of the escapements which is 3.5Hz. There are also 38 jewels in the movement and a total of 206 components.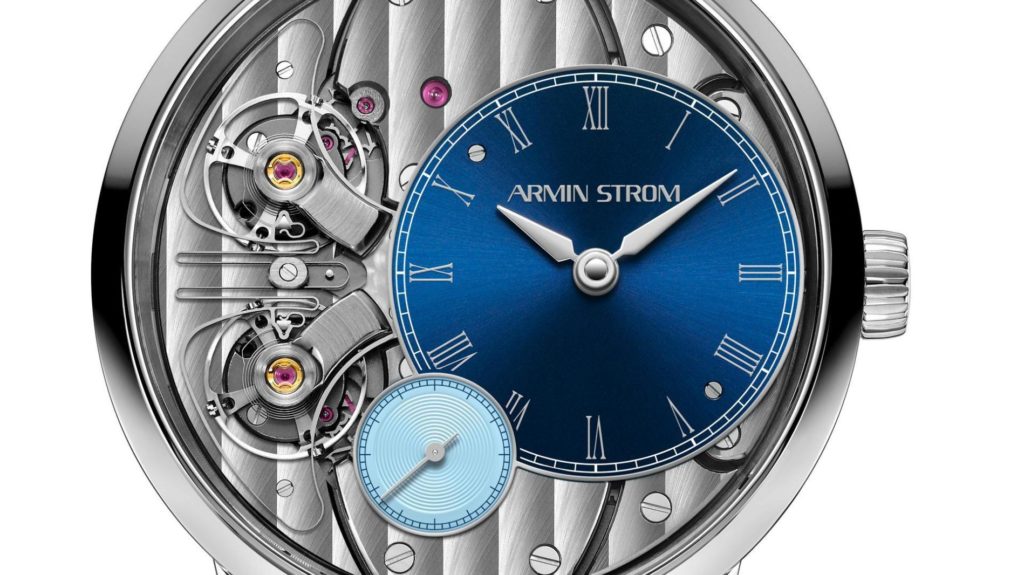 The stainless steel case of this dressy watch measures 42mm in diameter and 13mm in thickness with a water resistance rating of 50m. The estimated price for the Armin Strom Pure Resonance Only Watch 2019 watch is CHF 49,000 – 55,000.
Visit Only Watch here.