Only Watch is the bi-annual charity auction that sees big names in the luxury watch industry come together to donate exclusive watches for auction. Industry giants such as Patek Philippe, Jaeger-LeCoultre and Audemars Piguet are involved this year return as ever, but one of the brands everyone has their eye on is F.P. Journe. These watches combine traditional skills with a new and innovative design that stays unique to the company founder and namesake; they also fetch hefty price tags. At the last OnlyWatch Auction, F.P. Journe's Chronographe Monopoussoir Rattrapante Bleu exceeded its top estimate by 750,000 Swiss Francs.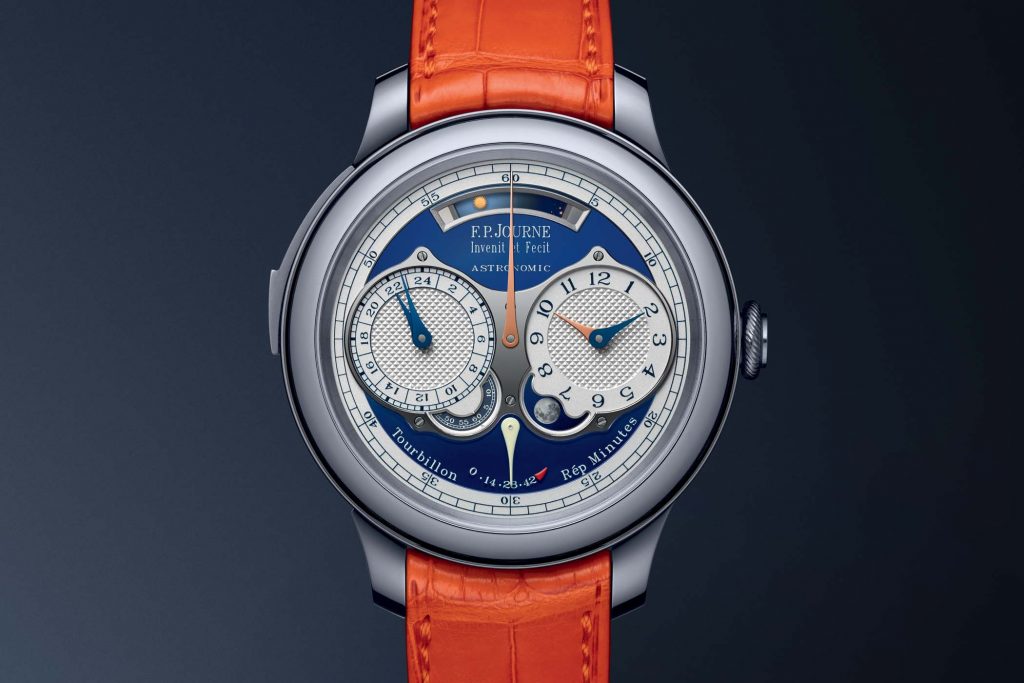 This time, we see the brand present the most complicated watch it's ever made: the Astronomic Blue. The watch features 18 complications, making it one of the most complicated wristwatches of all time, as well as the brand's most function-filled model. For reference, Vacheron Constantin's Les Cabinotiers 3600 thingy we saw a couple of years ago had 23 complications. 
The complications on the front include:
Power reserve
Day/Night indication
Second timezone
Sidereal time
Moonphase
Sunrise indication
Sunset indication
Around the back, you'll find parts of the gold movement exposed, including the tourbillon and the remontoire d' égalité, as well as a function ring, here's the list:
Twin barrels (is that a complication?)
Annual calendar displayed in the ring around the movement
Equation of time
Minute repeater
Remontoire d' égalité
Tourbillon (debatable)
The case is made of Tantalum, another F.P. Journe hallmark. Tantalum is overall a deeper colour than most white metals, taking on a dark grey or even a blue hue in the right lighting. It, along with the chrome blue dial are also found on F.P. Journe's ever-popular Chronomètre Bleu watch.  It measures 44mm in diameter and 13.75mm thick, impressive considering everything that's inside. The watch also features a distinctive orange leather strap as we saw on 2017's Only Watch edition, which works really well with the blue colouring going on with the dial.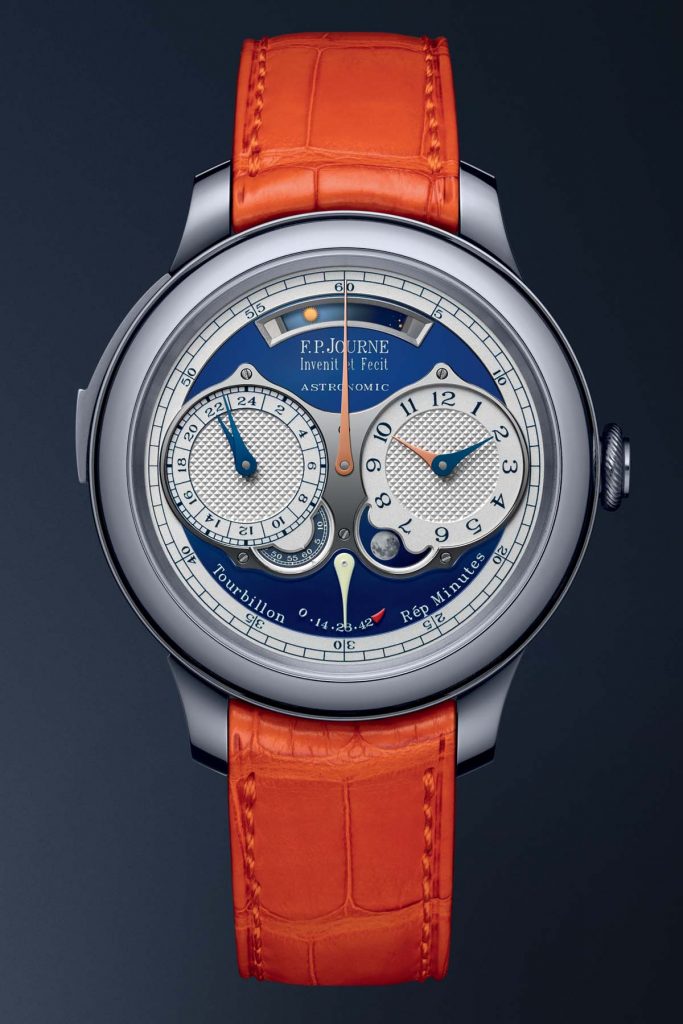 Only Watch is a charity auction held every other year with the proceeds going towards research to fight Duchenne Muscular Dystrophy, the most frequently occurring type of MD and one of the most severe affecting boys in their late childhood. It often reduces lifespan to the early 30s at best. It is still not very well understood and complicated to treat, so the more research, the better.
Visit Only Watch here.