Moritz Grossmann is an independent watchmaker whose manufacture overlooks both A. Lange & Söhne & Glashütte Original. So, as you've now just worked out, they're German. German watchmaking has come on a long way and started to become really high-end in the mid-90s with the revival of the aforementioned brands. Moritz Grossmann came along later, in the mid-noughties, and brought with it a new wave of watchmaking which is free from the constraints of group ownership. For the second time, Moritz Grossmann has put a piece for the Only Watch charity auction forwards.
The new Reservé de Marche Classique watch takes on a different look from the current lineup of Moritz Grossmann watches. As I've gone around the various forums, I've heard only one complaint from enthusiasts repeating itself: they don't like the logo on the dial. To me, it doesn't make much of a difference, but I can see that with this old-style logo that appears like the text from a typewriter that the enthusiasts might be onto something.
The silvery dial is minimalistic but not lacking in detail. There's a clean sunburst style polishing to it radiating from the centre, and the seconds subdial has a different guilloché style to make it stand out. Tall and narrow Roman numerals indicate the time, while slender blued hands point outwards. Nestled under the logo is the power reserve indicator, something that you could easily miss.
The case is made of 18k white gold and features a smooth outwards bulge around the middle with polished sides and lugs. These cases are not only luxurious, but they're also heavy. With the classic German brutishness that I mention quite a lot in my reviews of their watches, this one follows suit. It's not delicate like Swiss watches, but that doesn't mean it's not elegant, the evidence is obvious.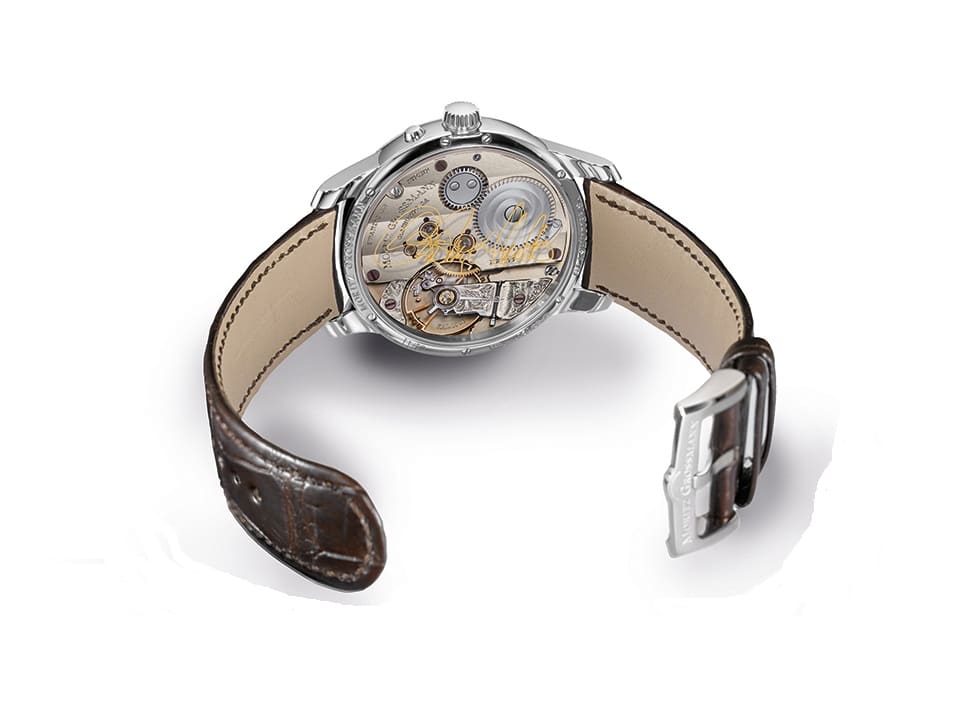 Some wonder what the pusher underneath the crown is for, given that the watch doesn't have any extra timing complications. This pusher is unique to several models in Moritz Grossman's lineup, including this calibre 100.2. It stops the Grossmann balance wheel and allows you to set the time more accurately, and it's an interesting way of hacking the seconds instead of pulling the crown out. The movement itself is crafted to the highest standards, and I'd say that Moritz Grossmann is probably the best competitor to A. Lange & Söhne in terms of decoration too. Though, Moritz Grossmann has put up a watch for the Only Watch auction.
The estimate for this watch is between €27,000 and €45,000, which includes the fancy box with a magnifying glass in it as well.
Visit Only Watch here.