This is not a brand new piece for Panerai. It is not a best-selling piece for them either. Heck, it is not even their best one. However, what this watch is is quirky, unmistakable and utterly representative of the modern day Officine Panerai. At 47mm across this watch stands out from a mile away, even in the diving category, alongside greats such as the Omega Seamaster PloProf and Blancpain X Fathoms, although the behemoth that is the 60mm L'Egiziano PAM 00341 outmanoeuvres it. It's one of my all-time favourite sports watches and, while on the manufacture tour, I finally got to play with the version I'd been dying to try out for over a year.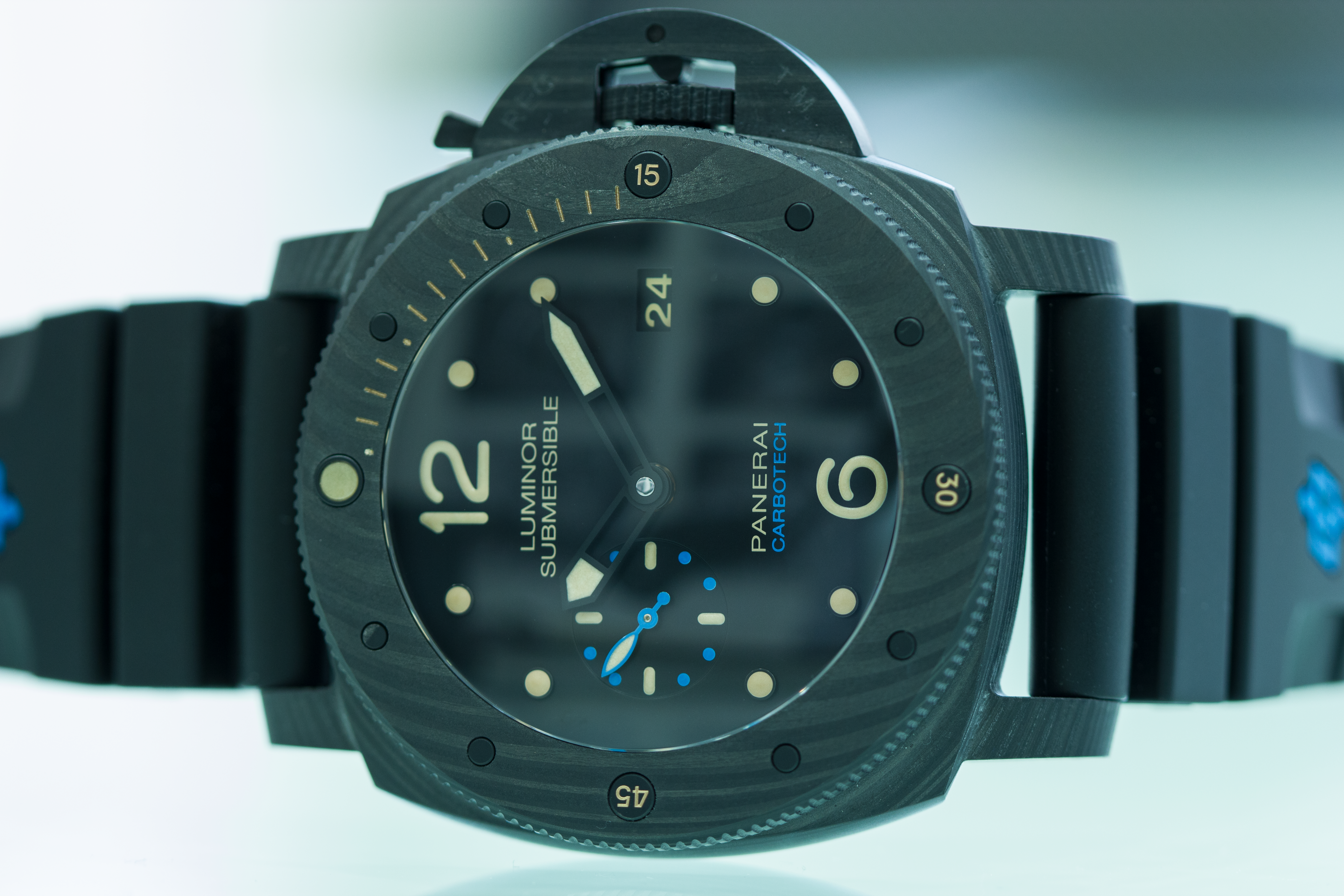 The Panerai Luminor Submersible 1950 Carbotech 3-Days Automatic watch is the kind of watch you would wear if you wanted to feel like an Expendable without actually doing anything, or maybe going to the gym twice a week. It's a unique blend of 'I don't give a crap' carbon and enough testosterone to make Robert De Niro nervous. Now that isn't necessarily a bad thing, this watch does nearly everything correctly, as it should, it is a Panerai after all. When I put it on it was no heavier then the Seamaster Aqua Terra I had on at the time, and because it has such a thick and wide rubber strap on it it's so stable it doesn't feel top heavy at all. You put this on your wrist, and it will start to feel like this watch is a part of your wrist.
With that said that doesn't mean you aren't aware of its presence, I can't exactly remember whether there are ceramic rotor bearings in this thing or not but I do know it is very noisy when winding. Some 'Paneristi' have stated it is the sound of the P.9000 calibre while others claim to have never heard it at all. I was indeed surprised that a Panerai watch with all this robotic technology and focus on new movements would have a noisy winding watch, with that said though the Jaeger-LeCoultre Geophysic TrueSeconds is a ceramic rotor watch and a hell of a noisy one at that too.
The P.9000 calibre is, as I've said, one of the new sparkly movements which have been executed entirely by Panerai in their Neuchâtel factory. Some people like me think this is a great idea and shows their creativity, while others who have been around since the early 21st Century have baulked at the suggestion that Panerai's aren't wholly ETA powered watches anymore. Whether this is some weird purist thing I 'just wouldn't understand' or somehow linked to the high purchase prices of these watches I'm unsure. What you are sure of is the durability of these calibres, several people I know who wear a lot of these types of watches tell of how robust these movements are, even to the point of overtaking Rolex. One thing that Panerai has in common with Rolex is the anti-reflective coating or lack of it. It's annoying that there isn't any on this watch, but before some people say that's one less thing to scratch and all that, it's also something an Omega at half the price can do adequately. It also makes it tricky to photograph, too.
For those who like the technical stuff, the movement is just under 8mm thick and automatic winding. It's got two barrels on it which allow it to run for three days without stopping at a speed of 28,800 beats per hour, or 8 beats per second (or indeed 4Hz). The balance is made of Glucydur, a material known to be quite antimagnetic in itself as well as stable during thermal changes and relatively inert to the effects of chemicals. To aid in its durability and protection against shocks is an old system relatively unheard of these days, called 'Incabloc', go back to the mid 20th Century, and Incabloc was written on everything. Panerai's in-house movements tend to use smaller than average balance wheels which have their ups and downs. Small balances can oscillate at a higher speed which should increase accuracy, but they also tend to be less stable in the event of a sharp shock, but then again if you drop this onto a hard surface that's probably the least of your concerns.
I asked about the hardness and resistance to drops while in the manufacture, but the answer was quite vague and mentioned ceramics as well which aren't used in the case. The case of this watch is nearly all Carbotech except for the screw down caseback which is made of DLC coated titanium; it's closed so there is pretty much nothing to see there anyway. The dial is where it's at, and Panerai's dials very rarely disappoint, this one is no different with the thick black textured dial and greenish coloured lume. I also like the little splashes of blue on the sub-seconds dial and the blue writing of 'Carbotech' at 6 O'clock. Reading the time at a glance is easy, those fat, skeletonise sword shape hands are more comfortable to distinguish than one might imagine. The bezel also has firm clicks with a fair amount of resistance, as it should be.
The Panerai company is known for making watches which can upstage Rolex and become extremely popular at the drop of a hat. Is the PAM00616 one of those watches? No. Not even close. It's a cult watch for sure, it looks super cool in the flesh, but it couldn't possibly become their best seller because it's just too rare. That is because of the unique materials in the case; I don't best know how to describe it because it looks nothing like the traditional carbon fibre weaves we see and feels almost like stone, in fact, it seems like it is stone up close. It's lots of carbon fibre sheets which have been forced together under very high pressure with some other materials added in to allow it to blend together. What it also means is that because of the randomised nature of the atoms as they come together in the press, each 00616 watch is unique in its patterns.
I'm not going to lie, these are expensive to buy from new at £14,500 including sales tax. Consider that Panerai's experimental case technology is second to none, and it's not exactly like they're skimping out on what they give you in that 47mm case. Pre-owned these watches can be up to £3000 less for a relatively new model. The problem is that because carbon doesn't scratch quickly, you are getting a new watch with a bit more wear on the movement, assuming it comes with the box and papers there isn't exactly a huge incentive to buy new unless that is your thing. But there is one other advantage of this watch. It has character. It's big, crazy and most of the time useless (come on, it will sit at home and most likely dive as deep as the kitchen sink) and it seems to know this. When it's put down somewhere, you can almost hear it calling out to you "Look at me! I'm interesting!". It's why it was the first one I picked up despite the thirty-odd Panerai watches that were on the table. I reckon the fact it's so black it absorbs light from a room the way a pint of Guinness does, and the fact it's so massive in size, it automatically catches the eye of most people whether they like it or not.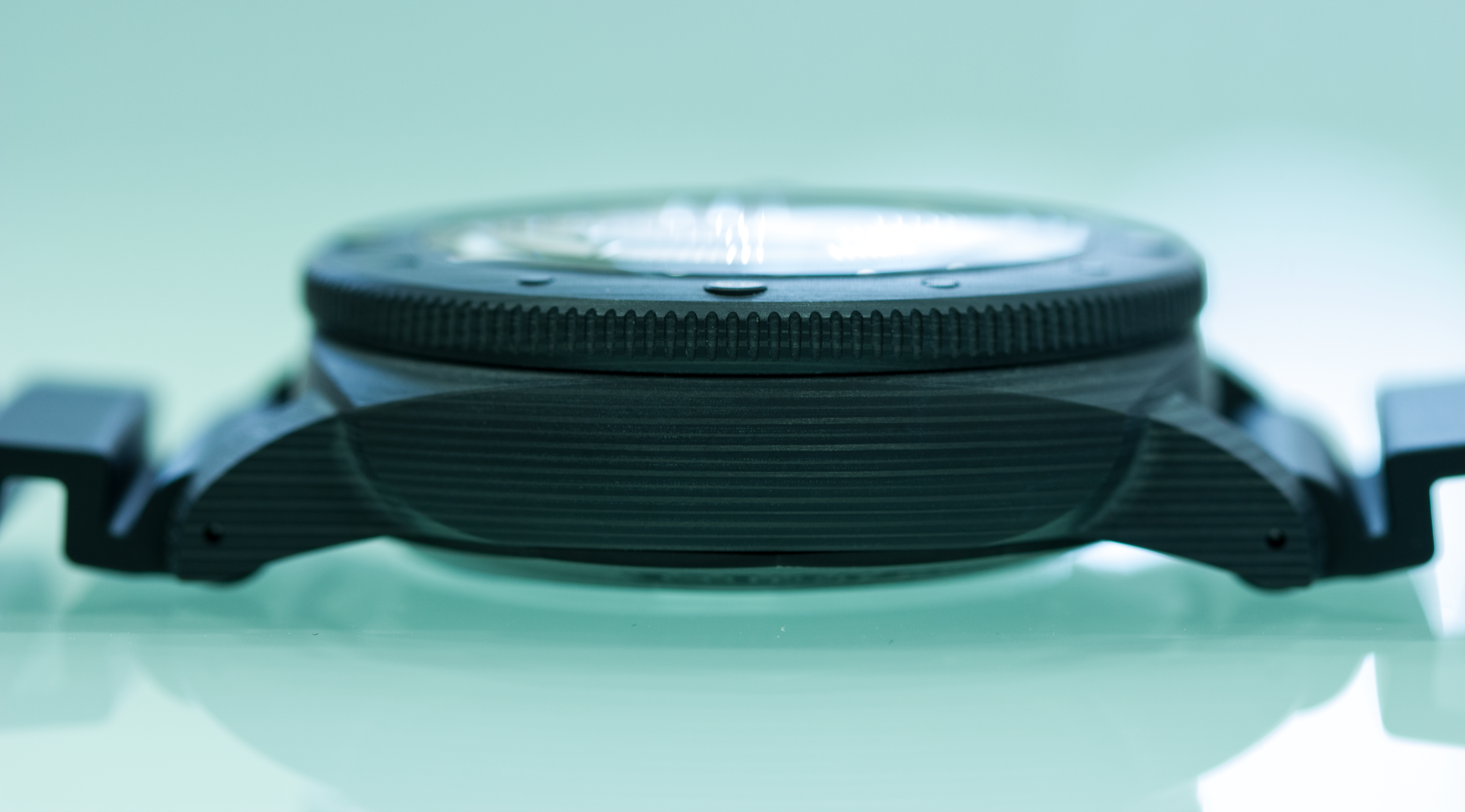 The problem is, Panerai also makes two other versions of a similar size to this one. There are the 47mm 'Amagnetic Titanio' models come with or without blue accents and a titanium case (which is so heavy it feels like stainless steel), and those only cost £9,300 from new. You are indeed paying for the case material, which in turn makes this watch a lot easier to wear, even if you have small wrists the short lugs and flexible rubber strap means it hooks nicely over the wrist. Don't think the watch isn't thick though, it's not Kardashian level, but it is noticeable, the signature crown guard mechanism (also executed in Carbotech) adds to the girth of this timepiece.
Unless you are a bodybuilder or an action movie star I wouldn't wear this with a suit. That is, unless, your outfit is a drysuit and you're going scuba diving, with 300m water resistance and a bucketload of ridiculous charm this watch would suit anyone who's particularly outgoing, almost to the point where it annoys other people with just how laid back they are about everything. Sure you can dress up and look the business, but it's all fun and games at heart, and that's something other watches just can't achieve. For more info, please visit panerai.com