I'll be frank, music provides me an oasis of inspiration. The sweet lullaby of the different instruments conforms to a certain emotion that I feel. Music is just amazing and I somewhat envy those people who have been on the electric grounds of the legendary 1969 Woodstock. Well, I could only so much write about it now but wait, thanks to Parmigiani Fleurier, music has never been so alive on today's timepieces. Right, you read it correctly, music inspired timepieces especially the classic Tonda 42 Tourbillon Woodstock. It's not directly saying that it yields music but personally, when I look at these watches, it just reminds me of the power of music. If you remember the brand's rendition of the 1969 Woodstock with their Tonda 42 Tourbillon Woodstock, then you know what I mean.
The new Tonda Tourbillon Solo de Jazz, on the other hand, is a sole tribute to Montreux Jazz Festival and it also highlights the partnership between the two names. Parmigiani Fleurier seems to want to represent the different facets of the music industry whilst bringing forth its mastery of horology with a particular signature using wood marquetry. It's all about art and it will make a lot of appeal to the sophisticated crowd of horology fans. Nonetheless if you're into exquisite precision mechanics, then I don't see why you wouldn't see art on the beautiful Tourbillon, yeah never laugh at me if I say that it's all about the rhythm of mechanical gears.
So let's talk about the watch. By now, I supposed you know what wood marquetry is, it's a kind of wood sculpting in a precision level. The results are magnificent artworks and you can easily feel the magical combination of wood and metals with the new Tonda 42 Tourbillon Solo de Jazz. Firstly, Jazz is an exquisite taste using invigorating musical instruments such as trumpets and to reflect this imagery to the Tourbillon 42, Parmigiani Fleurier used an urban backdrop to a man playing a trumpet in an amazing combination of rustic colors and smooth shapes. The impressive color and texture of the wood marquetry is achieved by using an entire palette of wood using walnut, ceylon lemon tree or boxwood. The dial is simply alive.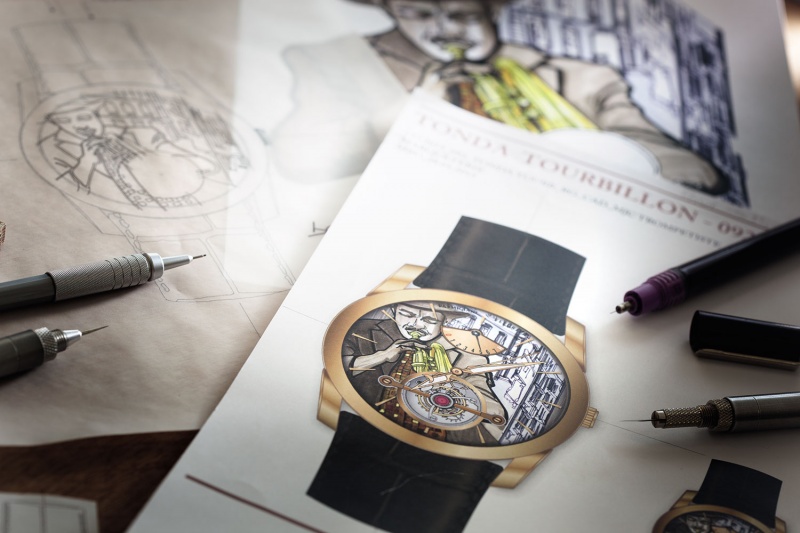 The 42 mm polished rose gold case is very much refined and rouses a very luxurious feel. As for the bezel, the lugs, and the crown, you'll barely notice them hugging the limelight. The fact is, your eyes will simply feast on the dial and the dial alone, making the clean design very effective. The power reserve indicator is placed at the 12 o'clock with an inverted hand-held fan-like presentation featuring the watch's impressive 7 days of reserve autonomy. Whilst the bell of the trumpet at 6 o'clock graciously exhibits the elegant mechanical tourbillon. Under this escapement is an uncluttered view of a perfectly polished bridge which is kind of enthralling to look at.
The Tourbillon's amazing 7-day power is courtesy of the hand-wound PF510 movement beating at 21600 vibrations per hour which is also water resistant up to 30 m. If you're not satisfied with the front window view of the Tourbillon, you can simply turn the watch over and look at its caseback to see the outstanding Parmigiani Fleurier finish under the sturdy sapphire crystal. Adding to its prestige is the beautiful Havana Alligator strap made by Hermès. If you're vying for a subtle attention grabber, then this Tourbillon won't fail you at all.
For more info, please visit parmigiani.ch
JOVAN KRSTEVSKI – FOUNDER, PROPRIETOR & EXECUTIVE EDITOR
Watch collector, aficionado and an Event profile in the Swedish nightlife. He launched Watchgeek back in 2011, which is now known as WristReview and is one of the most widely read watch blogs on the Web. He quotes 'WristReview is a site to help people find, explore, discover and enjoy wristwatches.'  His passion jump started in his early teens when he was given his first mid-range wristwatch which was an Omega Seamaster. Since then he has always been in love with wristwatches! Besides WristReview, he also writes for a number of publications. Read his articles here.