If you like watches that have as many if not more gadgets than Bill Gates' kitchen then this is probably the watch for you. That is, of course, if you have as much money as Bill Gates. Nevertheless, someone will be the lucky owner of this new watch when it goes under the Hammer at Only Watch 2015.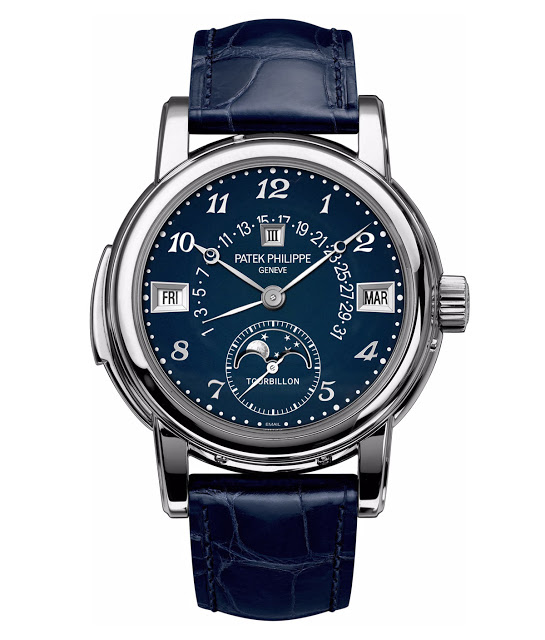 So what's in the watch? Well, this is a grand complication watch (feel free to read up about grand complication watches in my article by clicking here). As such there are many things in it that all fit together within that case. This brings me to the first point about the watch. Because, for a watch of such calibre as this, it's made of stainless steel (represented by the A in the reference number). It could be that Patek Philippe wants to do to steel what Audemars Piguet did with it in the 1970s with their revolutionary Royal Oak watch. This line elevated steel from the comparably humdrum life of being used in Rolex and Omega watches to the high-class life of Audemars Piguet, Patek Philippe & Vacheron Constantin.
The next part about the watch that's interesting is the movement. It's using their reference 5016 movement which was produced from 1993 until 2011 by Patek. Some people believe that Patek simply produced another one, however, Patek stockpiles parts for nearly every watch it makes (this means that you can send in one of the first watches their made and it can be in the worst condition imaginable and they'll still work on it), so I wouldn't be surprised if they had the parts or an entire movement lying around in a drawer somewhere. The movement has 3 main complications, the first one is a tourbillon, a creation well known in the watch industry. Next is the perpetual calendar, a complication which adjusts for leap years and days of the month. Finally, the 5015A also has a minute repeater inside, famed for being one of, if not the most complicated addition to a watch ever.
This is a super rare watch, not only is it made of steel it's also got a blue enamel grand-feu dial. These watches might usually cost around €500,000, I expect this to climb to around €2.5M and it's all in aid of Duchenne Muscular Dystrophy on the 7th November. Remember to put that in your diary and see how close I was!
For more info, please visit patek.com
HARLAN CHAPMAN-GREEN – CONTRIBUTING EDITOR
A keen bass guitar player, Harlan enjoys all the perks modern watchmaking technologies the industry has to offer. Although you might catch him sampling Omegas or the Rolex, Harlan loves all things Haute Horology, with his three favourite brands being Breguet, A.Lange & Söhne and Vacheron Constantin. He hopes to study timekeeping more in depth someday and will never be able to thank his father enough for introducing him to the industry. Read his articles here