This is going to be an interesting article so stick around to get in on the action. Today we're going to be looking at a couple of my new favourite watches.
It's always interesting to see how design heritage is used in a watch nowadays. Most of the more mainstream companies such as such as Rolex, Patek Philippe and A.Lange & Söhne all have their own defined 'look' to most of their pieces. It may be something quite simple like Lange's common usage of lancet-shaped hands or Cartier's use of large Roman numerals on most of their watches. This is where Fabergé gets a little bit stuck. When Carl Fabergé was alive and making his jewel-encrusted eggs, now some of the finest (and most well known) pieces of art on the planet, he would occasionally put a small clock in the piece.
However you'd never see someone wearing a Fabergé egg as a wrist watch, instead it would be positioned somewhere prominent in a room. This leaves them with a bit of a conundrum as most of the other companies out there have some sort of theme for their watches that they are known for. On the other hand, this allows Fabergé to create their own theme if they like. They might simply prefer to just simply create pieces with carefully thought designs because they want to, without bothering with an overall theme of the collection.
The Visionnaire I is an all new piece for Fabergé. In the past, they had the Agathon watches, a couple of which I reviewed a while ago (for the Fabergé Agathon Date, click here. For the Fabergé Agathon Regulateur, click here). They were very pretty watches indeed, going more towards the classical styling but making sure their designs were uniquely Fabergé. Now though, they've entered a new era where these watches simply aren't good enough for them any more.
This is where the Visionnaire I comes into play. It's a more modern watch that's got large, wide hands that have been partly skeletonized. Keeping with the look that appears to be both slightly industrial and very artful at the same time, the dial has been divided up into seven inclined trapezes, with one being replaced by the flying tourbillon at 9 O'clock. On the version made of platinum, these trapezes have been guilloched by hand and then have had a blue PVD coating applied. This goes nicely with the 2 tone platinum case on the watch, I've never seen a PVD treated platinum watch before, let alone a blue one. The rose gold version of this watch has exactly the same dimensions, except that it's made of rose gold instead of platinum, and the parts that were blue on the platinum model are now black in this version.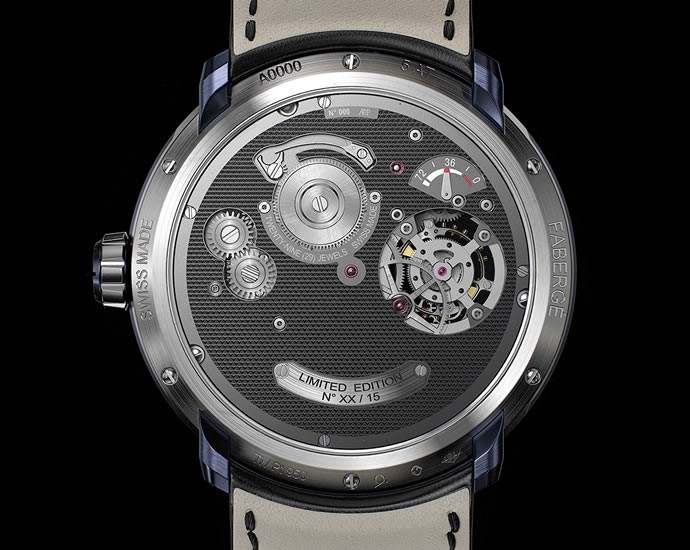 Another feature of the dial that I really like is the fact that in between the segments on the dial you can catch a glimpse of the movement inside the watch, creating a stunning show of depth. This watch is not assembled by Fabergé itself for the simple reason that the company has never been a watchmaker. Instead, it's made by a company called APRP, which stands for Audemars Piguet Renaud & Papi. The Renaud and Papi company is responsible for building parts for the IWC Grand Complication watch. They've also worked with Harry Winston, A.Lange & Söhne, Breitling, Chanel and they also create and assemble movements for Richard Mille. It's fair to say that Fabergé chose the right company to build their watches for them. The movement in the Visionnaire I features a manually wound flying tourbillon, it's also made of 330 overall components, it has a power reserve of 72 hours, it's finished in German silver and it's all held neatly inside a platinum or rose gold case that's 44mm in diameter.
Pages: 1 2