Having already seen the first few releases for the Only Watch 2015 auction, the bi-annual auction for one-of-a- kind watches with all proceeds going to the Monaco Association Against Muscular Dystrophy in order to fight the dreadful Duchene disease.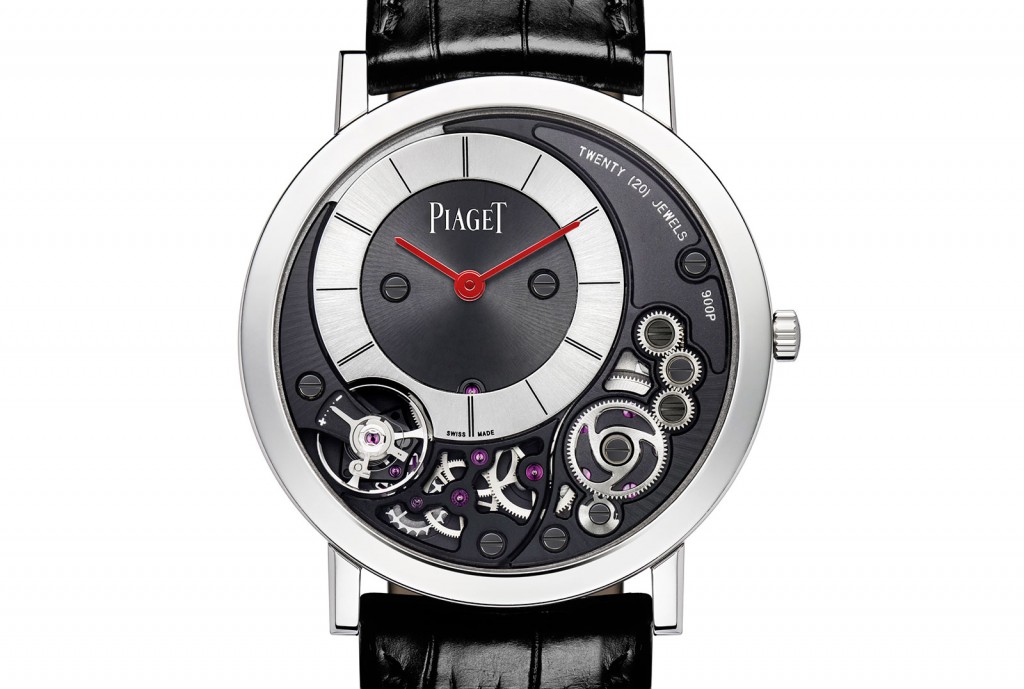 Participating in Only watch for the sixth time (bi-annually since 2005) Piaget comes to the party with an Altiplano 900P presented with red hands. Piaget are quoted as saying this is neither entirely a movement or exactly a case just both perfectly formed together. This Altiplano merges seamlessly both elements perfectly to achieve a record breaking slimness and I mean slim or even ultra-slim to be totally honest as this case is only 3.65mm thick. To put this into context 3.65mm is roughly the thickness of a steel bracelet!
Piaget has a history of making ultra-slim going back as far as the 1950's with their now infamous hand-wound Calibre 9p which was only 2mm thick. Some of the components cannot be seen without a magnifying glass as Piaget have trimmed them to a hair's breadth and includes some of the wheels which are a mere 0.12mm thick.
First introduced in 2013, Piaget has reinvented the Altiplano 900p for the Only Watch auction with a red hour and minute hands. The outer edge of the case back has been engraved with "Only Watch 2015" and unique piece. As with all the pieces being released for the auction on 7th November I'm sure this will command a high price with those wanting to own a one-of-a-kind Piaget Altiplano 900P. For more info, please visit piaget.com
JOHN GALT – CONTRIBUTING EDITOR
John Galt caught the horology bug back in 2010 on his first visit to a London watch show and has snowballed since; John has become an avid writer and blogger of timepieces of all kinds, from everyday timepieces to modern Luxury HauteHorology, his favorite brands being HYT and GreubelForsey that push the boundaries of modern watch-making. John keeps a keen interest in the UK watch scene with their many emerging brands and timepieces. John Galt currently contributes watch related articles for online publications in the UK and USA. You can follow John on Twitter @johng73 Read his articles here.