Bezelbulging. I mention it in every single Villeret article I write, simply because the watch is using classical styling cues rather than modern ones. Thin bezels, smaller lugs, no crown guards, thinner hands and sparse dials. Older styling, while watches and their designs move forward sometimes that doesn't mean that older designs are done for, and Blancpain knows it.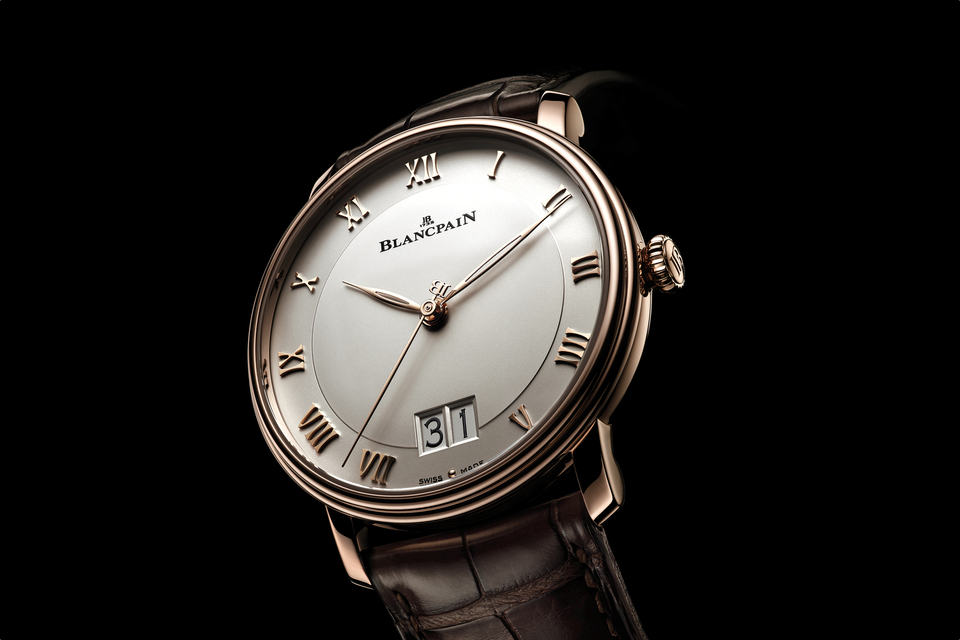 The Villeret Grande Date is named after one feature. The big date windows at 6 O'clock. Lange uses a similar thing which they call the Outsize Date that takes inspiration from a clock in a grand archway in nearby Dresden. The date windows on this watch, while they don't take the inspiration from a nearby arch in a very famous city, do work in the same way as the Outsize Date. They work by having two sets of date rings under the dial that move independently from each other. While they still display the date in a perfectly readable format, it makes the watch a little more complex to design and manufacture, and we do love it when they do that.
What else is there that's different. Well, there's the dial itself which has a raised centre. This 3D effect accentuates the look of the watch greatly, especially when we consider that on other watches there may be train track minute indicators or subdials, this watch doesn't have any of those but Blancpain does know that while less is more that doesn't mean more boring too. There aren't any minute indicators, only Roman numerals at the hours around the dial.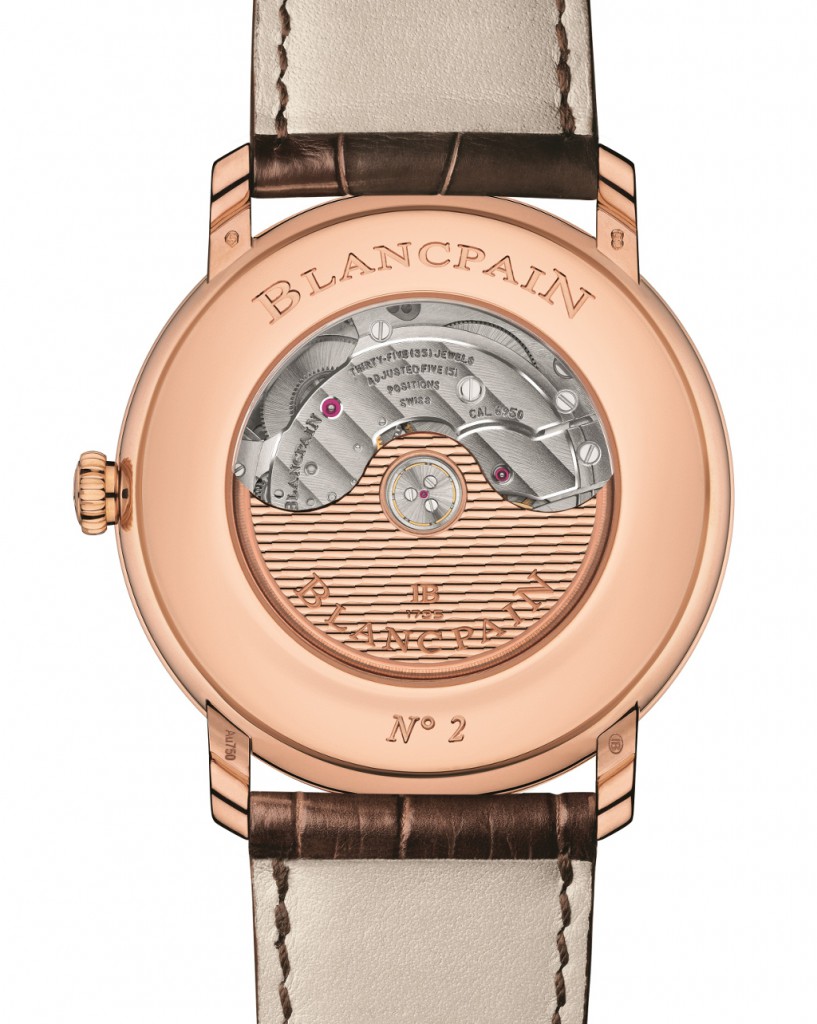 The movement in this watch is a Blancpain calibre 6950, developed at Blancpain's manufacture in Le Sentier in Switzerland. This movement is an automatic with a beautiful honeycomb style rotor and an unusual feature which instantly changes the date at midnight as opposed to on a normal watch where the date moves slightly and then jumps to the next day. This movement is visible through a sapphire caseback, so you can see the rotor glinting under the light.
The case of this watch is 40mm in diameter and is made of rose gold, as well as the Roman Numerals, the dot indicator at 6 O'clock and the hands too. There's also a JB logo which acts as the counterweight to the slim, long seconds hand. There's also the JB logo on the crown as well.
We'll provide more info when this watch is released at Baselworld, I really like the classicism of the Villeret line, this watch keeps that look going even if the larger, individualised date windows are a pretty modern addition to watchmaking. For more info, please visit blancpain.com

Harlan Chapman-Green – Contributing Writer
First introduced to horology with the Patek Philippe Calibre 89 by his father two years ago, Harlan enjoys his passion for fine horology. He prefers to spend his time in the boutiques of upmarket brands, trying out new pieces constantly. His preferred 3 brands are A. Lange & Söhne, Breguet and Vacheron Constantin. Although not much for the smaller brands, he still finds the complications intriguing and wishes to own one watch from each of his three favourites. Read his articles here.