Very often I was questioned what would my grail watch be in the attainable future, and I was always lost for words… But ever since I came across the Extreme Lab 2, I had a definitive answer.  There is no question in my mind that there is NOTHING out there which gives you more value for money than the Jaeger-LeCoultre Master Compressor Extreme LAB 2, a timepiece which encapsulates the essence of masculine complexity and dedication to functionality.
Throughout history, there have been only a couple of watches which fall into this league: Audemars Piguet's first "Concept Watch" or Richard Mille's "RM004v2".Although The Extreme LAB 2 has had an almost 2-year delay since its announcement in SIHH 2010, it was nothing compared to Audemars' Concept with 3 years and Richard's RM004 with almost 7 years.
The cutting edge factor of the Master Compressor Extreme LAB 2 gets quite intricate when we learn about its integrated crown to shift through functions easily.
The Extreme LAB 2 is a newly developed integrated chronograph with a movement having 569 independent parts, a watch case consisting of 143 pieces, a 24-hour digital mechanical jumping-minute counter, a radial power reserve indication, a second time zone complication with backwards jumping date, a mechanical seconds stop function, a function selector, a spectacular case construction and finish made out of a new anti-magnetic TiVan 15(Titanium/Vanadium formula) and a ardillon buckle.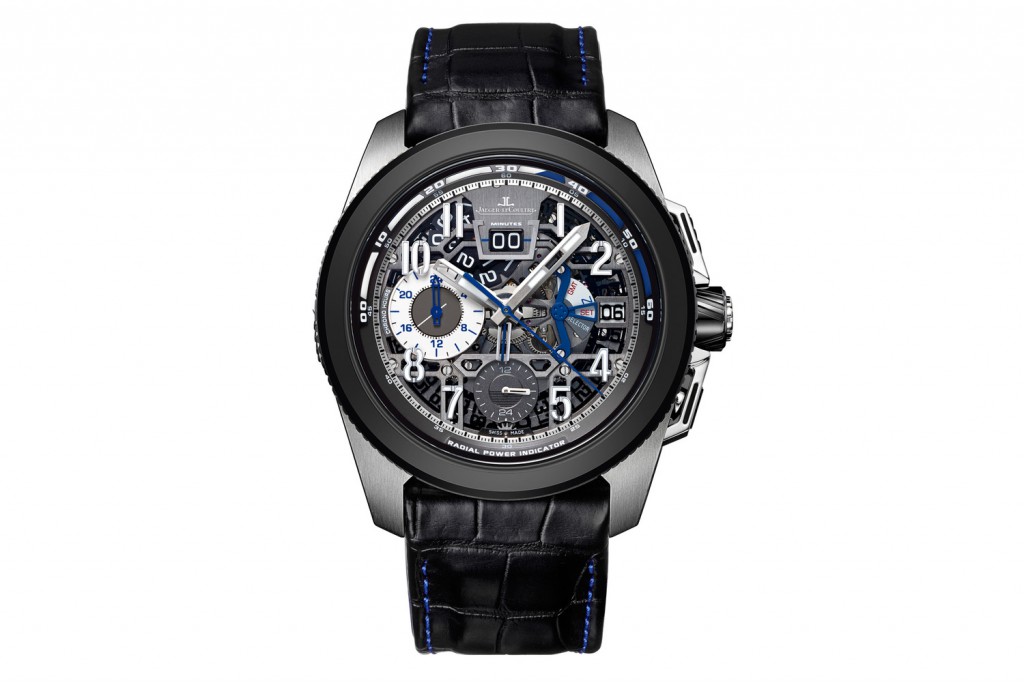 The chronograph is at the forefront of the design. The chronograph minutes is a unique feature in that it is shown at 12 o'clock with an unprecedented jumping minute counter. The second counter rotates around the watch face, while the hour totalizer sits at the 9 o'clock position. The chronograph complication uses a fancy vertical clutch as well as a column wheel, and indicates the elapsed minutes via a big date-style digital counter.
The powerful open dial concept reveals the inner structure of a very complex watch movement (even allowing you to see the date numbers along with the current date in the window at 3 o'clock). It also contains an added feature to maximize time accuracy. When setting main time, the second hand will continue to rotate. However, should you need to halt the seconds, there is push-and-slide lever on the side wall of the case at 9 o'clock that will stop it in its tracks. Equipped with a power reserve of 60 full hours, there is a power depletion meter (measuring 0-60) in the upper dial, referred to as the Radial Power Indicator, which turns from white to blue as the power diminishes. All of this information is remarkably balanced and laid out intelligently on the otherwise complex skeletonized dial.
While it may be confusing to most watch enthusiasts how Jaeger LeCoultre can price it at such an affordable price point despite the high research and development costs of this new innovation, Jaeger managed to push out The Extreme Lab 2 in 2013 through creating more time pieces (300 in titanium, 200 in gold) to spread the costs over a larger base, giving them a quicker development rate and conclusion of the research. Since then, Jaeger LeCoultre has given the world another reason to salivate with a new addition of The Extreme Lab 2 series – which introduces blue colorway on both the dial as well as blue stitching on the strap – to further leverage on the technical innovativeness of this timepiece. While most of the technical aspects have remained largely unchanged, the ceramic bezel is styled slightly different, among other minor tweaks.
Without a doubt, many technologies and complications that have been developed from this project will end up improving future Jaeger LeCoultre watches at practically close to no incremental cost to the brand.
I have a piggy bank set up for this one. Hopefully, I will one day bring the Extreme Lab 2 home. For more info, please visit jaeger-lecoultre.com
Jaeger-LeCoultre Master Compressor Extreme Lab 2 Technical Specifications
Movement:
Mechanical automatic Calibres 780 und 781, developed and manufactured by Jaeger-LeCoultre
Parts: 569 (Calibre 780), 566 (Calibre 781)
Diameter: 33.8 millimeters
Height: 9.8 millimeters
Power Reserve: 60 hours with one barrel
Base plate made of nickel
Antimagnetic up to 240 Gauss (Calibre 781)
Test: Jaeger-LeCoultre's 1000 hours test
Functions:
Hours, minutes, and small second's hand (as function indication),
Second time zone (with 24 hours counter) adjustable in hour-steps, date
Independent second's stop
Function selector
Chronograph with digital minute display
Semicircular radial power reserve indication
Chronograph:
Digital jumping minute counter with two discs
Central second's hand
Accuracy: up to 1/8 of a second
Counting up to 24 hours
Column wheel mechanism
Vertical clutch system
Two pushbuttons with rubber-covered, L-shaped security arms
Function selector:
Ceramic crown with integrated pushbutton to select three functions via column wheel:
1) winding; 2) setting of date and second time zone; 3) setting the time
Escapement:
Beat rate: 28,800 half-beats per hour
Large balance wheel with a moment of inertia of 1.5 mg cm2 and variable inertia screws
Balance bridge: fixed to two support points, stud held by two screws
Protection device for limitation of the hairspring movement
Escapement made of amagnetic silicium (Calibre 781)
Automatic winding:
Unidirectional automatic winding to up to 60 hours of power reserve, depicted by semicircular
radial power reserve indication
Rotor: mounted on lubrication free ceramic ball bearings
Shape: rotor mass made of platinum, held by three arms
Case:
Dual-Ring-Case: Sandwich structured case with carrier-chassis and movement container,
Components: 143
Black zirconium ceramic bezel
Sapphire glass on front and back
Zirconium-ceramic crown
Movement-container made of TiVan15 (exclusively used by Jaeger-LeCoultre)
Chassis materials: TiVan15 (Calibre 781) or 18 carat red gold (Calibre 780)
Diameter: 46.8 millimeters
Height: 16.5 millimeters
Pushbuttons with L-shaped security arms and rubber cover
Dial and Hands:
Open worked dial with bridges in black PVD coating and different areas highlighting specific functions
Luminescent indexes
Newly formed skeleton hands
Hands antimagnetic (Calibre 781)
Strap and buckle:
Double Alligator leather strap
New integrated system to change the bracelet
New adjustable double pin buckle fixed in two positions
Strap secured through two attachment points with further adjustment in three positions

James Phang – Contributing Writer
James Phang is a young watch enthusiast from Singapore and is self-professed fanatic of independent brands for their unique avant-garde designs. Some of his favourite brands include MB&F, Urwerk, Romain Jerome, Sarpaneva, Peter Speake Marin and Azimuth. His love for art extends out to all things handmade, and he has made it his personal mission to find the best handmade straps and buckles worldwide for his humble collection. Read his articles here.