HYT has teased us for the last few weeks with sneak pictures they have now finally presented their third timepiece the H3. Due for release at Baselworld in a few weeks the H3 is very different to their first two releases with their round cases and their patented liquid following the outline of the case. The new H3 has a rectangular case with a linear liquid indicator for the hours meaning the liquid runs across the new case as opposed to hugging the outer edge. HYT are clearly very good friends with other forward thinking mavericks of the horology world such as MB&F and Urwerk and with this piece we see a lot of references to their work in its design.
The H3 Case is large measuring 62mm across, so it sits wide on the wrist but does offer an unparalleled view of the dial, well dial in the loosest of senses as this doesn't actually have a dial or even hands like the H1 & H2. Instead the H3 displays the time in 24 hours as opposed to 12 hour, with 6 cubes showing the hours rotating every 6 hours to reveal a new set of numbers 0-5, 6-11, 12-17 and then 18-23. This is viewed in conjunction with the liquid indicator bar just above them which moves thanks to the help of HYT signature bellows mounted either end of the capillary.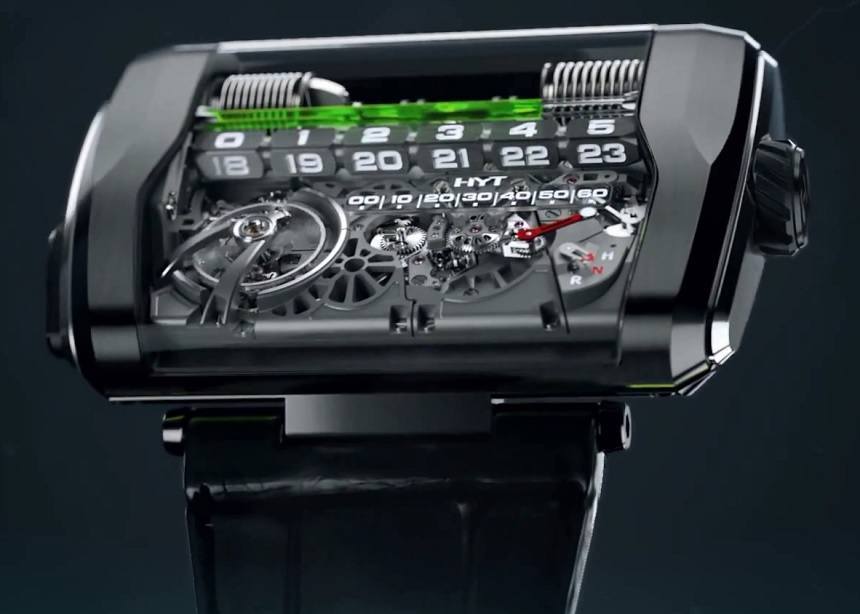 Under the hour indicators is a balance wheel to the left and a retrograde minute indictor just off centre also in linear fashion using a twin arm sweeping across a graduated minute rule. Further right is a function indicator operated by the crown.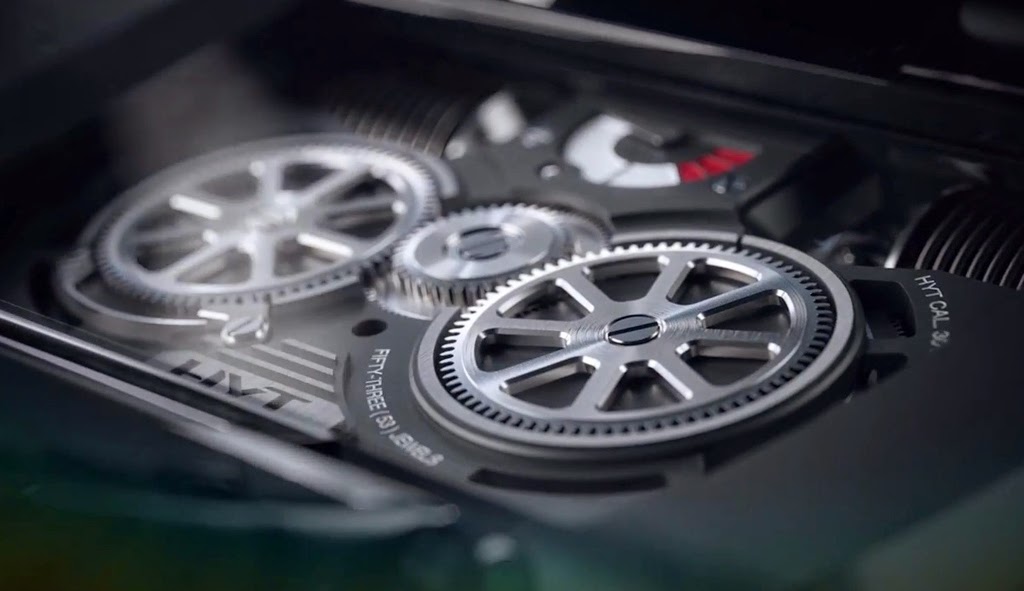 The movement inside the H3 is manually wound and offers 170 hours of power reserve, that's a huge 7 days! Initially being produced in charcoal grey PVD coated titanium and platinum and limited to only 25 pieces. This is truly the most interesting and imagination capturing piece to come out of HYT and will be available from September 2015. The price of the HYT H3 watch in titanium is CHF280,000.

Conclusion
I personally am a big HYT fan since they started only a few years ago with their nothing is impossible attitude. I will definitely look forward to seeing what other various versions of the H3 will released such as those with different colour liquids and maybe even materials such as white gold, rose gold and hopefully black PVD, but for now I will look forward to seeing it in the flesh and putting on-wrist when Baselworld starts in 2 weeks. For more info, please visit hytwatches.com


John Galt – Contributing Editor
John Galt caught the horology bug back in 2010 on his first visit to a London watch show and has snowballed since; John has become an avid writer and blogger of timepieces of all kinds, from everyday timepieces to modern Luxury Haute Horology, his favorite brands being HYT and Greubel Forsey that push the bounders of modern watch-making. John keeps a keen interest in the UK watch scene with their many emerging brands and timepiece's. John Galt currently contributes watch related articles for online publications in the UK and USA. You can follow John on Twitter @johng73 Read his articles here.