Ulysse Nardin are to release at Baselworld a new Minute repeater watch with the Westminster Carillon, following on from previous models including Genghis Kahn and Alexander the Great. Their new release depicts the great general Hannibal Barca considered to be one of the greatest military leaders and tacticians with his ability to predict his enemies every move. In his quest to invade Rome during the Second Punic war , Hannibal achieved a totally remarkable feat by crossing the Pyrenees and the alps with his army of soldiers and his now infamous secret weapon of elephants. Ulysse Nardin has once again pushed the bounders of Haute Horology by depicting that monumental journey to take Rome.
The case is made from platinum a particularly resonant material for a minute repeater, immediately you find your eyes drawn to the three-quarter dial, but this no ordinary dial. It's made of polished granite sourced from the Alps that Hannibal led his troops through.
Complementing the granite dial perfectly are four hand crafted 18ct white gold life like Jaquemarts depicting Hannibal on his horse, scene of Hannibal fighting and Hannibal's elephant and army. All four are uniquely synchronised with the sound of the minute repeater gongs and move accordance with the hours, quarters and minutes and are surrounded by a back drop of mountains, they're a true wonder of craftsmanship to watch.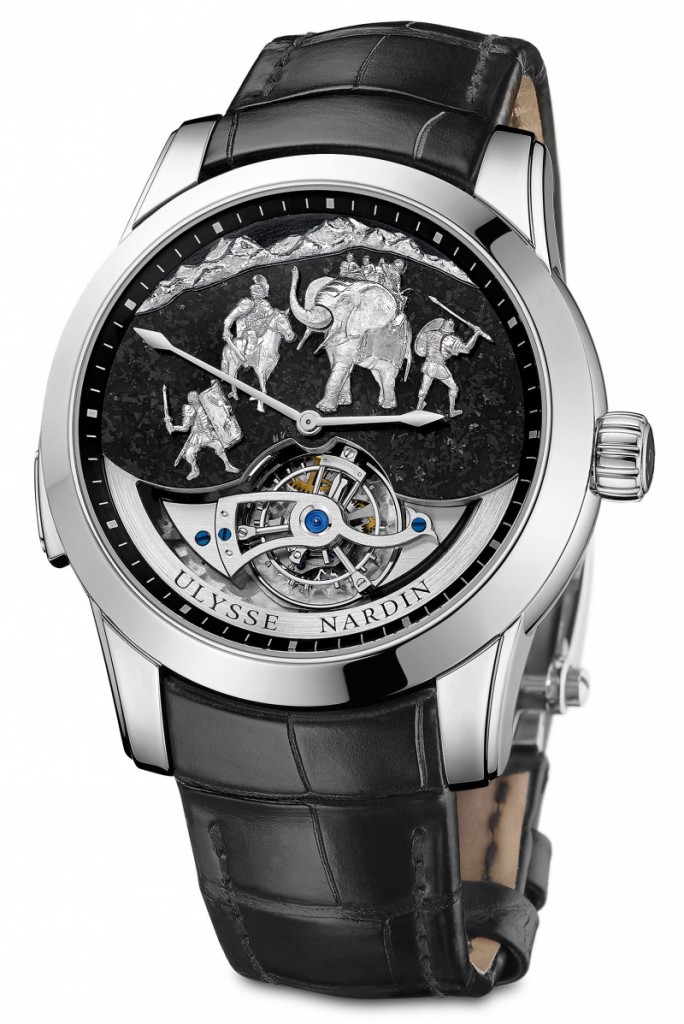 The Westminster Carillon minute repeater on this piece makes a very recognisable tune much like Big Ben in London. It plays a sequence of four-note melodies, a four-note sequence plays at 15 minutes past each hour, eight notes at the half hour and twelve notes on the quarter too. When sounding the time, the lowest notes tell the hours and the high notes tell the minutes. The exposed manual wound tourbillon at 6 O'Clock recessed slightly into the case gives the perception that the dial originally covered it but was cut away after to give a real sense of depth. The tourbillon bridge is shaped as Ulysse Nardin often did back in the beginning of the 20th century and beautifully decorated and hand finished.
Turning the piece over you are greeted to a screw down exhibition case back showing the Ulysse Nardin in-house Manufacture calibre UN-78 manually wound movement that has an impressive 70 hours of reserve. Finished off with a thick leather strap and folding clasp. The watch is water resistant to 30 meters, not that the wearer will ever take it near water, but it does mean peace of mind.
The Hannibal Minute Repeater is limited to only 30 pieces worldwide with price on application.
Conclusion
I will be the first to admit that I am not a fan of enamelled or picture dials. I prefer dials to be more utilitarian, having said that I do like this piece. The 18k gold caricatures seem to hover over the polished granite, with the tourbillon recessed giving the impression of the watch's beating heart. Ulysse Nardin have once again shown their exceptional artistry and further pushed the bounders of Haute Horology. For more info, please visit ulysse-nardin.com


John Galt – Contributing Editor
John Galt caught the horology bug back in 2010 on his first visit to a London watch show and has snowballed since; John has become an avid writer and blogger of timepieces of all kinds, from everyday timepieces to modern Luxury Haute Horology, his favorite brands being HYT and Greubel Forsey that push the bounders of modern watch-making. John keeps a keen interest in the UK watch scene with their many emerging brands and timepiece's. John Galt currently contributes watch related articles for online publications in the UK and USA. You can follow John on Twitter @johng73 Read his articles here.