Lots of companies have their own design languages, adding signature looks and touches to their watches which stand out in the marketplace. Blancpain is one of those; their watches are some of the most thoughtfully designed timepieces on the market, but they aren't very well known especially when you discount the Fifty Fathoms lines. The new watch to their classy Villeret line comes in the form of this, the complete calendar GMT watch and, knowing Blancpain, it'll look about a million dollars in the metal.
Which is, surprisingly, not what it costs. The price for this watch in steel hasn't been released yet, but near enough to $15.5k is what we expect, and for rose gold, you can add $10k to that at least. Blancpain has used the complete calendar function in its watches for quite a while now, and it's made a full circle at the company and even ended up in a diving watch of all places. The reason behind the complete calendar is simple: it displays everything an annual calendar does but without the extra complication of remembering how many days there are in different months, which also means it's cheaper to make and service.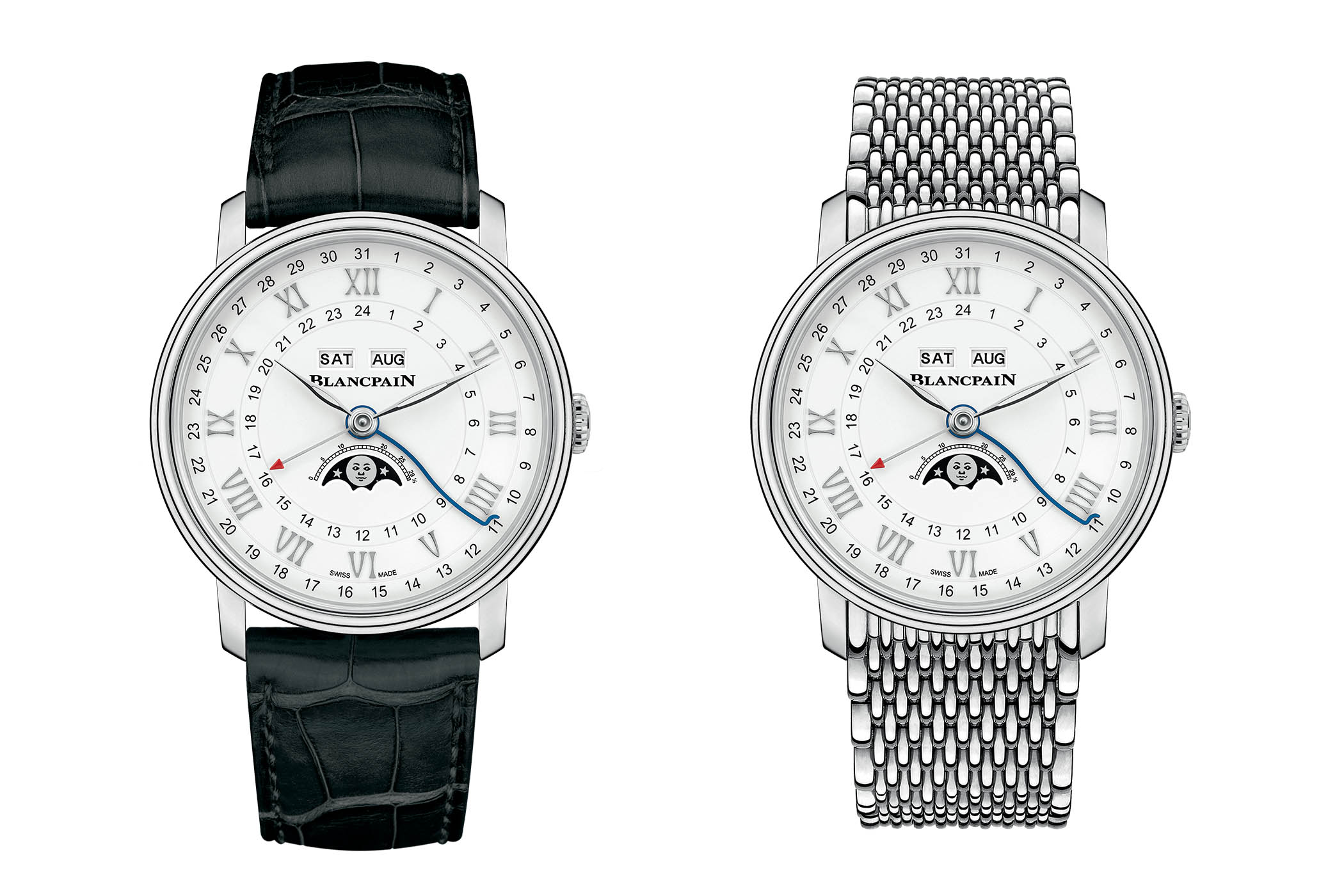 That lack of memory means you'll have to advance the day, the date and the month indicators by yourself for any months with less than 31 days in them. There's also a moonphase indicator which, true to old style horology tradition, has a face engraved on the moon. I also quite like the fact that the moonphase is monochromatic, leaving only the long wavy line for the rotary date indicator in colour. One thing of note, the silvery dial is not enamel, but more impressive is the fact that Blancpain positions the hands so close to the dial it's almost impossible to see any gap between them. That is from my experience with a slightly different watch, though.
The movement is visible on the back, though that's pretty much mandatory these days unless you are making quartz watches or you are Rolex. One of the touches I like about this watch is that the steel model gets a gold rotor, lots of companies like to colour code their rotors to the case material, so it's nice to see one of Swatch's best being a little different. The movement itself is made in-house, the calibre 67A5 beats at 4Hz for 72 hours at least and has a silicon balance spring which it most likely borrowed from rival Breguet.
I mentioned earlier that Blancpain's watches are some of the most thoughtfully designed pieces around. One such place is with the clasp. Unlike pretty much every other folding clasp in history, which relies upon a clip to hold in place, Blancpain watches use a simple strip of metal which runs the inner length of the folding clasp. It doesn't sound much, but that means there's no reliance on a mechanical part which may go wrong or slip, it's also easy to take on and off which you'll need when showing this off to your friends. Also, a lot of Blancpain watches with these clasps use a screw to hold the leather in place. This is extra attention to detail but at the cost of practicality, as you'd expect, resizing the strap will take considerably longer.
That's theoretical at least, I don't know what clasp these watches will use, but if you're more of a metal on metal person then there's a bracelet offering as well which makes it look particularly classy in rose gold. For more info, visit Blancpain online.