It seems like we keep going on about this here at WristReview, and we shall until it is mainstream. Chopard's L.U.C division creates some of the best watches around. Period. The latest addition to the lineup for 2019 indicates the direction the brand is taking with its design and R&D. This year we see the first watch from the company to be equipped with a flying tourbillon, that is, a tourbillon which is only held in place from one side (the underside in this case). Not only does it showcase the technical ability of the manufacture, but it also allows for a new design language to be introduced.
Let's take a second to think about why the new Chopard L.U.C Flying T Twin watch makes such a difference. Established Haute Horlogerie brands such as Patek Philippe, Vacheron Constantin, Jaeger-LeCoultre and Breguet etc. (Chopard LUC's main competition) have been around since forever, and have made almost all the different varieties of watches it's possible to have. Whenever they feel like creating something they can go into the archives, pick a design and run with it. L.U.C, named after the company founder Louis Ulysse Chopard, cannot do this. Although Chopard has been around making watches since 1860, it hasn't got the same breadth of expertise. To address this, and give Chopard a high-end line, the L.U.C marque was created in the 90s and came in with one of the best movements put in a watch, the calibre 1.96. Now in 2019, we have seen an award-winning minute repeater, a watch with 14 complications, the world's first tourbillon watch to receive the COSC certificate, Geneva Seal and Qualité Fleurier Seal, and now, a flying tourbillon.
The colour choice of the watch follows the popular trend of marrying dark grey with rose gold, we've seen this before particularly with Richemont brands, and it's worked wonders for them. The case is 40mm in diameter, 7.2mm thick and crafted from Fairmined gold, which is more pricey than your standard precious metal, but ensures that everyone involved gets their fair share of earnings and is a part of Chopard's ethical commitments. The brand does as much of the work itself as it can, which even extends to smelting its own gold (Rolex salespeople will tell you that Rolex is the only brand that smelts its gold. They are wrong). The operations are balanced between Chopard's headquarters in Meyrin, Geneva, where the jewellery and Mille Miglia lines are worked, and the facility in Fleurier which houses research, the L.U.C workshops and the L.U.Ceum.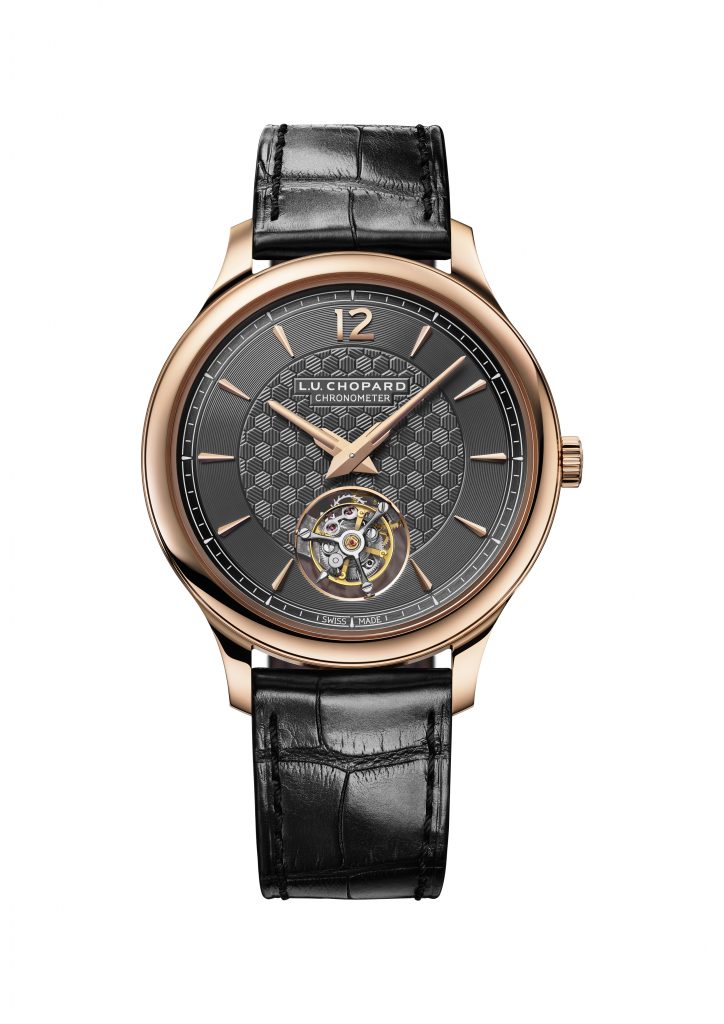 The dial has been exceptionally well executed featuring a honeycomb pattern (the first logo used by Louis Ulysse Chopard revolved around bees, which is why they are becoming prevalent on new L.U.C watches), we appreciated the design on the L.U.C XPS 1860 Officer's watch, so it's nice to see it reappear here. Also worth noting is the new design of the flying tourbillon. Other tourbillon watches from Chopard feature a dramatic three spoked cage which adds a bit of elegance to the watch, but, seeing as the watch is showcasing a new technology (and so you can see your wrist through the watch), the cage is missing here. You can still use the flying tourbillon as a seconds hand, though.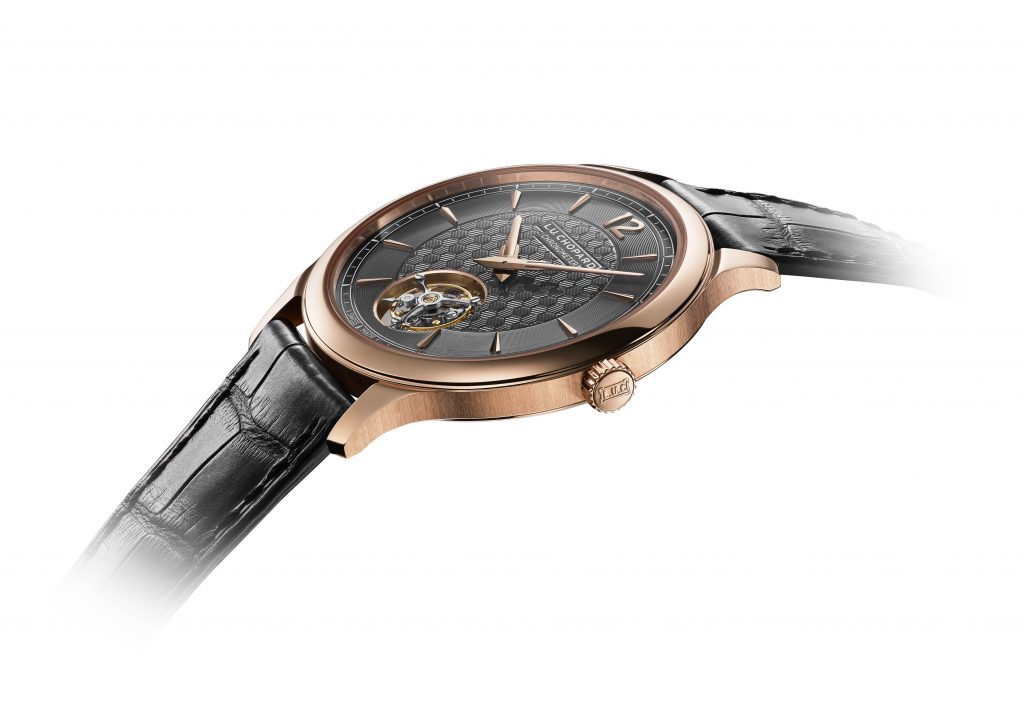 On the technical side of the watch, we have an in-house made calibre L.U.C 96.24-L, crafted from 190 parts but still sleek at 3.3mm thick. There are 25 jewels, the watch has a 65-hour power reserve, and the escapement inside the flying tourbillon beats at 4Hz. Included you'll also find Chopard's Twin technology, which uses two barrels to ensure a smoother flow of power over time. For the first time, this tourbillon watch is wound automatically with a 22k gold micro-rotor. The movement is also COSC certified and holds the Poinçon de Genève (Geneva Seal) as well. To qualify for this, production of L.U.C watches is split between Fleurier and Meyrin, with the final assembly occurring in a small part of the Geneva plant, though the main work of the watch happens in Fleurier. Check out our Jargon Buster for more on the Geneva Seal requirements.
Is there a downside to this watch? Yes, there is. The only downside is that it's limited to 50 watches in total, so the chances of seeing one outside of pictures are pretty limited. That said, if you love Chopard watches, then their super friendly boutique staff will be delighted to help you. The Chopard L.U.C Flying T Twin watch has a price of $118,500.
Visit Chopard here.