Raymond Weil's ultimate tribute to Raymond Weil is certainly a fitting chronometer powered tribute to the company's founder Raymond Weil, Elie Bernheim (descendent of RW) certainly hopes that Raymond Weil would approve, and yes you guessed it, Raymond Weil is a family business. That makes 5 times I said that in one sentence, not bad. But this watch is no joke.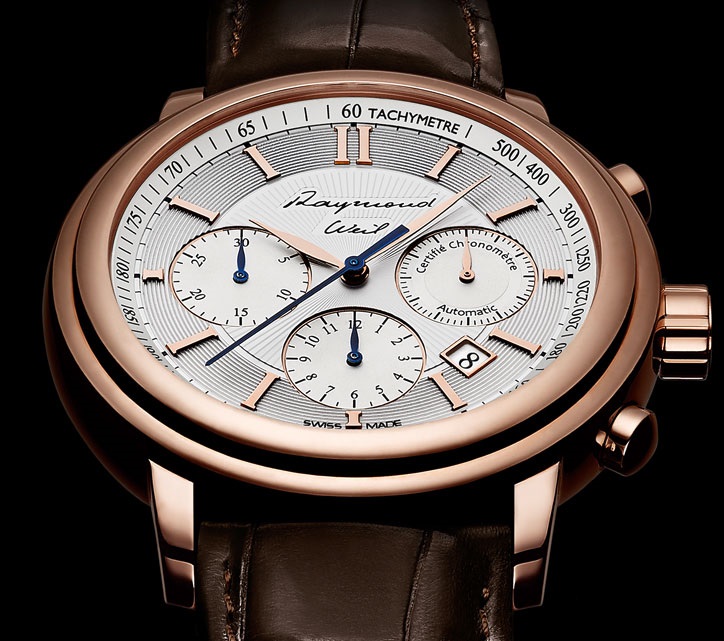 This watch has Raymond's signature on the dial instead of the usual logo, interestingly, the automatic chronograph chronometer date was Raymond Weil's favourite type of movement in a watch. There's also a split design with the dial of the watch whereby the hour markers are on a raised edge around the centre of the dial while the sub dials and date window are in a lower section. This almost gives it a colosseum type appearance with raised seating around a performance arena. On the top of this so called 'seating area' is a tachometric scale which can indeed be used for a variety of functions, most of which I have yet to discover of I'm totally honest with you.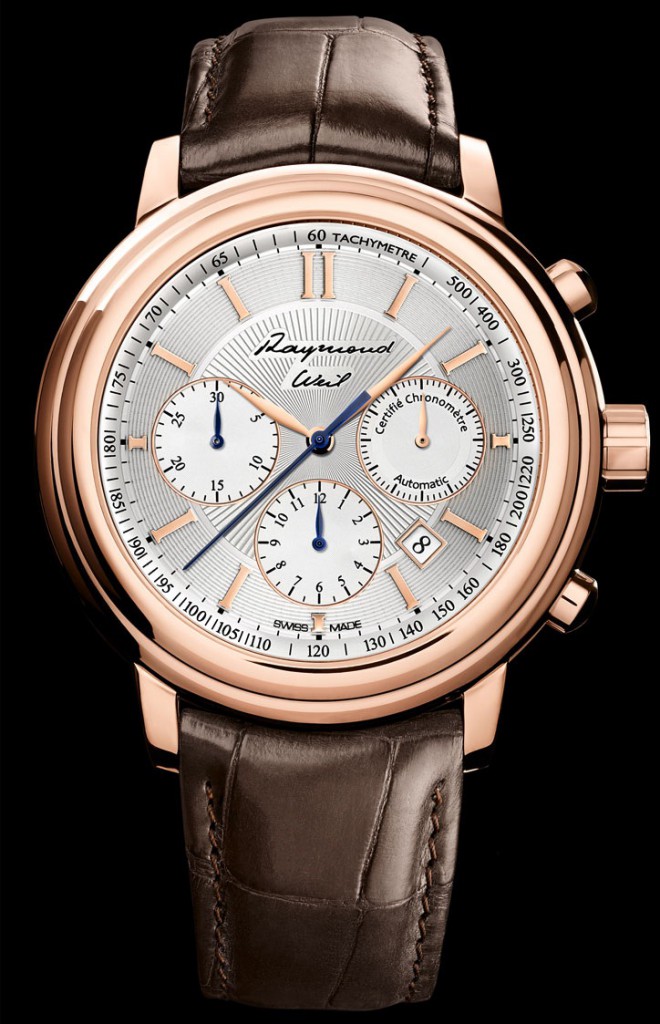 To the right of the central hands is the seconds counter. Remember this is an automatic chronograph so one of the sub dials will move instead of the centre seconds hand! The bottom dial represents hours and the left is minutes. Between 4 and 5 O'Clock is the date window which is simple and edged in the same rose gold as the hour markers and hands. To help distinguish the functions of each hand, Raymond Weil has made it simple by painting hands associated with the chronograph in blue and normal functions in gold.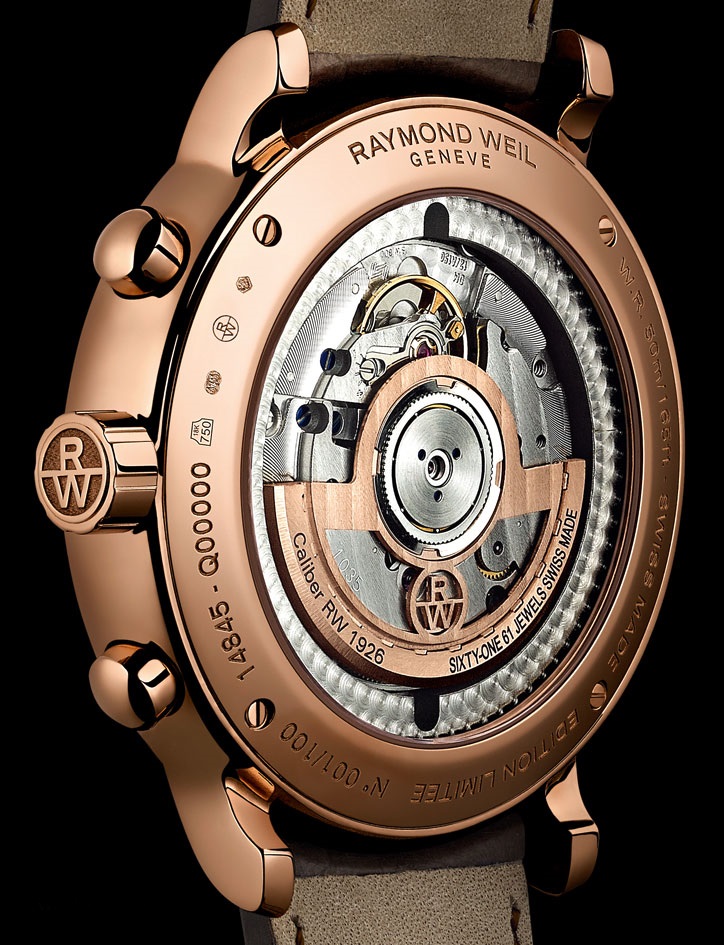 Turning to the back of this watch we can see a hollowed out golden rotor spinning away with our every wrist motion through the sapphire crystal display back. It wouldn't make it onto my list of the top 5 most beautiful rotors and it's size is a little underwhelming, which Raymond Weil has countered nicely by engine turning the section around it. It does bear the Côtes de Genève hallmark on it though, a tribute to fine watchmaking and certainly a step up from most watches in the Raymond Weil lineup. Maybe we can see this more often in Raymond Weil pieces?
This watch is limited to 100 pieces in 18k rose gold so be sure to look into it sharpish if Raymond Weil is your thing because there aren't many around at all. All 100 are presented in a handsome olive wood box. I haven't been able to decide whether it should be a formal watch that's got a chronograph and has suffered from bezelbulging, or a more sporty dress watch like a Jaeger LeCoultre Reverso. If you own one please feel free to contact us through the Contact and Advertising page and write the subject as RaymondWeil HC-G 2014. In the meantime, I should say that we don't have the pricing information yet. For more info, please visit raymond-weil.ch
Harlan Chapman-Green – Contributing Editor
First introduced to horology with the Patek Philippe Calibre 89 by his father two years ago, Harlan enjoys his passion for fine horology. He prefers to spend his time in the boutiques of upmarket brands, trying out new pieces constantly. His preferred 3 brands are A. Lange & Söhne, Breguet and Vacheron Constantin. Although not much for the smaller brands, he still finds the complications intriguing and wishes to own one watch from each of his three favourites. Read his articles here.