All the cases and bracelets are processed from raw material, formed into shape and then assembled into their final design here. It's the largest of the sites and is made of six blocks linked together by a central corridor system. Next is Chên Bourg, which is, you guessed it, in Geneva. Chên Bourg is responsible for the dials used by Rolex. Those guilloche dials on the Cellini, the factory diamond dials on the DateJust are all made here. Chên Bourg is also responsible for gem setting. Rolex secretly sources all of its diamonds and gems, all of which are first inspected, to weed out fakes and select what will be cut down. It's estimated that there may be up to 2 fake gems sent to Rolex every 5 years which is remarkable work indeed. the final plant is in Bienne, which isn't in Geneva. More than 2000 people work here making the movements that power all the watches. All the components are manufactured here (not in China as some rumours suggest), assembled here and then pre-COSC tested here. It's all done by hand at a remarkable pace.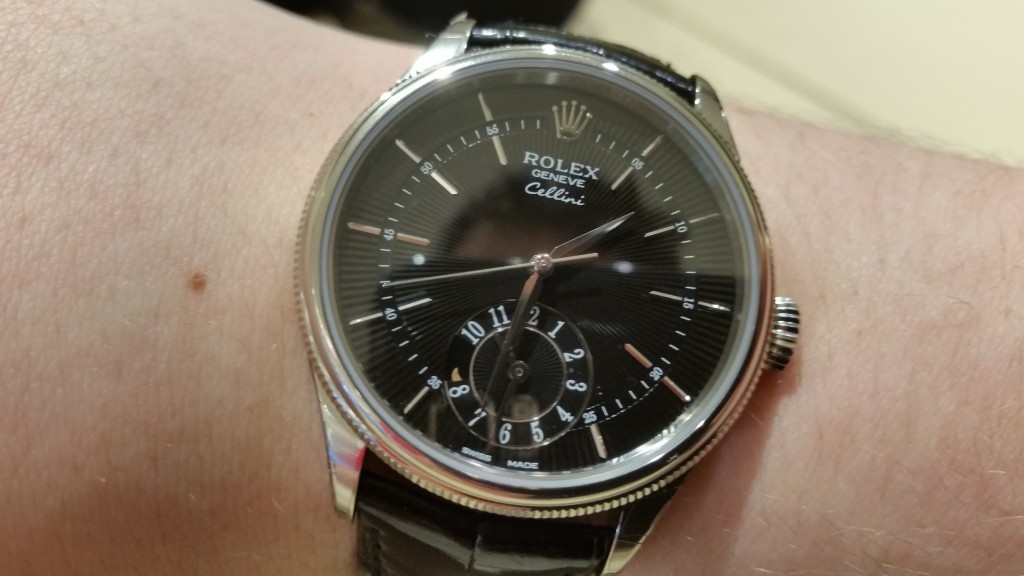 The last piece today is the Cellini dual time. This model is also encased in white gold, but it's got a black guilloche dial as opposed to a silver dial. You'll find this piece is what you need if you want to blend in the most when wearing a suit. It's not brash, it doesn't shove people out of the way to be the first to the buffet, instead it glides silently out from under a cuff when the time needs reading, though it can be seen as the absolute height of rudeness to look at one's watch when at a high dress event. Those that go can afford to use the whole night doing what they like and having a good time after all.
The dual time, is as the name suggests, a dual time piece. Which means it's probably going to be used most for travelling. You'll find that, like the Cellini date, the dual time can be adjusted using the crown, pulling it out to a certain position will allow you to accurately set the hours and minutes to whatever time takes your fancy. Or you could set it to the same time as the main hands, something I'd definitely do when not traveling. There's also a lovely hidden surprise within the dual time sundial, something that's really unlike Rolex and hasn't been seen in a long time; a moonphase. The moonphase indicator is small and subtle, so subtle I had to do a double take to even notice it. When set up it'll work in exactly the same way as a classically styled would.
Because the dial is a guilloche dial, the Roman numerals at 3, 6, 9 and 12 O'Clock have been replaced with the stick markers that I've come to know and love on the Cellini. They are split in two and have the seconds count running through the middle, instead of being placed around the outside. This gives the watch an 'inner ring' that perhaps shows that Rolex is aware of the smaller sized dress watches, and instead decided to go for a nice, modern, broad shouldered 39mm. The black dial smoothly transitions nicely with the black, shiny alligator strap. It really is very lovely and shiny and ends with a Rolex branded buckle as well, making this my personal choice of the three (although I'd happily have all three).
To finish of this article I'd like to point out where this watch succeeds, so that we can end on a high note. The Cellini is a classically styled piece, while it doesn't yet have the design classicism of the DateJust, it's a comfortable size and is offered in many interesting variants. Also, the cases are solid precious metals and are presented on a leather strap, the first Rolex we've seen for a long time apart from the ludicrously rare Rolex Cellini Prince collection. And finally the movements. They've been redesigned from the ground up for the Cellini but they're still as reliable as ever, meaning that you can wear one to a party and dance your heart out without worrying about that oh-so-fragile and expensive dress watch. Perfect. All legends have to start somewhere, it seems Rolex chose now as a good time. For more info, please visit rolex.com
Pages: 1 2
Harlan Chapman-Green – Contributing Editor
First introduced to horology with the Patek Philippe Calibre 89 by his father few years ago, Harlan enjoys his passion for fine horology. He prefers to spend his time in the boutiques of upmarket brands, trying out new pieces constantly. His preferred 3 brands are A. Lange & Söhne, Breguet and Vacheron Constantin. Although not much for the smaller brands, he still finds the complications intriguing and wishes to own one watch from each of his three favourites. Read his articles here.