Earlier this year we had the chance to sit down with the folks from Romain Jerome at Baselworld and see some of their colourful and pop culture pieces. However, there was one particular piece that made me do a double take, and that was the Spacecraft that was unique in style, even for Romain Jerome. It looked very sleek very and very high tech and resembled something that you would see from MB&F and not Romain Jerome. But there it was, before us and it looked the goods. Also featured was the new Batman-DNA that was equally as crazy and equally as cool. However, what we didn't expect was to see a melding of the Spacecraft and the Batman-DNA to create what we have for you today, the new Spacecraft Batman.
The Spacecraft Batman is a collaboration with Warner Brothers and brings to life another high-tech wristwatch crafted in titanium and finished in black (what other colour would Batman choose). The piece is made using titanium and has a trapeze shaped case that adopts the stealthy and edgy look that we see often on various devices used by the winged crusader. Made to resemble the Batmobile, the facetted cap of the watch has been hand-brushed to create a unique "rough finish" with the Bat Signal logo engraved on the facet, a first for Batman and the watch industry.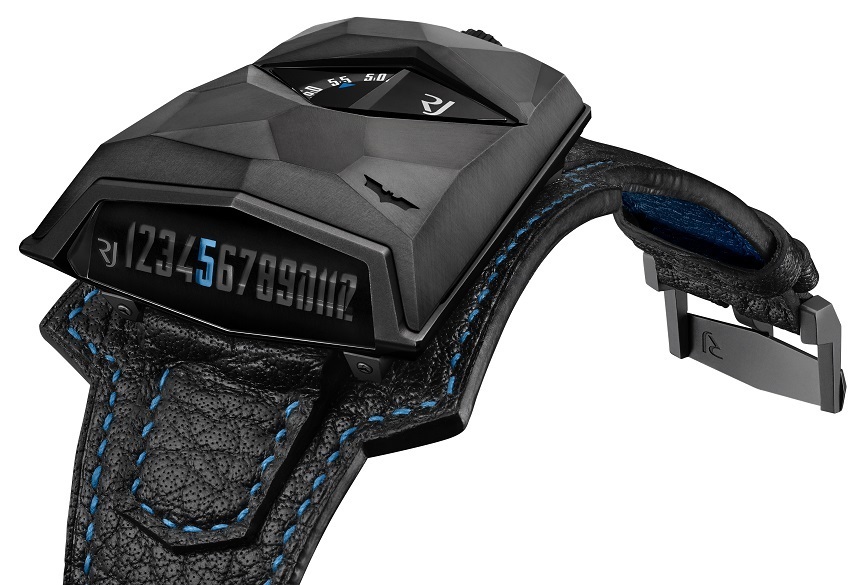 The time reading is the same as you would have seen on the original Spacecraft with the hour display revealed on the side of the case with a bright blue indicator and is read off laterally. The minute indicator is featured on the black rotating disc with a striking blue cursor on the top of the case helping keep legibility as clear as possible. Tucked underneath the armour plating is a unique self-winding mechanical movement. It has been exclusively developed for Romain Jerome by the Geneva-based manufacturing facility Agenhor. It has 4 complications overall: lateral, linear, jumping and retrograde. As a result, the screw lock crown has been placed at the rear of the case, facilitating the time change at the users will.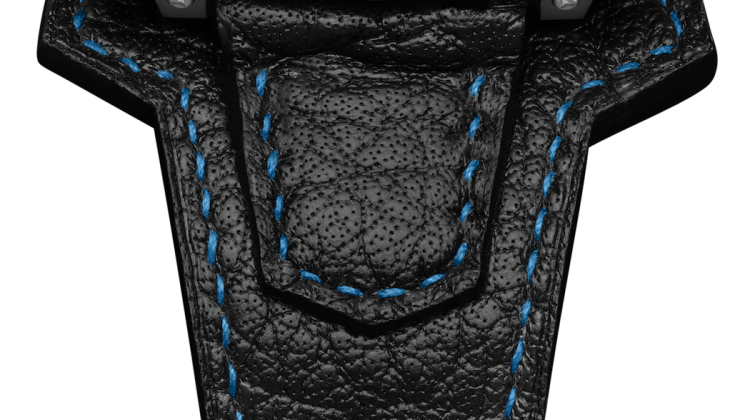 The piece is then finished off with a black and blue buffalo leather cuff that is a unique construction and shapes itself to the watch case holding it nice and tight on the wrist.
It's safe to say that Romain Jerome has become THE watch manufacture to go to if you're after retro and pop culture timepieces that have more character than just your usual classic watches. The Spacecraft Batman is just another example of that and is definitely one to stand out from the crowd, just ask Batman himself, if you dare!
Here is the latest trailer for Batman v Superman: Dawn of Justice
For more info, please visit romainjerome.ch 
OSHEEN ARAKELIAN – CONTRIBUTING EDITOR
Osheen is a long time collector and passionate watch aficionado. He is the Founder and Chief Editor of the Sydney Watch Guide based out of Australia. Alongside Sydney Watch Guide, he has also expanded and started OSHEEN's House of Horology, an online shop that specialises in vintage, pre-owned and niche watches from around the world. He is also a contributor to a number of Australian Men's Lifestyle magazines and is fast becoming the go-to destination in Sydney for anything watch related. Read his articles here