DeBethune has been winning both fans and collectors over in recent years and at SIHH 2016 they're going to do it again with this new world timer piece. Many many watches can be made to be world timers and show every single possible timezone ever, but a lot of them are also very confusing to look at, I end up just looking at the time and forgetting about all the different zones. DeBethune seems to have solved this issue with the BD25 World Traveller.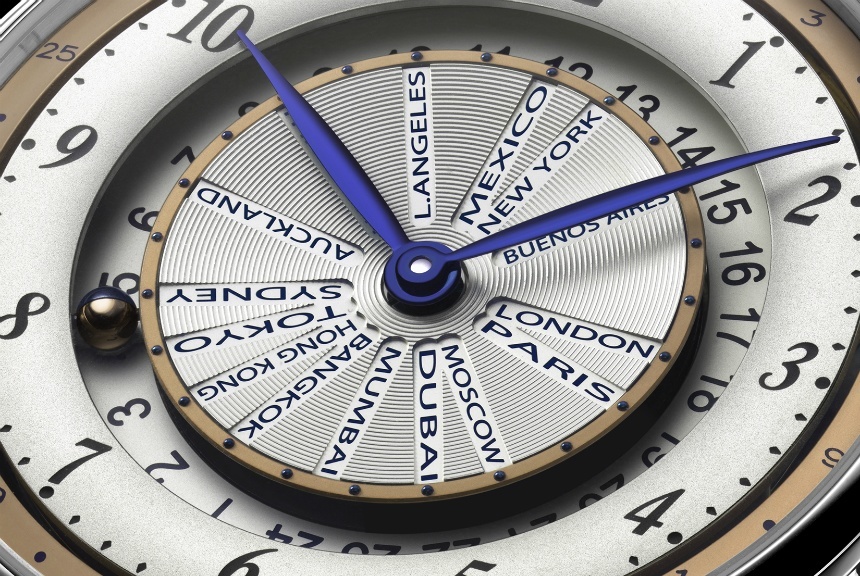 The first point of notice are the blue hands on the dial, they really stand out against the white and khaki coloured dial. Another way that makes them stand out is the fact that other parts of the dial has been cut away to allow for other parts which we'll cover in just a minute. Under the hands is a city ring that has a circular guilloché motif with the cities cut into it.

The BD25 World Traveller watch wouldn't be called a world travelling watch, aka a timepiece designed specifically to be the perfect partner for the one who seeks to see all four corners of the globe, if it didn't have a world time function. As I've stated, this watch has a very simple and easy to understand world time function (with a date). A small ball bearing that's attached to a mechanism moves around inside a lowered track just outside of the city room. Outside of the hour ring is a very discreet date ring that has a small arrow that moves subtly from one date to the next.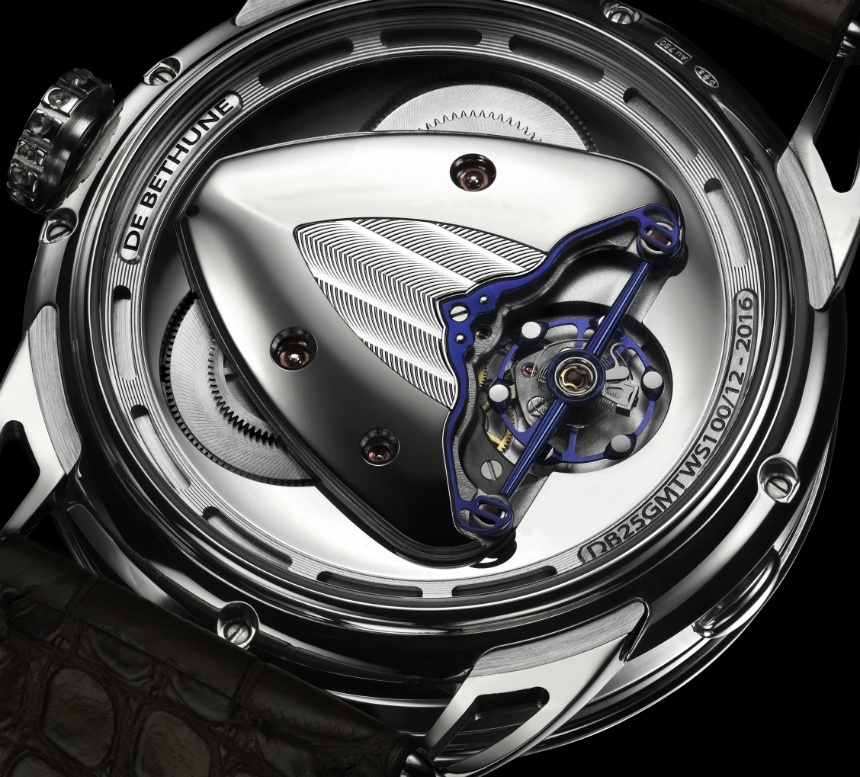 One of the most unique inventions in the watch is a new type of balance wheel that has been placed inside of the watch. The blued balance wheel has been uniquely placed at the top of a shield looking plate. The balance wheel is made of titanium as well as the bridge it is mounted to, the inventive use of titanium allows the mechanism to flex to a certain degree is the watch is submitted to a sudden shock. The new titanium balance wheel is also more aerodynamic and has weights made of 18K white gold.
The 45mm diameter case is also made of 18K white gold and the asking price for this excellent piece is going to be 150,000 Swiss Francs.
For more info, please visit debethune.ch
HARLAN CHAPMAN-GREEN – CONTRIBUTING EDITOR
A keen bass guitar player, Harlan enjoys all the perks modern watchmaking technologies the industry has to offer. Although you might catch him sampling Omegas or the odd Rolex, Harlan loves all things Haute Horology, with his three favourite brands being Breguet, A.Lange & Söhne and Vacheron Constantin. He hopes to study timekeeping more in depth someday and will never be able to thank his father enough for introducing him to the industry. You can follow him on Instagram Read his articles here