Our favourite brands are those who do something new, who innovate and push the boundaries, even if it's not always a success in the laboratory or on the market, the fact is the attempt was made and that matters. Fortunately, Hublot is excellent at making new technologies and materials, in fact, I'd say it's one of the most invested watch companies in materials research right now alongside Panerai (check out my trip to their manufacture to find out more). What all this whizzy flash-bang sciencey stuff means, though, is that there are lots of terms coming out of Hublot which may seem a bit confusing, so, the Jargon Buster returns once again to take on the mighty 'H' and break down the confusing bits into something more manageable. Let's get cracking.
Magic Gold
Magic Gold is a never before seen material which aims to fix the inherent problems associated with this precious metal. The chief problem with gold is that it is very malleable, it is easily shaped and polished to perfection, but that means that it is also easily scratched and damaged too. When you see a gold watch, you're not getting pure gold, as it is too soft, the average purity is 18 karats which means that 75% of the metal is gold and the rest is made of various other metals such as zinc or copper or so forth. To prevent scratching and wear over time, Hublot experimented with different elements of the periodic table. Magic Gold is a mixture of Au (gold) and B4C (Boron carbide), this is a high tech ceramic-based material which is typically seen in tank armour and bulletproof vests. Boron carbide is one of the hardest known materials, alongside boron nitride and diamond. The exact ratio of this alloy remains secret, but what it ensures is the longevity of Hublot watches and resistance to scratches like no other gold watch.
King Gold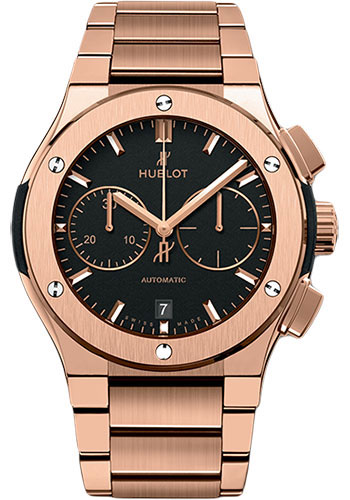 Alongside Hublot's proprietary Magic Gold blend is King Gold. This is a lot less exciting than the Magic Gold but is still worth a mention. Regular rose gold like you might see on a Patek Philippe is made up of three metals, gold (obviously), copper and silver. Controlling the ratio of these three metals changes the colour of the gold so that you can have lots of different hues, for example, Rolex's Everose gold is an entirely different colour to most other rose gold types because of the materials they've included in it. The point of Everose gold, and indeed King Gold too, is not only to change the colour slightly, to a more red blend in this case but also to prevent fading. Over an extended period rose gold tends to fade and lose its appeal, to avoid this Hublot included more copper than usual and platinum as well which increases the length of time before the rose gold starts to change. Clever eh?
Unico
In Hublot's terms, Unico refers to a movement which has been made in-house by the company. It is no secret that in the past Hublot has outsourced its movements, often from ETA, which has caused them problems with the fanbase over the years. The first Unico movement was a complicated one, a column wheel chronograph with a flyback function, something very technical for Hublot to start with. It took Hublot 2 years to design this new movement, which is now very popular in Hublot's Big Bang collection. It had to one-up the old 7750 movements, which it did, the most obvious points are the column wheel and flyback chronograph, but also the 4Hz operating speed and the long 75-hour power reserve. The new Unico movements have so far been incredibly popular with collectors and have turned many Hublot-skeptics into Hublot fans, including me.
Meca
This one's an interesting one. An in-house designed and produced movement from Hublot which attempts to over-accentuate certain parts of the construction. This watch has three ways of telling how much power is left in the barrel. Why? Well, as with most of watchmaking it's more of a case of 'why not?' The name is derived from a children's toy which was introduced into Great Britain in the last years of the 19th century by businessman and inventor Frank Hornby, as in, the creator of Hornby train sets. Meccano sets were comprised of metal plates, gears, axles and other paraphernalia which allowed a child to channel their inner Brunel as they made all kinds of things. The Meca-10 watch from Hublot is a playful attempt at garnering interest in this old toy, and indeed watchmaking, by exposing nearly everything to the viewer using a skeleton movement and a big-toothed comb at the top which has been brightly polished. Oh, and it also runs for ten days between winding as well. Fun fact, in the USA a toy very similar to Meccano was created and was given the hysterical name of Erector, it's not in use any more. I promise that's true.
'Hublot'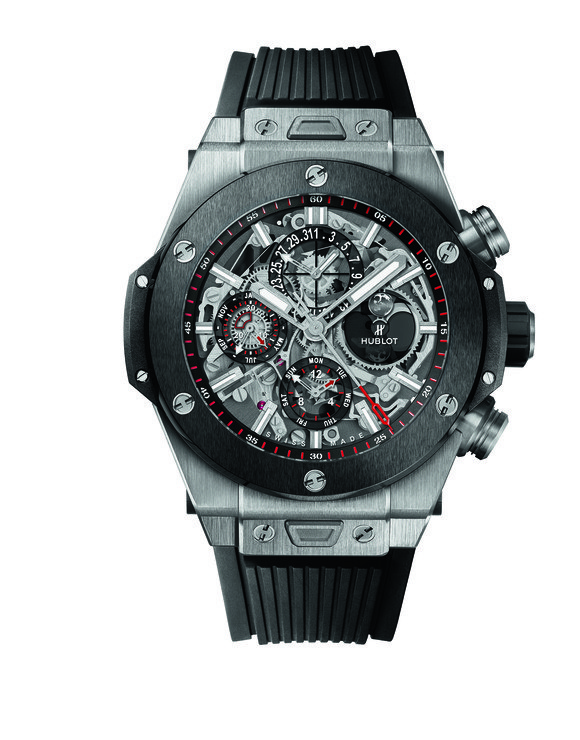 The term Hublot is an odd one in our language, which is very simple to explain, it's a French word. Pronounced 'ooh-blow' it merely means porthole, as in, the porthole on a ship, the little round windows people looked out. It's apparent to most and often repeated by many that the Big Bang collection of watches bear a striking resemblance to the Audemars Piguet Royal Oak, which is indeed the case and accepted by the higher-ups at Hublot. The reason for this is pretty simple when you think about it logically. They are both designed from the same object; both designs take specific amounts of inspiration from the porthole itself. At this point, there are factors you can limit and change, such as whether to add in chunks on the side to represent the hinges, and there are factors which are pretty much fixed. These would be things like the bezel having screws in (I am aware that Patek Philippe's Nautilus doesn't have these, but for this discussion, we'll leave that to one side).
The first point to the Big Bang's difference in design is the round case, as portholes are rounded rather than octagonal. Add in the chunks either side representing the latches of a porthole, and we start seeing something familiar. It is evident to most that the Big Bang has an acute resemblance to the Royal Oak, so naturally, it was accused of copying the Royal Oak. The watch was designed with the Royal Oak in the background, but more so of how to avoid making something that looks exactly like a Royal Oak, hence the case and rubber strap instead of a bracelet and so forth. Naturally, if your inspiration is something limiting like a porthole, you'll end up with many designs that look quite similar to each other, this is nothing new. I feel that people get so upset that with the Big Bang is because of the company that made it, and their general dislike for said company. Nevertheless, Hublot's Big Bang remains an ever-popular watch to this day, and now with in-house production stepping up, we hope to see more Unicos in other timepieces from the company.
Given the discussion above, do you still think that the Big Bang copied the Royal Oak? Why not leave us a comment below with your thoughts?
For more info, visit Hublot online.