And so, like all good things, this recurring series must end. We've looked at some of the most beautiful watches on this planet, taking two watches and putting them together is very difficult, but I believe we've done really well with this series. The Tourbillon Trials is the follow-up series to the very popular Clash of the Chronos series, where we pit 2 watches (in this case chronograph watches) head to head in an attempt to see which is the watch you should go for, of course, personal taste matters too and we understand this. I believe that the watches we've picked so far in this series have been very evenly matched, but this last edition is going to be a bit different. Like all good things, it's going out with a bang.
So, which really is better? A tourbillon watch with a moonphase among other things or TWO tourbillons? Let's start with Breguet.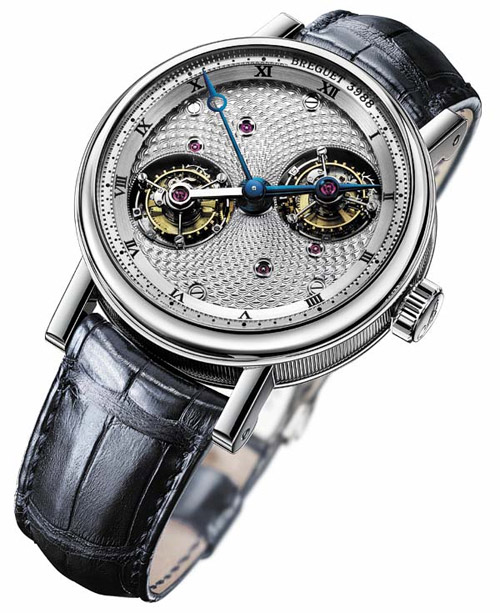 Two is quite a big number in the world of horology when it comes to complications. Putting two complications in a watch drives up the amount of work needed to make the piece which drives up the price. For example, a chronograph watch with a date as well will cost more than the simple three-hand version because something, be it a man or a machine, has to spend more time putting tiny weeny little cogs and gears into place in a way so that they don't interfere with each other. Let's not even consider the amount of time and meetings needed to plan such a watch, we can simply use the term 'a lot' to cover this quite well. So, imagine how much time went into a watch with two tourbillons.
These aren't just any tourbillons either, they're made in-house by Breguet, company started by the man who invented the tourbillon, Abraham Louis Breguet. Not only this, but if you recently read our article on the new Speake-Marin Double Tourbillon piece, and then compare it to the Breguet Classique Complications Double Tourbillon, you'll notice that the tourbillons are mounted diagonally opposite each other on the dial (there are differences when it comes to the hallmarks of the two companies, but these are frankly obvious and don't need exploring in this article). In this watch, the tourbillons are mounted diagonally opposite each other and are connected by a rod that goes over the centre of the dial, allowing Breguet to apply an hour hand to it (a Breguet style hand to be precise). The reason they did this is because the tourbillons rotate around the centre of the dial.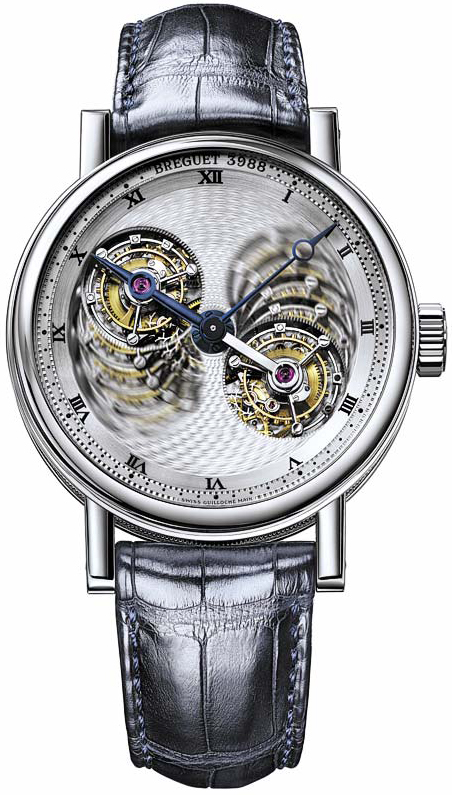 So, if you put this on, to check the time, then check it again a few hours later the tourbillons will have moved, how cool is that?
Each tourbillon takes over 100 hours to fully complete and test to make sure that they work properly. To further our understanding of the work put into the watch even more, the dial has been engine-turned by hand with the pattern radiating out from the two cut outs for the tourbillons. The side of the case has been given the signature Breguet edging, which is wrapped around the entire case (even between the lugs). It takes a year to make the Classique Complications Double Tourbillon watch there is only 1 being made at any time, so the waiting list is very long. The watch is also enormously pricey at €480,000 per piece. For that, you can have a choice of a more traditional rose gold colour with a brown leather strap, or the more crisp and modern platinum option which has blued hands and a blue leather strap. If these watches aren't exclusive enough, Breguet also offers a diamond covered alternative for even more Euros.
Breguet is a very traditional company indeed when it comes to the majority of the watches it makes. It's definitely more traditional than both Patek Philippe and Audemars Piguet, and not much further ahead than Vacheron Constantin. Now let's look at a watch by Jaeger-LeCoultre, a company known for being a bit more left field when it comes to design.
Pages: 1

2