Peter Speake-Marin's love for the exquisite tourbillon is world renowned; the first piece to ever bear his name was the foundation watch, a hand-made pocket watch equipped with a gorgeous tourbillon escapement. Now they have come with their latest creation called the Magister Vertical Double Tourbillon and as you can guess by the name this is a double 60-second tourbillon linked beautifully by a limited slip spring clutch with both configured vertically. Let's start by looking at the tourbillons first as they are the main feature of this piece.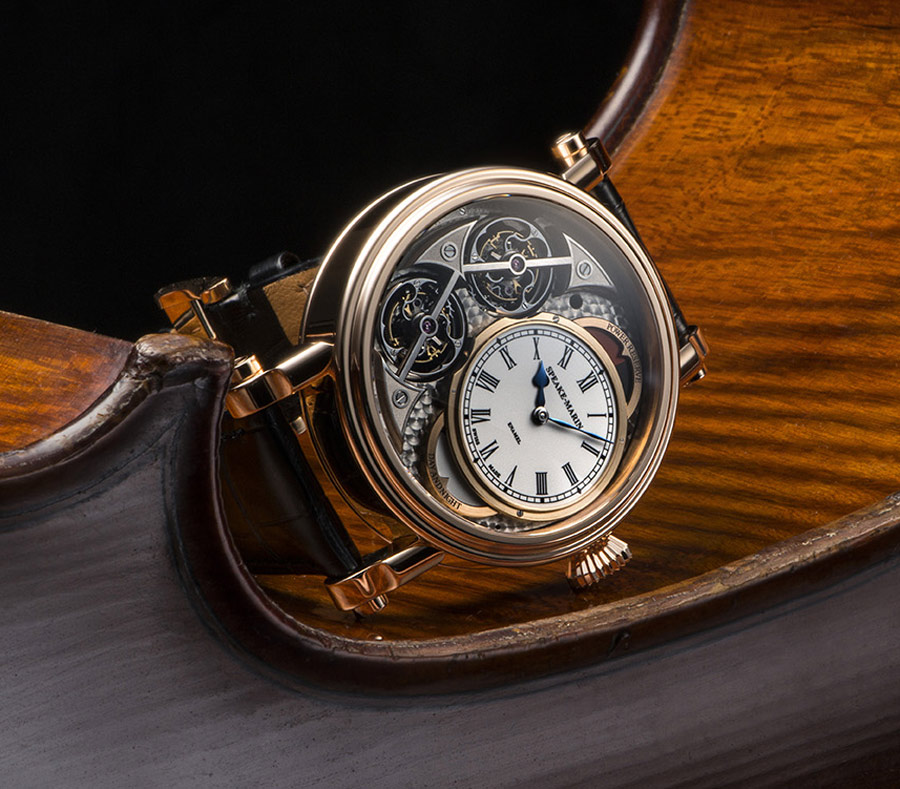 Peter Speake-Marin has thought long and hard about the placement of the double tourbillon and has got it spot on by positioning them on the far left-hand side of the dial thus allowing the wearer to easily read the time on the off-centre dial without having to fully reveal the piece from under a shirt cuff while the double tourbillon remains discreetly concealed. Both tourbillon's are supported by a large single bridge that is hand-finished with mirror polished internal bevels. Each of the tourbillons has their own gear train powered by its own mainspring barrel which means they run independently of each other even though the barrels are wound simultaneously via the crown. The Piccadilly case size is 46mm in diameter so on the large, this size was chosen perfectly as it offers a perfect time display while still leaving enough space for the tourbillons to be fully appreciated by the wearer.
Two versions are being released one in white gold the other in rose gold which I prefer as really accentuates the tourbillons and dial more so. The large oven-fired enamel dial with roman numerals and rail-track minute markers round the outer edge hark back to dials of old pocket watches in its appearance. Speake-Marin typical blued-steel hands indicate the hours and minutes and are thin so as not to spoil the clean crisp dial much. Just above the dial is a power reserve indicator displaying the power by means of a cam-shaped disc that when fully wound opens to reveal the gears and mechanism below then slowly closing to reveal a red section when in need of winding. Below the dial and keeping the symmetry perfect is a day/night indicator.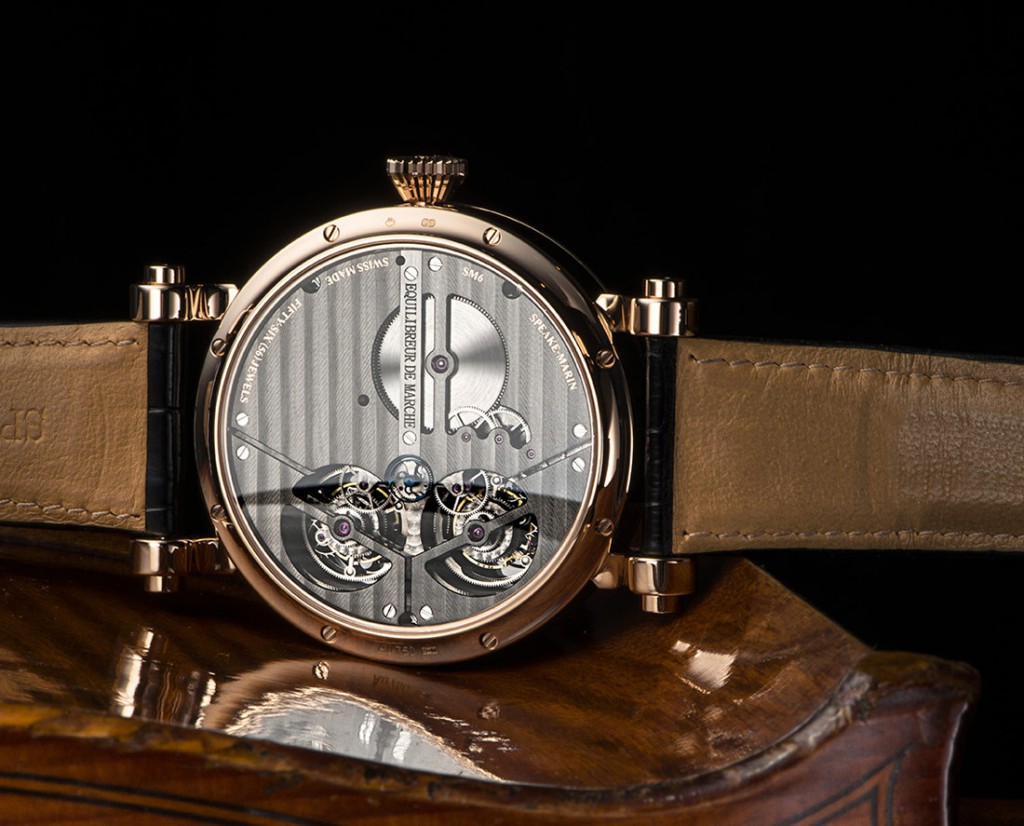 Turning the piece over you are greeted by a large exhibition case-back showing off the underside of the double tourbillons and the small wheel nestled between their openings. this is the rate equaliser which takes the rate of the two independent regulators and transmits the average of the two to display the time. The movement is Speake-Marin's own in-house hand-wound calibre SM6 which beats at 21,600 vibrations per hour and will guarantee a good 72 hours of power reserve. As with all Speake-Marin pieces, the finishing is exquisite including German silver bridges, perlage and ruthenium plating and with Geneva stripes covering the ¾ plate movement in two directions.
Each limited edition is available in only 5 pieces making it extremely rare and priced at 249,000 Swiss Francs
Conclusion
This piece is plain and simply beautiful, with its gorgeous dial to those double tourbillons that I could watch for hours. Given that there will only be 5 of each I don't expect to see them around but I am sure these will be a classic in years to come.
For more info, please visit speake-marin.com
JOHN GALT – CONTRIBUTING EDITOR
John Galt caught the horology bug back in 2010 on his first visit to a London watch show and has snowballed since; John has become an avid writer and blogger of timepieces of all kinds, from everyday timepieces to modern Luxury HauteHorology, his favorite brands being HYT and GreubelForsey that push the boundaries of modern watch-making. John keeps a keen interest in the UK watch scene with their many emerging brands and timepieces. John Galt currently contributes watch related articles for online publications in the UK and USA. You can follow John on Twitter @johng73 Read his articles here.