Ever heard of this company? No? That's alright, they are microscopic in the watch world and have severely limited visibility because of it. But, like most of the other small brands out there, that means that quality and aesthetics suddenly take a front row seat and, with the new Alfred watch that's no different. About the company itself, it's a hybrid of sorts, it's a Danish company with a Danish name, but the watches are Swiss. It's also named after the last watchmaker in the Jürgensen family to work for the company, Jacques Alfred Jürgensen right up until his passing in 1912. Urban Jürgensen watches can stand out from a lot of the other businesses in this sector thanks to their clean Scandinavian design influences and colours, also the massive Breguet hour hands which make a return here which they like to call 'Observatory' hands.
The new Alfred watch is a modern size despite the 'olde worlde' design influences which I will come to in a moment. Despite this they insist on using some gorgeous horn type lugs which appear to have come straight from a vintage timepiece, it takes over a day just to make those lugs which are then painstakingly welded to the case. It's these lugs combined with the Breguet numerals on the dial and the colour of that dial itself, the aged beige colouring that makes this a triumph of fusing old design styles with modern era elements. There is a reason for this. When moving to their new facility in Biel in the early months of this year (2017) they discovered an old pocket watch in their archives that Jacques Alfred Jürgensen had signed himself, now that's a lucky find.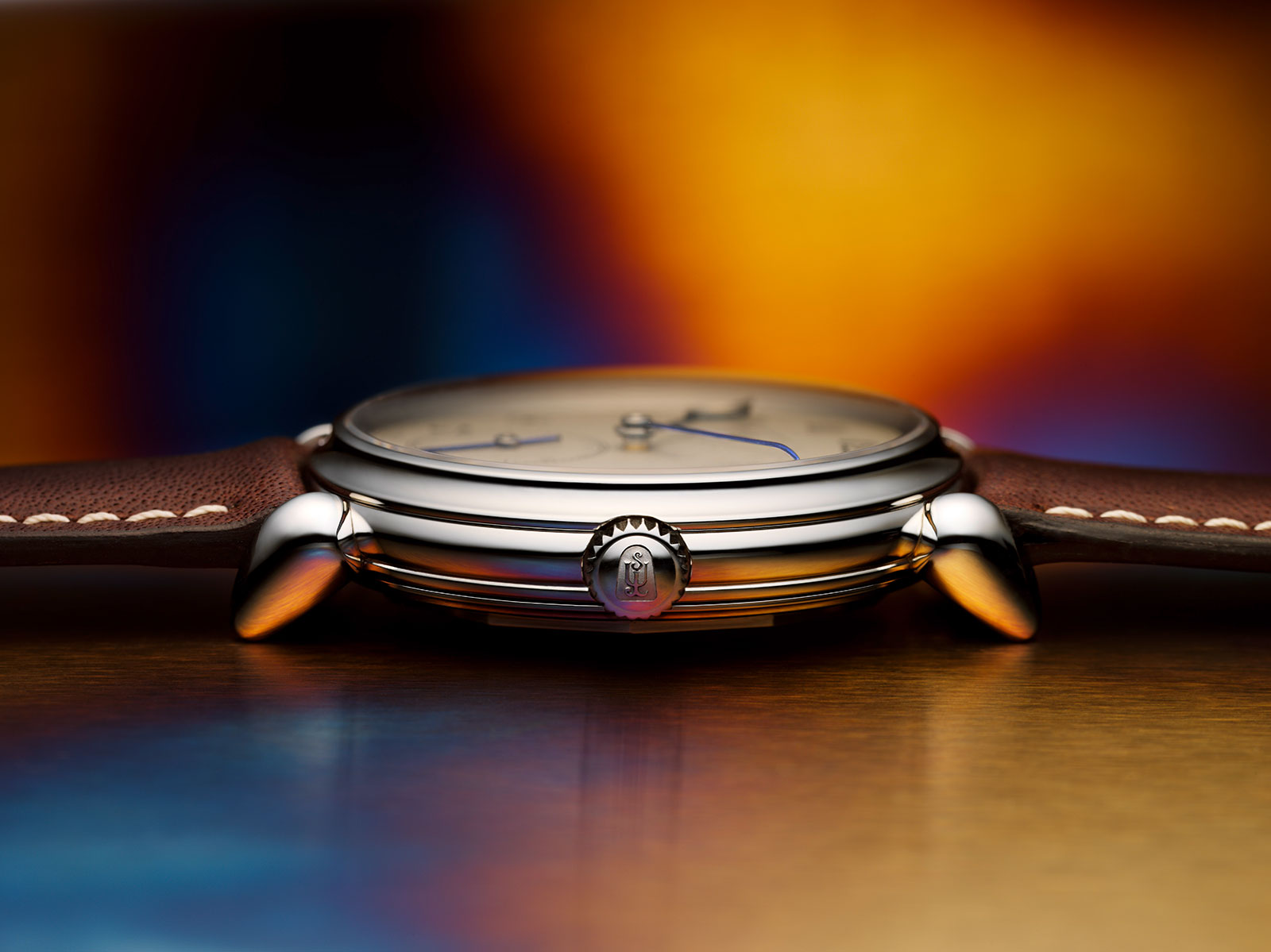 One glaring difference between this watch and pretty much everything else on the market today is the dial, which has a unique finish to it called 'Grenage'. I'll cut the story short and spill the beans on this; it's an arduous and somewhat secretive process for the company. First, the numerals and other writing parts are cut out of the dial plate and then the grooves filled with lacquer. Everything is then polished down, so the lacquer sits flush with the dial. After that, some silver powder is added, along with salt and some magical pixie dust type ingredients are mixed on the dial before an electrochemical bonding process takes place. That is all they tell us.
Finally the movement. Urban Jürgensen's movements tend to be exceptionally well finished, and this continues in the Alfred watch. It's all stripes of course, but they radiate outwards from the 3Hz detent escapement in a similar fashion to those on the JLC Duomètre. It sports twin barrels in this watch which means it will last up to 72 hours total which is helped by the fact there are no complications on this watch. That point also helps the pricing too which is €14,300 plus VAT. You can pay for it via their online payment scheme (or call a boutique), where you can arrange to go to the factory in Biel where the CEO Mr Søren Jenry Petersen will not only hand over the watch but also tour you around the manufacture and show you all the staff that made your wristwatch. Neat, huh? Now I want one. For more info, please visit urbanjurgensen.com