Not one to be forgotten about, Jaeger-LeCoultre has made some new watches which… Oh, wait it's Vacheron Constantin, my mistake. Vacheron Constantin has created some new timepieces for its Traditionelle collection which now sport rose gold cases with grey dials in a project completed unrelated to their Richemont partners and rivals JLC. Actually, despite my joking about this is a good move for them as the collection has been a little stale recently, apart from their Les Cabinotieres thing they stole SIHH with back in January there really hasn't been a lot to talk about. It's good for us too because they do look good in their new colours. Vacheron Constantin has launched six watches in this new colour of varying degrees of complexity, let's start at the bottom and work our way up.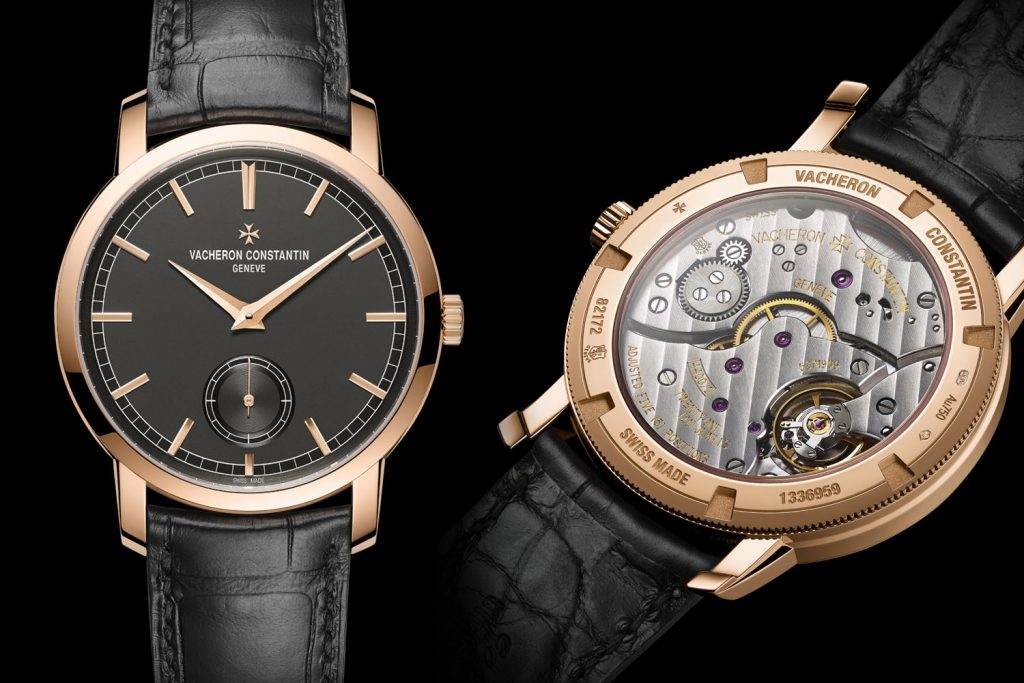 Traditionelle Manual Winding
To be honest one of my favourite dress watches has always been a Traditionelle in platinum with this same coloured dial, I reckon it just looked so slick it's unreal and this new one is exactly the same. The manual winding movement with 65 hours of power reserve can be seen through the back of the case displaying it's Geneva stripes and Poinçon de Genève proudly. Because of this certification, you can be assured that the movement has been finished brilliantly and inspected thoroughly to ensure it meets all criteria. The 38mm case is 7.77mm thick in total and shows its elegant and shapely lugs with ease, lugs that I feel reflect the dauphine style hands very well indeed. The grey dial is balanced nicely by the sub-seconds at 6 O'clock and not at all overcrowded by numbers or specifications or such, this is a contender for the title of the perfect simple dress watch. Priced around €21,000.
Traditionelle Automatic
Stepping it up a notch is the new automatic winding cousin of the manual wind watch we just looked at. This one has a slightly asymmetrical dial when looking at it, you can tell this because unlike the Manual Winding which balances the sub-seconds with the Vacheron Constantin logo, this one is balanced only by a small date window, making it a little lopsided. Nevertheless, it's still a Vacheron Constantin and it still has that all important Geneva Seal movement inside it with a heavily decorated automatic winding rotor to it as well. The rose gold case is shared with the previous watch we looked at and is 38mm in diameter but slightly thicker at 8mm, I don't for a single second believe that will be a turn off for anyone seeking an automatic dress watch. Priced at €26,700.
Traditionelle Ultra-Thin Automatic
Now we take it to the next level and playing the ultra-thin game is right up Vacheron Constantin's alley. It's basically them and Piaget that rule the field to thin watches with other companies such as Bulgari and Breguet making one or two record setters every now and then. While the case itself is 7.26mm thick the automatic movement bearing the Seal of Geneva is 2.45mm thick, so basically really really tiny, the venerable calibre inside though has a massive history, the 1120 movement inside was used all the way back into the 70s and powered the predecessor to the VC Overseas, the 222. The case itself is a much more modern 41mm in diameter which is something I'd be more happy to wear on my wrist, especially given how large it is compared to its thickness. For an ultra-slimline dress watch, you could certainly do a lot worse. Priced at €32,400.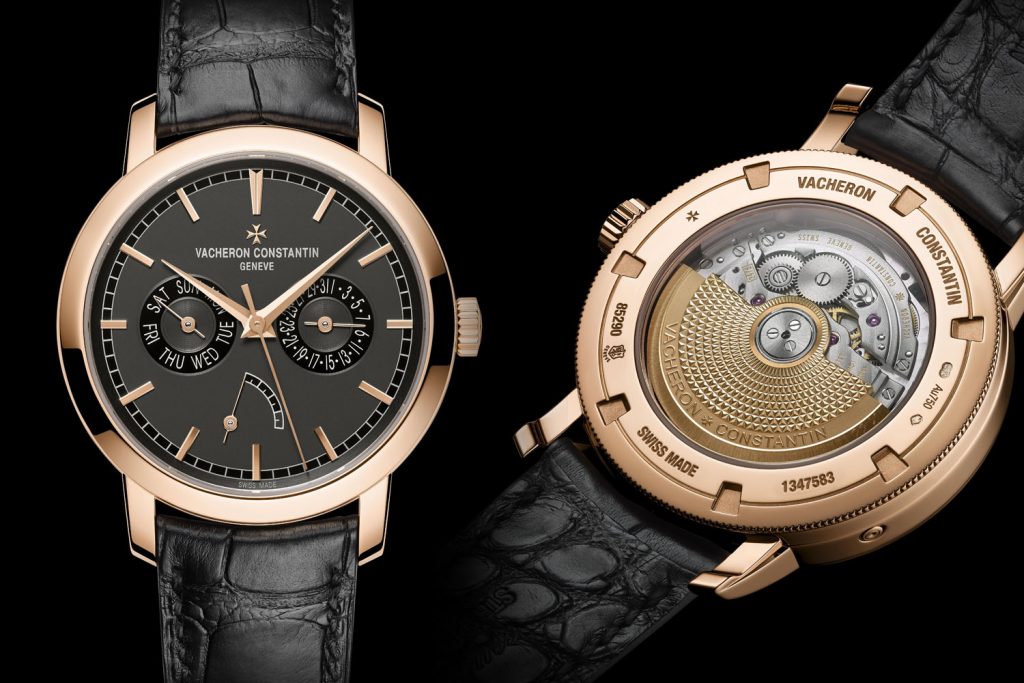 Traditionelle Day-Date Power Reserve
Now we're getting a little higher up in the collection where we finally add some real complications to the watch. Not too much so as to muddle the dial at all, in fact, it's quite reserved, not as clean as a Day-Date President for example, but instead way more interesting to look at. The dial remains the same clean slate grey as all the other watches, but it's balanced properly and much more pleasing to the eye. Equally as pleasing is the caseback where the Poinçon de Genève accredited movement can be clearly seen through the caseback. The calibre 2475 in this watch is related to the 2455 inside the Tradionelle Automatic we saw earlier, but this one has the special day-date module on top of it too. Automatic winding with a 40-hour power reserve, this one sets the new standard for day-date watches. It's priced near to €45,000.
Traditionelle 14 Day Tourbillon
This is where Vacheron Constantin brings out the big guns, from here on out its Horlogerie extraordinaire all the way and Vacheron Constantin does it seriously well indeed. It might be 'only' be a watch with a tourbillon, but getting a watch to run constantly for two weeks when it isn't automatic winding is a serious feat undoubtedly, getting one to run for two days straight is a challenge in itself. Vacheron's complicated watches bear the Geneva Seal and they make full use out of it, although thanks to the tourbillon there's more to see around the front with this watch then the back. The case is 42mm in diameter and 12.2mm thick to fully encompass the calibre 2260. It's the watch to beat, but it costs a heck of a lot at nearly €260,000.
Traditionelle Calibre 2755
Now we've come to the top of the ladder, the apex of the pecking order, the watch that receives the lions share of both food and attention, or something along those lines anyway. You cannot help but be drawn to a watch sporting a perpetual calendar, tourbillon, and a minute repeater as well. That's enough stuff inside it to make this watch a grand complications watch! The watch even has a power reserve but it's hidden on the reverse of the watch on top of the movement which has been awarded the Seal of Geneva. There isn't a lot to say about this watch which tends to speak for itself anyway, so let's all imagine we have one of these on our wrists for a minute, and forget about the watch's price tag. It's €715,000 by the way.
I do like this slate grey dial collection, it's a new step for Vacheron to mix and match colours like this, but I'm glad they did. Although I do prefer white metals all the time over coloured ones, a white gold or platinum collection would be a little too cold and clinical for my liking, the warmth of these watches fills one's heart with joy! For more info, please visit vacheron-constantin.com