Maybe someone at Vacheron Constantin had a bring your child to work day and that child happened to love How to Train Your Dragon 2? Maybe it was Game of Thrones? Or it could be the Chinese year of the Dragon that this watch represents. Whatever this inspiration may be it certainly makes this watch unique and I can imagine those scales glistening in the boardroom in just the right way.
The Dragon Watch is based on the already tried and tested Calibre 2253, which is a perpetual calendar tourbillon arrangement. The difference being other than the scales it's also got a pinkish colour to it. The  main hands and the time indices of this watch are solid 18k pink gold however the other hands aren't. They're just simply shaped with no counterbalances and really add to the dial splendidly.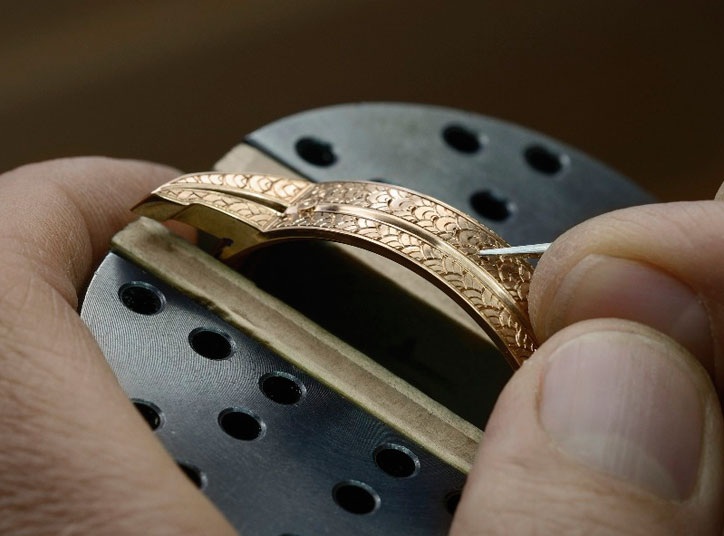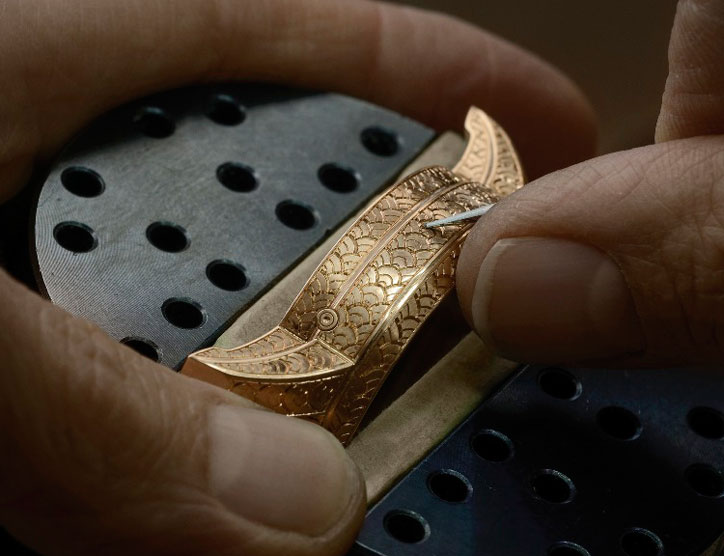 You're not here to read me going on about some hands though, but rather the hands that made this watch what it is today. Only one person at Vacheron Constantin engraved this watch. In 2011 they were the recipient of the specialised 'Meilleur Ouvrier de France' title which means that they have some of the steadiest and most skilful hands around.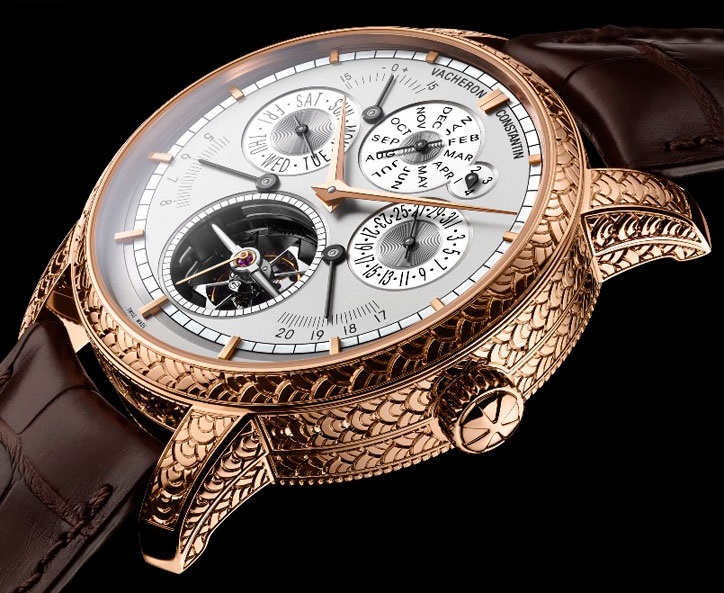 As well as the scales on the watch and the perpetual calendar and the tourbillon you also get an indicator to tell you the time of the sunrise and sunset and the equation of time. Beautifully made into this watch but you shouldn't rely on them if a dragon is going to bite your head off. That being said, if you're born in the year of the dragon on the Chinese zodiac then you'll have good luck and fortune with this watch. Sadly, I'm a Tiger so I'll miss out on that one. And although you will have great fortune with this watch, expect to lose most of it actually buying the thing as standard they cost well over $400,000 new and with this engraving expect somewhere in the region of $1m.
It seems a lot and indeed it is but remember that you get one of the most complex and artistic watches made completely by hand by the legendary Vacheron Constantin (and this has extra as the Traditionelle calendar tourbillon models don't usually come standard with the equation of time). As if all that wasn't enough it's engraved completely by hand with dragon scales all over is which can only improve the way this watch shimmers under light. If you weren't a big fan of the engraved  Patek Philippe Sky Moon Tourbillon (that's reference 6002G-001 to be precise) but like the idea of a stand out complicated engraved piece then this might just be the watch for you.
As long as you're not thinking on a budget then this is the watch for you. You might need a PhD to understand it but don't worry as figuring it out could be a fun activity to involve your children and will help soften the "I'm sorry but we can't go to Lapland to see Santa this Christmas because daddy spent all his money on a watch" blow. For more info, please visit vacheron-constantin.com
Harlan Chapman-Green – Contributing Editor
First introduced to horology with the Patek Philippe Calibre 89 by his father two years ago, Harlan enjoys his passion for fine horology. He prefers to spend his time in the boutiques of upmarket brands, trying out new pieces constantly. His preferred 3 brands are A. Lange & Söhne, Breguet and Vacheron Constantin. Although not much for the smaller brands, he still finds the complications intriguing and wishes to own one watch from each of his three favourites. Read his articles here.