In this instalment of Watch Spotting with WristReview, we're going to have a look at some of the watches that one of the most talented people within comedy has in his collection. We're also going to see what the 20th best guitarist – at least according to Rolling Stones in 2015 – wears when creating some sweet tunes on his trusted guitars.  And finally, we're going to check out what a retired professional wrestler wears on his bulking wrist when he's no longer laying down the smack in Smackdown for the entertainment of millions of fans around the globe. This is Watch Spotting with WristReview and welcome to our 4th instalment in our series.
Trevor Noah and Patek Philippe's reference 5740G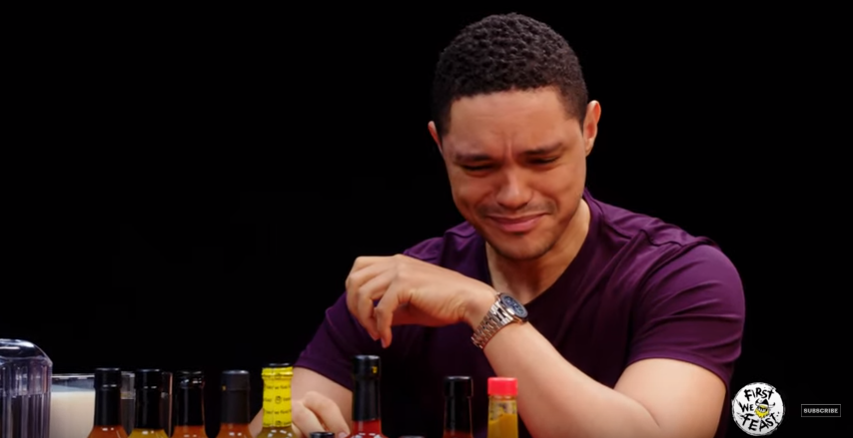 The South African comedian, writer, political commentator and current host of The Daily Show has an exquisite taste in watches. Not only does he own a Patek Philippe Aquanaut Advanced Research Travel Time (reference 5650G (also affectionately known as the Terminator)) and a Rolex GMT Master II (reference 126710 BLNR (also affectionately known as Batman and Batgirl, and less commonly known as The Bruiser)), but he also owns the highly coveted Patek Philippe Nautilus Perpetual Calendar (reference 5740G). This is the very first time that the esteemed manufacture has combined a Nautilus with a perpetual calendar mechanism.
Reference 5740G was released in 2018 and has ever since been on the dream list of both sincere watch enthusiasts and scrupulous speculators around the globe. Luckily, you need a solid track record with your authorized dealer of Patek Philippe timepieces – or pay a hefty premium on the secondary market – in order to get your hands on a specimen, so this should at least sort out some of the wheat from the chaff (i.e. speculators from watch enthusiasts).
The 5740G offers haute horology and casual elegance in one package. This is because it features a perpetual calendar mechanism along with an integrated bracelet and case done in 18 ct. white gold. The perpetual calendar is considered one of the finest complications within watch making due to its complexity and ability to correctly display the date – taking into account the different lengths of the months and leap years at once – at any given time and day of the year. Therefore, you would – at least in theory – never have to adjust the indicators for the day, date, month and leap year within your lifetime, if you somehow could keep the ultra-thin self-winding calibre 240Q running for most days of the week.
The calibre 240 Q offers a maximum of 48 hours of autonomy, and this isn't much compared to other timepieces with a perpetual calendar that costs significantly less. IWC's Portugieser Perpetual Calendar and H. Moser et Cie's Endeavour Perpetual Calendar are prominent examples in this instance with a price tag of xx.xxx and xx.xxx. Both timepieces offer 168 hours of autonomy once fully wound and some rather interesting technical features as well. One must, however, remember that calibre 240 was conceived 43 years ago – an era where watch enthusiasts and manufactures really didn't put too much emphasis on the autonomy of calibres and in-house calibres in general. Furthermore, we also have the old saying: why fix it if ain't broke? Based on my experience with the esteemed manufacture's ref. 5130P-020, it has proven to be a reliable calibre that can support quite a few complications, e.g. perpetual calendars, world timers, power reserve indicator along with phases of the moon, and a few other complications as well.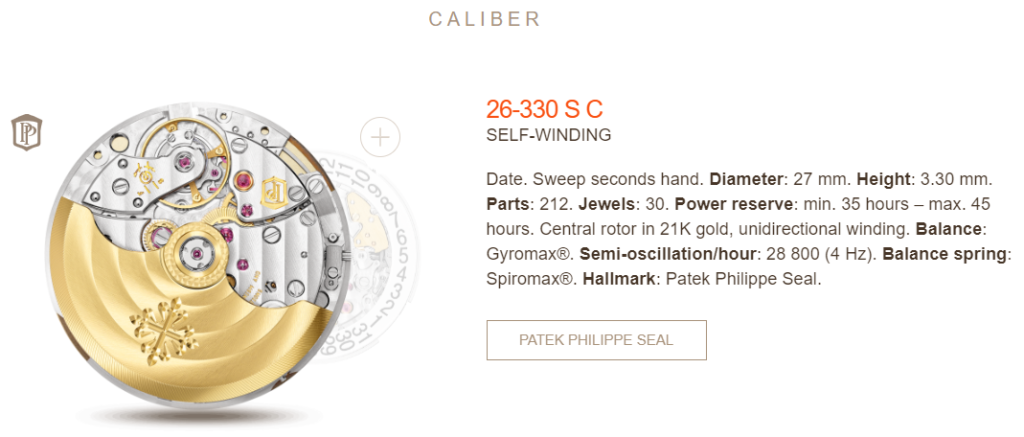 The calibre 240 Q features a an off-centre micro-rotor done in 22 ct. gold that's recessed into the main plate, thus reducing the height of the calibre quite a bit – at least compared to the majority movements with a central rotor. A simple calibre 240 only measures 2.4 mm which is 0.9 mm less than calibre 26-330 S C. The micro rotor doesn't only reduce the height of the calibre but it also offer an unimpeded view of the calibre at all times. The calibre 240 is – in all of its different guises – a sight for sore eyes due to its superb finishing. The finishing consists of perlage (i.e. a pattern of interlacing circles) on the barrel bridge, wave-like Geneva stripes on the gear train bridge and micro rotor, chamfered and polished edges on its eight bridges, polished sinkholes for the black polished screw heads, engraved Calatrava cross on the micro-rotor and much more attention to detail which I won't dwell into any further in this article due to character limitations.
Considering the small size of the rotor, its mass had to be increased by using a dense metal in order to generate enough torque to wind the mainspring up to its full power reserve. This is also why Bvlgari, for instance, uses a platinum micro-rotor (95 % pure platinum) for the calibre 138 in their Octo Finissimo Ultra-Thin Automatique, and it's also why Patek Philippe opted for a micro-rotor in 22 ct. gold (i.e. 91.6 % pure gold). If you pay close attention when handling one of these timepieces, you should be able feel the somewhat pleasing sensation of a little ingot spinning around with some heft to it.
Unlike the aforementioned timepieces from IWC and H. Moser et Cie, the reference 5740 is rather svelte as its profile measures just 8.32 mm, and this increases the wearing comfortability substantially – despite the fact that it's made of 18 ct. white gold which adds a certain amount of heft to it.
The integrated bracelet and case are exquisitely finished and assembled by hand at Patek Philippe's manufactory, and the former is equipped with a new (and improved) fold-over clasp providing optimized security. Both the bracelet and case come with a vertical satin-finish on their surfaces, a mirror polish finish on the centre links and the flanks of the octagonal bezel. Even the edges of the tapered bracelet and case have been beveled.  It has a diameter of 40 mm (10-4 o'clock), but it wears larger thanks to the bracelet protruding from the case. The dial is decorated with raised horizontal embossing – a trademark feature of almost all Nautilus watches (reference 3710 being a notable exception) – and features the same sunburst blue that graced the versions released on the occasion of the 40th anniversary of the Nautilus in 2016.
The reference 5740Gwill set you back CHF105.000. While this is a lot of money then you must keep in mind that we're talking about a haute horology timepiece done in 18 ct. white gold from one of the most prestigious watch manufactures on the globe. Each timepiece takes time to make and ensure that it fulfils the very strict criteria of the Patek Philippe Seal which was introduced in 2009. It's also not produced in large quantities. So, it's not cheap by any means, but there are at least certain aspects of the hefty price tag that can be justified to some degree. If you're just a speculator, I guess there's also the prospect of making a significant profit on the secondary market too.
Trevor – you got excellent taste in watches! I was supposed to attend your show at Royal Arena in Denmark on the 31st of May, but that's most likely going to get rescheduled due to our Happy Hour with Covid-19. If you're up for a talk about watches once the restrictions are lifted by the government, then I'd be happy to meet up for a 1-on-1 about watches with you.
Carlos Santana and Big Bang by Hublot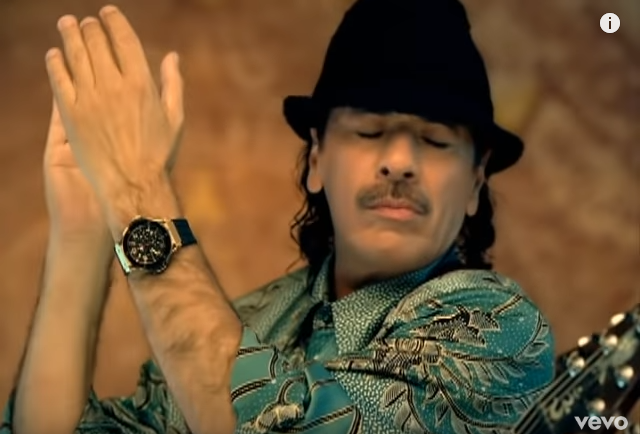 The 10-time Grammy Award-winning guitarist and songwriter doesn't only know how to create some sweet tunes with his trusty guitars, but he also knows how spend a hefty penny on watches. In this instance, we're talking about a distinct watch which is in stark contrast with the smooth nature of the special genre of music (i.e. a fusion between rock & roll and Latin American jazz) that Santana and his group pioneered a couple of decades ago – and this is mostly due to the watch's polarizing design.
While I can't pinpoint the exact reference number, there's no doubt that Santana wears a Hublot (French for porthole) Big Bang in 18 ct. red gold. A qualified guess would be reference 341.PB.131.RX. My guess is based on the fact that this reference was supposedly launched in 2006 – and this would coincide rather well the launch of Santana's complication album, Ultimate Santana, in 2007 and launch of the Into The Night music video. A second qualified guess would be ref. 301.PB.131.RX due to its masculine dimensions which would be a more obvious choice for Carlos Santana.
Hublot's Big Bang belongs to the category of polarizing watch designs that without doubt can stir up strong emotions with certain parts of the watch community. This can both be a good and bad thing depending on what perspective you look at it from. It can be good because design is, for the most part, supposed to create emotions within its intended audience, and if you can't create either hate or love for a certain design – one could wonder if it's time for a career change. Longevity of a design is, after all, an important aspect when trying to launch a new design into any market. The bad thing is, however, also connected with the emotions it can create, because there's no doubt that the design was influenced by the same design principles as laid down by Genta's Royal Oak and Nautilus. Then there's also the heated about Hublot's propriety H screws. Due to their nature, the unique H screws on the bezel do not align like on some of their competition, which use hexagonal bolts that don't screw at all from the dial side, but are instead secured from the back. Some enjoy having these all aligned properly, while others do not mind, it really is down to personal preference.
The Big Bang chronograph was presented during Baselworld 2005 and was the manifestation of Jean-Claude Biver's (hereinafter JCB) fusion-concept and his affection for large and bold watches. The former basically meant that Hublot watches were a fusion of materials, textures, color, and aesthetics. The art of fusion – JCB's famous marketing slogan for Hublot – includes fusion of unusual materials such as gold and ceramic, magnesium and aluminum (also known as Hublonium), denim and carbon, and much more with watch cases measuring in at a variety of sizes in both diameter and thickness! It might come as a surprise for some of our younger readers, but the Big Bang actually received critical acclaim when it was launched, including the prestigious 2005 Design Prize in the Grand Prix d'Horlogerie de Genève.
The timing was also good – if you think about it for a moment – as Audemars Piguet paved the way for large sports watches with the introduction of their Royal Oak Offshore in 1993. It measured 42 mm and was powered by a self-winding modular chronograph calibre (i.e. calibre 2226/2840). Officine Panerai launched their first civilian collection in 1993, but it wasn't until the acquisition by Vêndome (now Richemont Group) in 1997 and their appearance on the wrist of Sylvester Stallone, that their unique watches started to pick up some momentum with consumers. Patek Philippe followed the trend of large sports watches with the launch of reference 5980 in steel – a Nautilus at 44 mm in diameter with a chronograph – in 2006.  It was powered by their first ever self-winding integrated chronograph calibre with a fly-back, which was quite impressive considering how difficult it is to create and develop a chronograph calibre purely in-house.
Unlike the reference 5980, Hublot's larger Big Bang models feature calibre 4300. Hublot's calibre 4300 is based on Valjoux's 7753 – a workhorse calibre that doesn't rely on a column wheel, but rather on levers, to operate the different functions of the chronograph using an oblong-shaped cam. It's both cheaper and easier to produce than its column wheel operated counterparts. The Valjoux 7753 is an integrated self-winding chronograph calibre that offers 42 hours of autonomy and can be tricked out to such a degree that they're barely recognizable. IWC's Il Destriero Scafusia – a true grande complication watch – is an excellent example of how you can create high horology with an affordable and mass-produced calibre by Valjoux as a base.
Unfortunately, this isn't the case for Hublot as the larger Big Bang models feature a fairly unmodified Valjoux 7753. Hublot's smaller Big Bang models aren't much better either as they're equipped with calibre 4100, which is a high-grade ETA-2894 with chronograph module on top. Both calibre 4100 and 4300 are still in use to this day, and this often raises questions about the ratio between value for money and horology. For some consumers this isn't an issue, as they simply might not be interested in the construction and finish of the calibre and focus more on the aesthetics of these timepieces. Personally, I think that the value proposition is more compelling in their Spirit of Bang and Unico lineup of watches since they're equipped with integrated self-winding column-wheel controlled chronograph calibres.
Despite this, Hublot has managed to chart new waters through their use of rubber straps and fusion of every conceivable color and material for their unique sandwich-style case. The latter is where the art of fusion comes into play in particular, since we witness the mix between materials for the entire case: middle-case, bezel, lower and top plate. Hublot's rubber straps are of high quality and thus should be able to withstand a handful of concerts with Carlos Santana. The 100m water resistance should also be more than sufficient to protect the calibre from sweat and moisture that Carlos most likely will generate during a his performances.
However, I'm surprised that the legendary guitarist didn't opt for a lighter Big Bang in steel (reference 432.SB.131.RX). A gold Big Bang does indeed have some heft to them (reference 341.PB.131.RX measures 41 mm in diameter and is just a hair over 14 thick), even though the middle-case is made of resin and the watch comes with a rubber strap. Based on my experience with a Big Bang (reference 301.PM.1780.RX), it  wouldn't come as a surprise to me, if it dug into the top of his hand since the case has a certain edginess that takes time to grow accustomed to.
Stone Cold Steve Austin and Sinn U1 SDR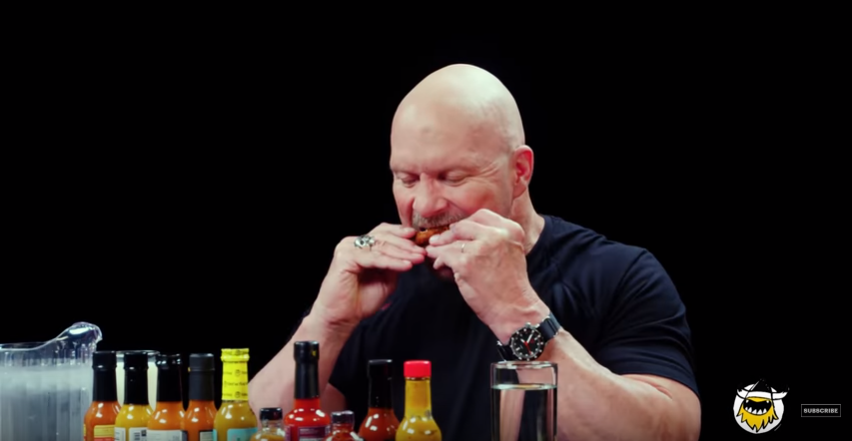 If you're a millennial – and have a certain degree of knowledge about popular culture during the late 1990s and early 2000s – then you might have seen the six-time WWF World Heavyweight Champion deliver devastating blows to his opponents with his brawler fighting style and guzzle down more beer than a frat house does during spring break. However, Stone Cold Steve Austin also has a softer side and this includes a passion for watches. A hobby he actually has been rather enthusiastic about for at least a decade.
During the last episode of season 9 of the popular YouTube talk-show Hot Ones, Stone Cold did not only deliver the heat (pun intended), but he also wore a watch that – along with its siblings – are known and treasured by many watch enthusiasts for their distinctive design and ability to take a beating. The latter is especially due to the fact that the case and bracelet of the U1 SDR (reference 1010.040) is crafted from the same steel that is used in the construction of the outer hull of the German Navy's new submarine class 212, which currently represents one of the most advanced non-nuclear submarines. This specific type of steel isn't only highly resistant to seawater, but also high levels of magnetism, so it should be able spend some time in Davy Jones' locker or keep you company while waiting for your mojito by the pool side as well. Not too shabby, eh?
If that wasn't enough to impress you, I might also add that the rotating bezel is held onto the central part of the case by screws (also known by some as a captive construction), and this ensures that the bezel doesn't detach under harsh impact while diving or doing recreational activities.
In other words it has to be dismantled by use of tools before it can be removed. The bezel is also tegimented, this means that it has been carbon diffused to create a very hard structure and has further been treated with a hard black diamond-like carbon coating.  When turning the bezel, there's no doubt that you're handling a Sinn as it has a distinct feel and sound that should even be audible to people with very poor hearing.  Considering these distinct features, it's a without a doubt a tool watch that most likely would survive more than just a couple of Royal Rumbles and Hell in a Cell matches.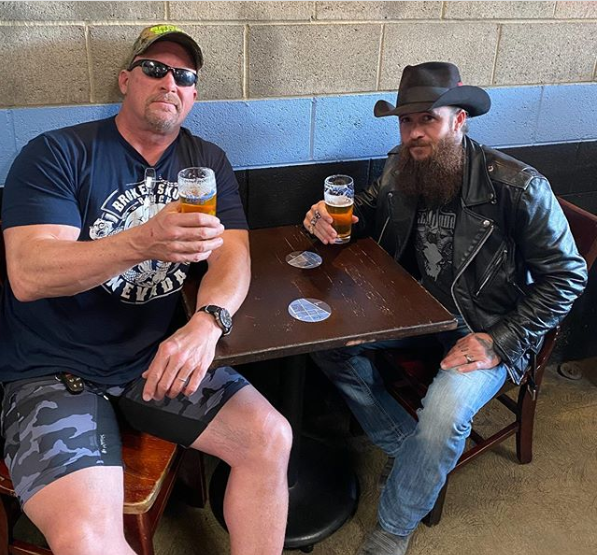 This feeling of ruggedness is furthermore supported by the calibre in Sinn's U1 SDR. It's powered by a Sellita calibre SW200-1 (a legally re-produced version of the ETA calibre 2824) and this is a great choice for this particular timepiece because it's known for being precise, reliable and robust. It's a self-winding calibre that offers autonomy up to 38 hours when fully wound, and it's also known for being versatile as it can support a handful of complications and can be used in most types of watches as well.
Considering the fact that this timepiece is a certified dive watch – with a water resistance of 1000m – then the use of a self-winding calibre doesn't only come off as convenient but also perfectly in tune with its intended use as a diving tool. The tool watch nature of this timepiece is further emphasized by a lack of beveled edges on the case and polished case flanks, but the overall finish of the case and bracelet is acceptable and by no means bad – especially considering this price segment and category of watch.
The U1 SDR has a diameter of 44mm and a thickness of 14. 3mm, so you should try it on before purchasing as it requires some wrist real-estate.  Based on my experience with the U1 SDR, I recall it being comfortable but a little bit heavy with the bracelet – at least for my taste – but perfectly wearable with the OEM rubber strap. Stone Cold wears his watch like a champ (pun intended) on a NATO-strap.  The U1 SDR is still currently in production and pricing starts from €1790.
If you're in search for a watch that can withstand a beating during your recreational activities and don't want to break the bank, I can vouch in for the U1 SDR if you can live without the bells and whistles with regard to finishing and in-house calibres from more expensive brands like Tudor – who also offers a reasonably priced diver's watch within this price segment.
This wraps up our fourth instalment of Watch Spotting with WristReview. If you've spotted a timepiece worn by a celebrity, politician or another public figure, you're more than welcome to send us an e-mail and our team will gladly investigate it further. We might even feature the person in our next instalment.