Whether you're sailing across oceans, flying around the world or hauling a pack across Antarctica, a watch is one of the most useful pieces of gear for adventurers. In honor of these watches and the men and women who wore them, here is WristReivews Top 5 Adventurers Watches.
5. Cartier Santos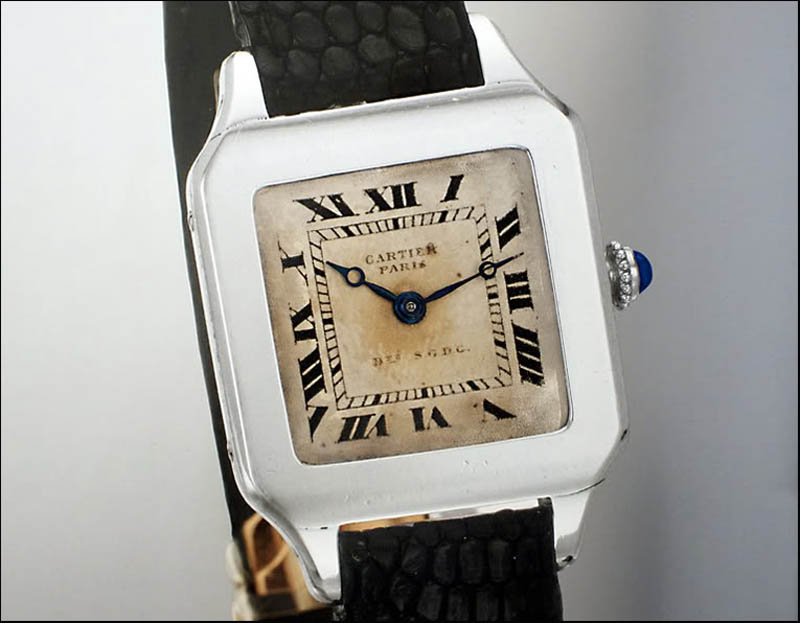 Take a moment and think about pilots watches. What watch are you thinking of? The Breitling Navitimer? The IWC Mark XI? Perhaps the Rolex GMT-Master? How about a solid gold Cartier Santos? No? Well you should, as it was the very first pilot's watches.
111 years ago, aviation was almost unrecognizable. No single serve package of peanuts, no screaming child and no fuselage or cockpit, just wood and canvas. In 1903, the Wright Brothers were the first humans to fly and in 1906, Brazilian-Franco millionaire and eccentric, Santos DuMont, joined them in the sky. His plane, the 14 bis, was the first to fly under its own power rather than be propelling by catapult. During a celebratory dinner, DuMont complained to his friend that checking the time with a pocket watch whilst flying was clumsy and difficult. That friend was Louis Cartier.
The benefit of having friends like Louis Cartier is that they'll listen to your problem over dinner and have the means to help you out.  Cartier made DuMont a rectangular wristwatch made of solid gold, fixed to the wrist by a leather band. The eccentric DuMont loved the design and proudly wore the watch on subsequent flights. It might not look like an adventurer's watch, but it takes a good degree of courage to test one of the world's first planes so I think it counts. Now the Santos range is one of the most iconic case designs Cartier make and even if it is no longer considered a pilot's watch, it deserves recognition as the first.
4. Wittnauer All-Proof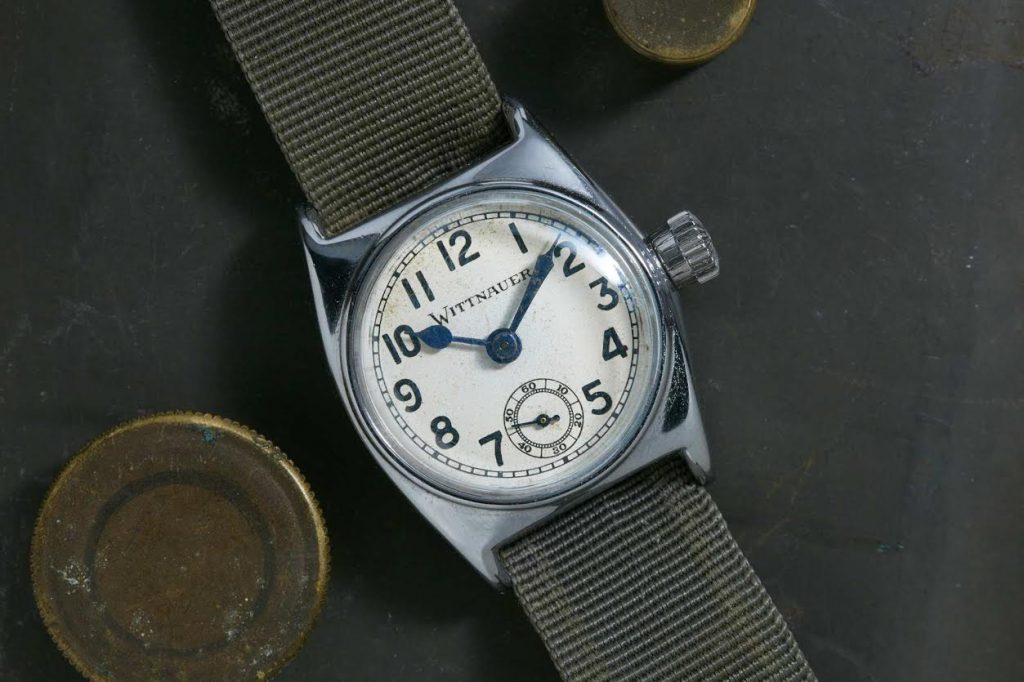 Photo: Analog/shift
Jimmie Mattern was one of the pioneering aviator adventurers of the 1920s and 1930s. In 1932, Jimmie Mattern and his plane, the Century of Progress, set out to beat the current record for circumnavigating the world. Unfortunately, his plane suffered a mechanical failure in Russia and he had to crash land in Minsk and abandon the voyage. Unfettered, Mattern tried again in 1933 but again, his plane broke down over Siberia and he crash landed into the Tundra. Stranded, Mattern had little more than the clothes on his back, a map, a gun and his watch, a Wittnauer All-Proof.
Released in 1928, the Wittnauer All-Proof was billed by Wittnauer as the first shockproof, waterproof and anti-magnetic wristwatch (Clearly someone hadn't told them about the Oyster case). Just as aeronautical technology had advanced since Santos' flight, so had watchmaking. The All-Proof wasn't a designated pilot's watch but it was more suited to the rugged adventuring than Santos' solid gold Cartier watch. It was made of stainless steel and had a high contrast dial with a large, easy to grip crown.
Mattern was eventually rescued by a group of Chukchi, the indigenous people of Siberia, who were convinced that his watch was some kind of magic object. Mattern return to America as a hero and inspired the next generation of American adventurers with his exploits, including a man named Neil Armstrong. Decades later and as a tribute to his hero, Armstrong would wear Mattern's Wittnauer All-Proof into space aboard Gemini 8.
3. Omega Speedmaster CK2998
Photo: European Watch Company
If an Omega Speedmaster wasn't included on this list then there would be hell to pay in the comments section! Later Speedmasters would be worn on the Moon but the Reference CK2998 set the stage for NASA's relationship with the Speedmaster.
The CK2998 was in production for a short time, 1959 till 1962, and replaced the first Speedmaster, the Ref. CK2915. Whilst the watches used the same Caliber 321 chronograph movement, a few changes were made to improve functionality. The stainless steel bezel was replaced by an easier to read, black and white design, the case size was increased from 39mm to 40mm and the broad arrow hands were changed to 'alpha' hands.
When Walter M. Schirra Jr. blasted off on October 3rd, 1962 as part of the Mercury-Atlas 9 Mission, he had his personal CK2998 strapped to his wrist. The Speedmaster began life as a racing chronograph and hadn't been designed or tested for spaceflight, but it performed admirably. It wasn't until 1964 that NASA conducted tests to flight certify a watch for spaceflight. The CK2998 wasn't tested as it was out of production, instead it was the Ref. 105.003 that would be worn by astronaut Ed White during his first EVA. Without Wally Schirra and his personal CK2998, it is possible that NASA might not have ever considered the Omega suitable for testing so we have him (and Omega) to thank for such an enduring legacy.
2. Bremont Terra Nova
Humans and watches are not designed for the cold. Fingers, toes, watch oils and quartz movements are delicate and if they freeze, its not good news for the watch or the human they are attached to. So when Bremont ambassador Ben Saunders planned to recreate the ill-fated route of Captain Robert Falcon Scott's Terra Nova Expedition, Bremont needed to create a watch that surpassed even their extreme tested beyond endurance standards
The two most crucial factors were weight and reliability. Instead of the usual steel cases used on their Supermarine watches, Bremont used air-craft grade titanium to reduce the weight. In addition to use of special lubricating oil that wouldn't freeze in the -46 Celsius temperatures, Bremont mounted the rotor in a unique vibration mount that acted as a shock absorber and a thermal insulator.
The Terra Nova also had a GMT complication, a compass bezel and was water-resistance to 500 meters but I doubt Ben was doing much swimming in those temperatures. After the completion of the 1795 mile journey, Bremont released the Terra Nova as a limited edition watch with the exact same specs as the one worn by Saunders.
1. Breitling Emergency I and II
This watch is ugly and the size of a desk clock, but it has saved dozens of lives. The Breitling Emergency was the brainchild of Ernest Schneider, former owner of Breitling and member of the Swiss Army Signal Corps. In the mid-1980s, Scheider began discussing the idea of a personal locator watch and in 1995 after $7,000,000 of research and development, the first Emergency was released.
Upon the insistence of aviation authorities, the Emergency was only available to licensed pilots but it now be can be bought by regular customers. However, anyone purchasing the Emergency must agree to pay the bill for any emergency services who respond to a false activation. Since its release, there have been some high profile rescues featuring the watch. In 2003, two British adventurers were stranded off the Bering Strait after their helicopter malfunctioned. Luckily, one of the men had been given an Emergency as a wedding present and so was able to successfully signal for help.
With the recent release of the Emergency II that adds an additional radio frequency, Breitling hopes that their dedicated emergency watch can help save more lives.