Vintage horology is a strange thing. As many of our regular readers will know, vintage is my favorite category to pick and choose from. The reason behind this is that no two vintage pieces are ever the same and oftentimes there is a chance you will run across something you've never even heard of, leaving you scratching your head in bewilderment. In this article, I will expose some lesser known brands that have contributed to the story of horology as we know it today. There are thousands of brands you may discover, but here we will discuss five important brands that have some heavy hitting pieces that may inspire you, the reader, to expand your collection.
5. Mimo
Way back in 1889, a man by the name of Otto Graef owned a company know as Manufacture Internationale de Montres en Or (or Mimo if you choose to use the acronym now associated with the company). In their infancy, they created rather rough ebauches and dealt in wholesale to retailers. Graef wanted to expand his watch company to its limits, and his wish was granted when he purchased a stake in a company known as Girard Perregaux (ever heard of them?). After he got his company to merge with GP, things would never be the same. Mimo can be credited with creating the first watch with an integral date window on the dial located at the three o'clock position, forging what now has become the standard amongst almost all watches. They also created the first watch with a rotating slide rule, predating Breitling's design by many years. Mimo watches can be found with relative ease over the internet, but finding the notable models like the Mimo-Meter and the Mimo-Loga can be quite a task to accomplish.
4. Eberhard
Photo: Pinterest
The roots of an Eberhard watch run deep. The creator of the company, Georges Eberhard, was the son of a prominent Bernese family that can be traced all the way back to the 10th century. In 1887, Georges started his company with a bevy of knowledge due to his family partly being responsible for the formation of Swiss watchmaking as we know it. Eberhard made many icons of the vintage world, such as their Scafograf diver, which is one of the most sought after vintage divers that can be found. The first wrist chronograph can also be accredited to Eberhard, when they created an intuitive layout of two pushers and an hour counter, laying the brickwork of the chronograph as we know it today. This company is one that you should be surprised that you never hear more about, especially since they have such a storied contribution to horology. Due to the inflation of certain brands from the vintage market, Eberhard watches are scarce and highly in demand from those in the know. Expect to search long and hard for something from this Swiss legend, but your reward will be twofold.
3. Movado
Photo: Pinterest
No, this is not the tacky watch that has nothing on the dial sitting at your local mall's display case. Before the days of quartz powered movements and empty dials, Movado was an incredible company that created watches that were on par with some models from Patek Phillipe. The companies origins can be traced to 1881, when an entrepreneur named Achille Ditisheim founded his own watch company. Just a few short years later, his two brothers joined the crew and found a new name to attach to this company of theirs: Movado. This means "always in motion" in the language of Esperanto. Over the course of their history, they developed many advances such as trench watch that had a blast shield over the crystal, the first wristwatch to actually conform and hug a wrist, and held many accolades in the 1930's for creating the world's thinnest movements. They crossed paths with names like Francois Borgel, just to name one legend. Almost every vintage Movado you come across will have impeccable fit and finish; these were truly made better back in the day (I mean that). Of course we cannot mention Movado without bringing up what they have become most known for, and that is the Museum watch. Nathan Horwitt was an American designer and he came up with the iconic Bauhaus classic that so many people recognize, with its completely empty dial, sans one gold dot at the twelve o'clock position. One of these is a permanent fixture at the New York Museum of Modern Art, with that example being produced by Vacheron Constantin.
2. A. Schild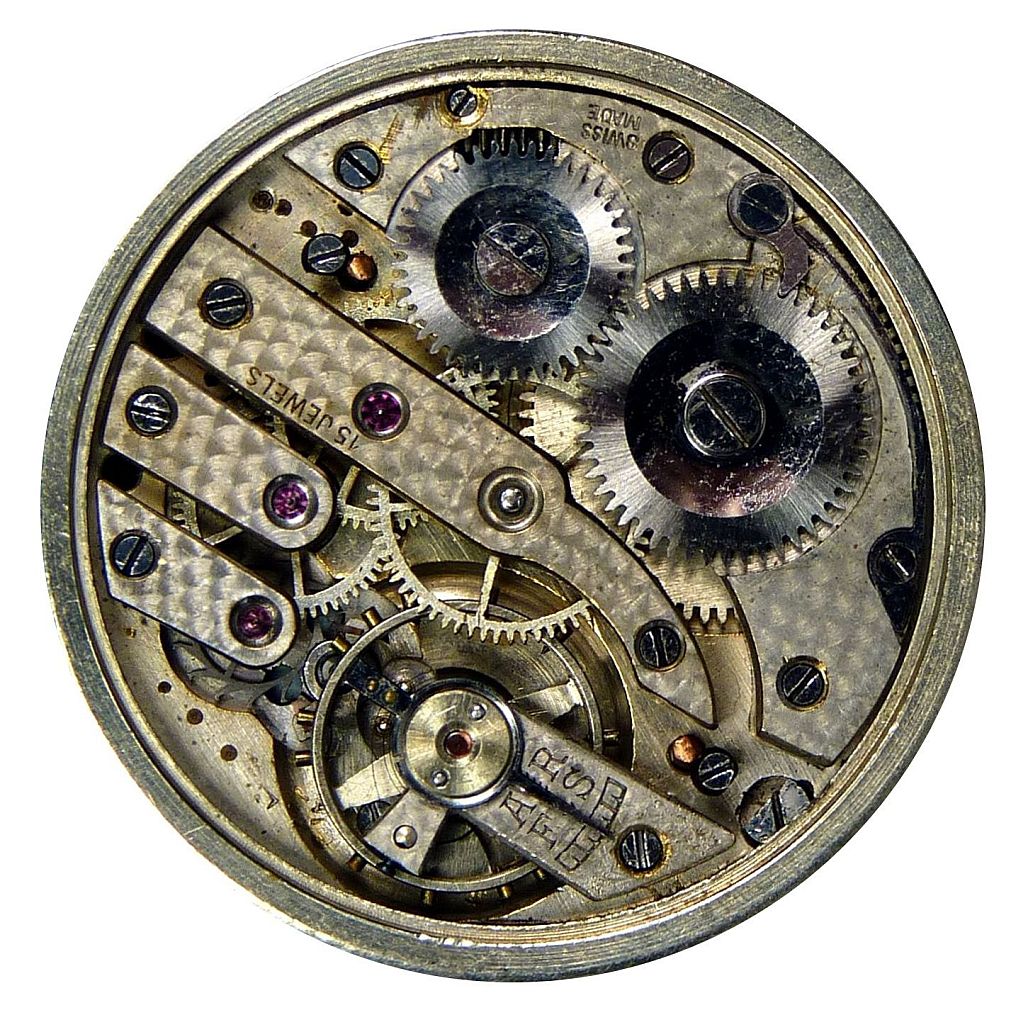 While this name may not ring a bell immediately, it rightly should. If you were to go to a random place that had a stock of vintage watches and you were to take off the caseback of each one and peer into the movement, about ten percent of those will probably bear markings from A. Schild, a top producer of movements from the 1890's all the way until the untimely quartz crisis. They had an introduction with Eterna, another giant in movement development. Most of their movements manufactured after 1939 feature a shield with "AS" engraved into them, the hallmark for Adolf Schild's gargantuan company. These were incredibly reliable movements, something that collectors find most appealing about this brand. They made honest machines that were supplied to hundreds of companies over the years, such as Enicar, Harwood, and Fortis. Jaeger-LeCoultre even sourced some of their movements from AS, if that is any indicator of the sound quality that you will find in one of these. This brand survives today through ETA, who absorbed them in 1979 to save them from going extinct due to the dire situation posed by the introduction of quartz. The reliability of these movements is second to none for most vintage watches, I personally own a few AS sourced movements; they keep spectacular time and have made excellent daily wearers that have kept up with my day to day activities. Adolf Schild's company was so widespread in their success that there were almost no alternatives back in the day, except for in-house development, obviously. Think of them as the first ETA, if you will.
1. Eterna
Photo: watchestobuy.com
Eterna is one of those brands that has gone through so many evolutions that it's nearly seems impossible to not include them on this list. With roots dating back to 1856, under the name of "Dr. Girard & Schild", they produced movements as most other companies would have done at the time. In the early 1900's, they started to make women's wristwatches that were converted from women's pocket watch movements, showing a desire to mold into the upcoming market that hadn't yet been tapped into yet. A little known fact about Eterna is that they produced the world's first production level alarm wristwatch, a milestone to even have been thought of in 1914. Even better yet, they improved upon the concept of the automatic wristwatch with the Eterna-Matic in 1947. This movement was monumental for several reasons, but mainly due to this being the first truly freely rotating rotor to power the automatic watch. Using five tiny ball bearings, Eterna was able to perfect the idea of the automatically winding wristwatch. Ever capitalizing on the newest tech available, Eterna unveiled the Kon-Tiki that same year in commemoration of the sea faring journey that archaeologist Thor Heyerdahl led into the Pacific Ocean on nothing more than a raft made of balsa wood. On his wrist? An Eterna watch that would shape what became the waterproof Kon-Tiki. Eterna created many technological marvels that still deserve recognition today. They suffered the same fate as other watchmakers during the 1970s, eventually falling under the umbrella of Swatch Group to stay above the water and prevent from becoming another page of history. Eterna watches are plentiful, but also in high demand by the collector due to their contributions to the annals of time.
There are only five brands mentioned above, but there are far more brands that are also noteworthy but didn't make the list. Their histories are long and full of colorful awards and accolades that make them legends in today's day and age. While these brands each possess their own award winning qualities, it is up to your own individuality when it comes to choosing your own vintage pieces. With no shortage of options, these five lesser known brands should help you expand your knowledge in vintage horology. Some of you may already know these brands by heart, some of you may be taking your first steps into the watch game. The beauty of vintage is that there is something for every man and woman, and it will speak to you on a deeper level than anything you will purchase from an authorized dealer. There you have it, five of the finest watchmakers that you may not have heard of, and now you are armed with a little more knowledge that will assist you on your journey.