In this Top 5 from WristReview, we'll be looking at our Top 5 Sapphire watches. To be clear on that, what we mean by a Sapphire watch is a watch where the entire case is constructed of sapphire crystal, bar screws, gaskets and other necessary parts of course. Unlike other blogs, there should be no confusion about this list, no watches which have large sapphires but metal case bands, just solid sapphire through and through. One of the hardest (literally) materials to master is sapphire crystal, which grows under intense heat before being treated and worked into a useable shape. Various colours can be achieved by adding in different metals, much in the same way that you use different metals to make different colours in fireworks. Sapphire is a very hard material, the second hardest after diamond, in fact, but that means that it also shares diamond's weakness, it's incredibly brittle. Subject any of these 5 to shocks, and you're likely to face a service bill that's similar to the original sale price of the watch. However, isn't it cool to see your sweaty wrist through your watch? Well, maybe not. Before I get distracted, let us begin.
5. H. Moser & Cie. Venturer Tourbillon Dual Time Sapphire Blue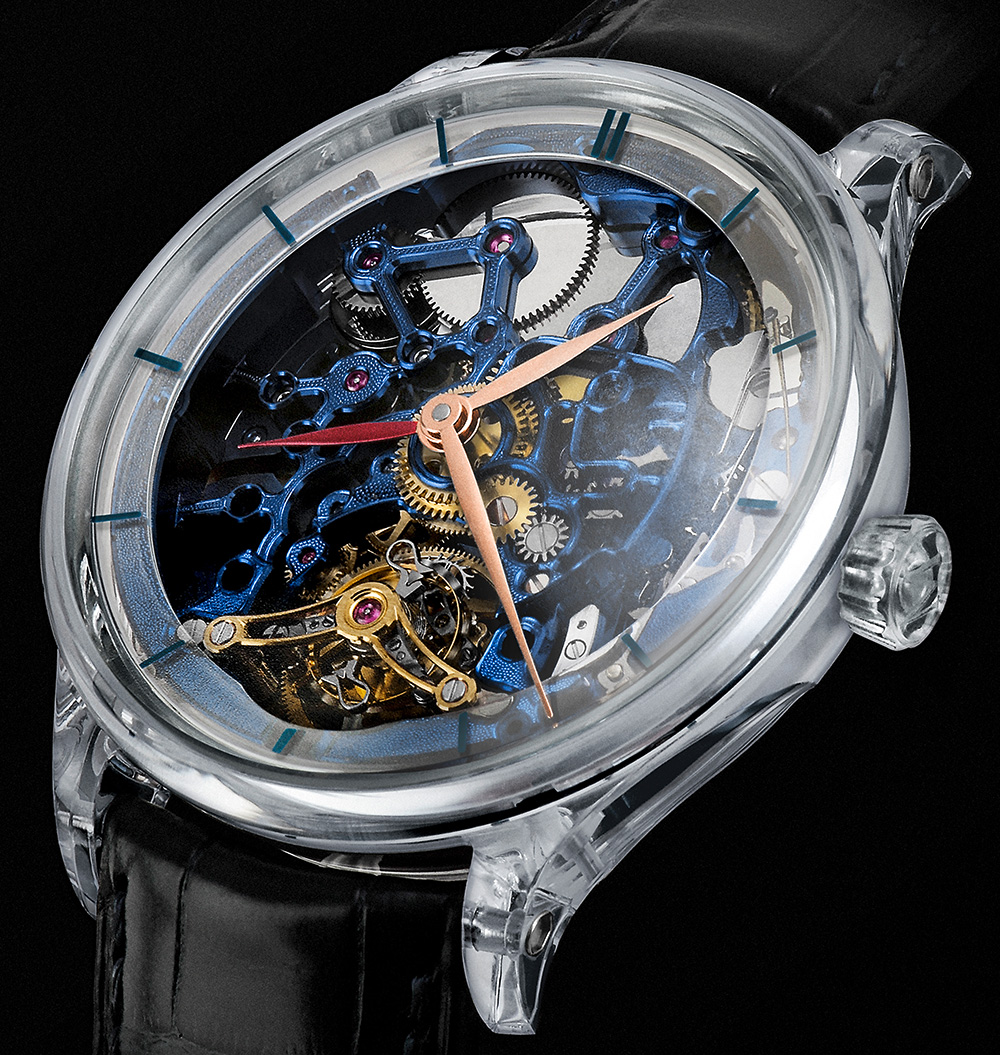 Beginning this list we have a somewhat unusual one, H. Moser & Cie is known for making elegant watches with classical, minimalist designs and intricate movements. So, creating one of those out of sapphire crystal is a bit less run of the mill for the brand, but it's been executed superbly. The main plates of the watch have been coloured blue and then skeletonised, so readability might be affected there. However, blue parts on a watch movement are quite rare, and considering Moser likes to use the phrase 'Very Rare' for its products it's not exactly far off. Like the standard Venturer Dual Time, the skeleton comes with the Moser party trick, which is an interchangeable tourbillon module. When going in for a service, the entire assembly comes out as one piece and is serviced separately, like big complicated Lego. It's also the only watch on this list which is a dress watch, but you pay the price for it, it's one million Swiss Francs.
4. Bell & Ross BR-X1 Skeleton Tourbillon Sapphire Black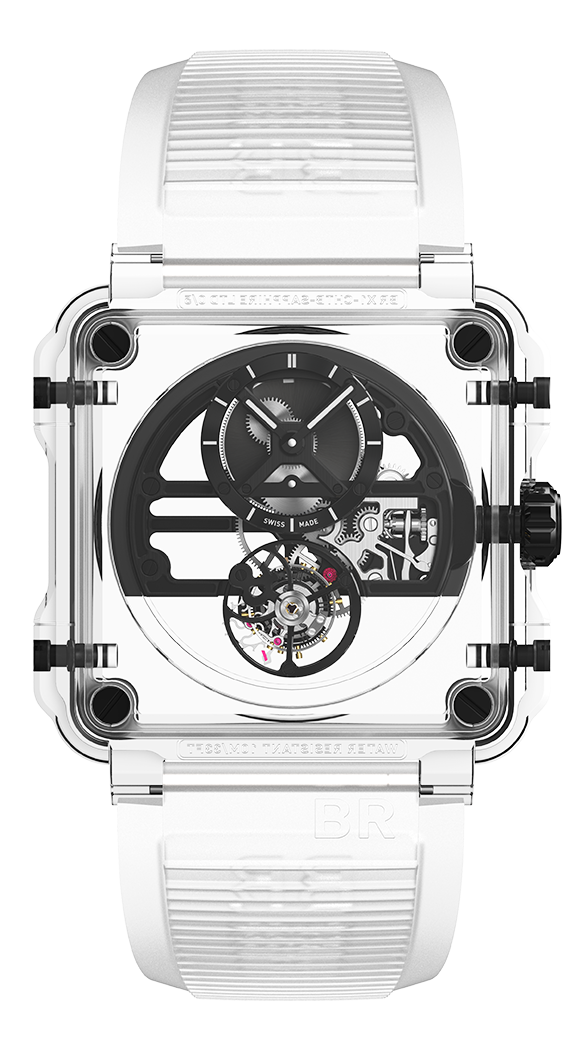 A slightly unusual contender on our list takes the fourth spot for its fresh, down to earth looks and technical yet straightforward design. The square case of a Bell & Ross watch is divisive in the communities, but I happen to like it. Give that big ol' block some angles and carve it out of sapphire and you've built yourself a futuristic timepiece that's dashing and cool. Inside and permanently on display is the Calibre BR 288 which is hand wound, skeletonised and has a power reserve of 100 hours. I appreciate the very sparse look of this movement, there's not a lot to see with it and lacks traditional finishing techniques, going for a black treatment instead. I don't have information on this particular movement, but I know other calibres such as the BR 283 are made by a company called Manufacture Haute Complications SA, which used to be BNB Concept. Like Audemars Piguet Renaud & Papi, MHC makes bespoke movements for customers such as Bell & Ross, Hysek, DeWitt, Hublot and even Romain Jerome, though Hublot now owns it. The price? £355,000.
3. Rebellion Magnum 540 Grand Tourbillon Sapphire
Rebellion timepieces are something extraordinary, both in their design and construction and their rarity. In fact, another version of this exact watch won our Top 5 Tourbillon Sports Watches a while back. This one, though, is the sapphire version, whereas that one was carbon.
The case is covered in angles and runnels, meaning with this sapphire construction it's sure to look like a glitterball on the wrist. When observing the dial, the first thing you'll see is the large tourbillon, which is 17.2mm in diameter and sitting inside an aluminium cage, the use of high tech materials is something which Rebellion has taken from its racing team. The movement, calibre REB T14, has an exceptional two weeks of reserve in it, despite being a highly complex manual winding watch. There's possibly the most impressive power reserve indicator on this watch, too. Instead of a dull old hand moving up and down, an arrow is connected to a chain which moves on the dial, in this sapphire version that will stand out, though reading the time might be a bit of an issue there. Heck, at 1.8 million Swiss Francs, you've got all the time in the world.
2. Greubel Forsey Double Balancier Sapphire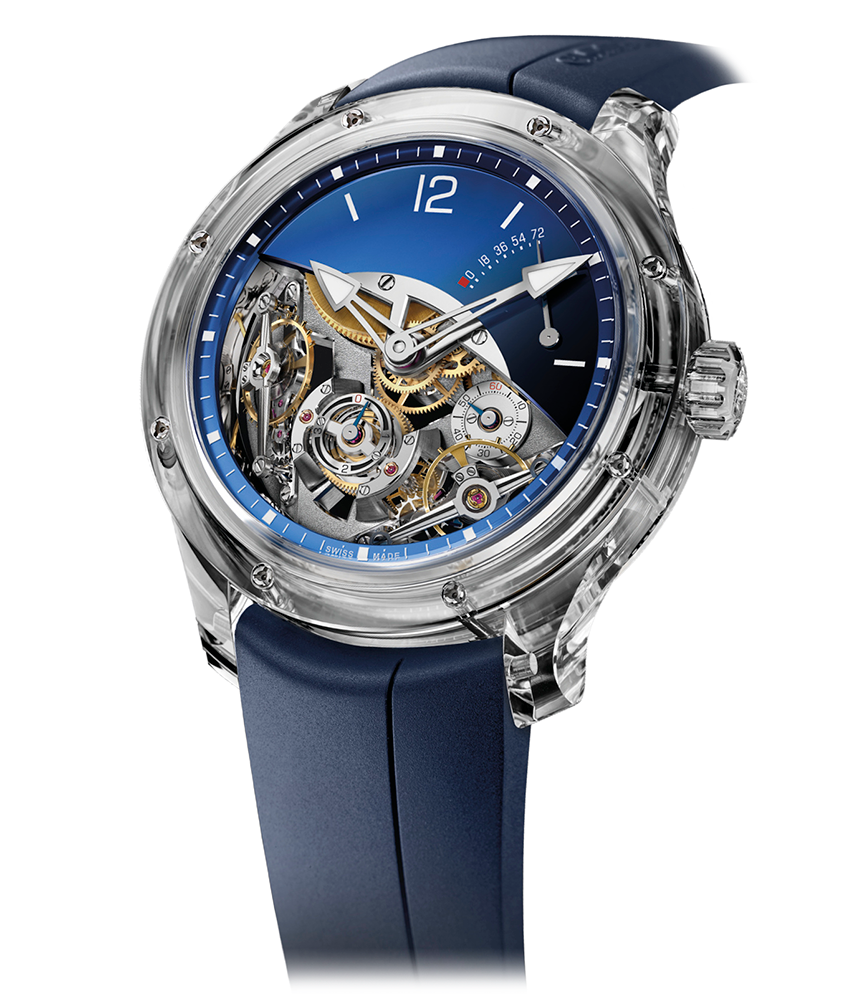 We knew that Greubel Forsey had to come in somewhere on this list, and that spot is number 2 with the Double Balancier Sapphire watch, which is probably the most complicated watch on this list. On display in this watch are two free-sprung balance wheels, which have been inclined to 30 degrees. Unlike cheaper and lesser double balance wheel watches, both of these are connected via a spherical differential, meaning the timekeeping accuracy of this watch is superb. Everything inside the watch has been decorated to the extreme, it's all polished or engraved in some way, no parts are left unfinished or with ragged edges. Particularly noticeable are the sides of the balance wheels which have been given an extraordinary high polish. Unfortunately, this little paragraph won't do the Greubel justice. It deserves an article of its own and maybe even a hands-on review (please?). I particularly like how casual this watch is, especially on that blue rubber strap, dressing up a sapphire crystal is a hard thing to pull off. The price of this 11 piece limited edition for North America is $695,000.
1. Hublot Big Bang Unico Sapphire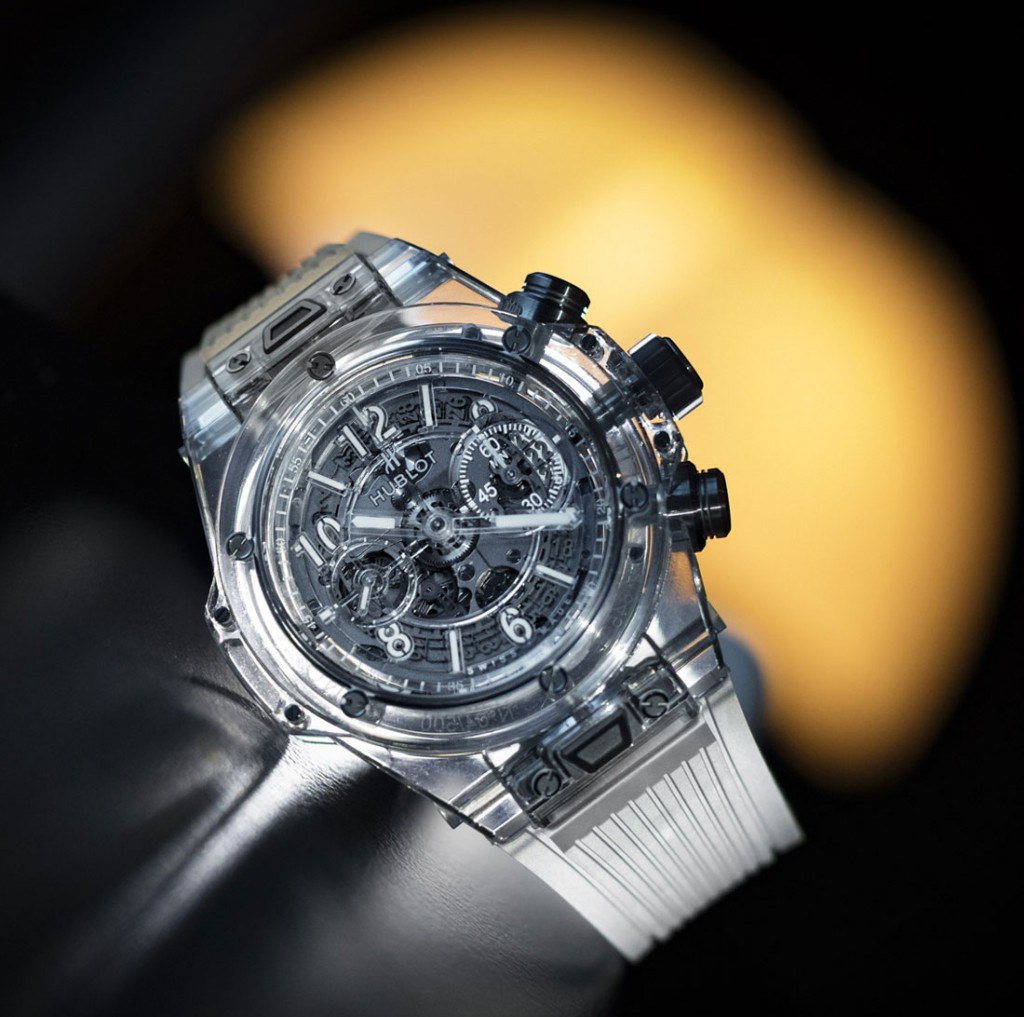 Yes, the number one spot on our list goes to perhaps the most divisive watch company of them all: Hublot. When you think of a full sapphire watch, this is probably the one that comes to mind. Love them or hate them, Hublot is outstanding when it comes to materials research for their cases, so a sapphire Big Bang was inevitable. Inside that clear case is the Hublot Hub 1242 movement, what it lacks in traditional finishing techniques, it makes up for in small touches such as the dial side column wheel, or the flyback feature on the chronograph. The automatic calibre is made up of 330 components and provides 72 hours of power reserve. Putting the watch on a clear rubber strap took this watch to the next level when it comes to sporting looks. Sadly, I don't have any HD macro pictures of this watch, but I'd recommend a video on YouTube by WatchFinder entitled 'Grow Your Own Watch', which has some fantastic close-ups of this piece. It's also the cheapest on this list by miles. The price is under $60,000, a bargain compared to the multi-million pieces we have on the list.