And now for a watch partnership of the more unusual variety. Traditionally, when we see a watch brand partner with something else, it's usually a carmaker, celebrity, or even a chocolatier. What we don't see too often is a watch brand make a watch celebrating a cigar manufacturer. This is probably for a good reason; promoting smoking is frowned upon heavily in Europe where most watchmakers are based, and it's perhaps not as financially rewarding as working with Bentley, McLaren or some other maker of luxurious or exotic cars. Nevertheless, Zenith is releasing a new watch celebrating the 55th anniversary of its cigar-making partner Cohiba, the flagship brand of the state-owned Cuban tobacco producer Habanos SA.
Cohiba was established as a brand in 1966 as a maker of cigars exclusively for Fidel Castro, a Cuban revolutionary and leader from the 50s to the 70s. Other top brass in the Cuban government and Cuban communist party would also receive Cohibas to smoke and visit dignitaries who received them as gifts from the Cuban government. Castro himself explained that he found these cigars when one of his personal bodyguards was smoking an unbranded cigar that was "a very aromatic, very nice cigar". The cigar was made by the bodyguard's friend, who gave Castro the instructions on how to blend the filler for the cigar and how to prepare one properly. Production was established and kept under very tight security. It was feared the USA would use the cigars as a method to assassinate Fidel Castro and his brother and Argentine revolutionary Che Guevara. Of course, today, it is known that the CIA did, in fact, produce exploding cigars in an attempt to assassinate Castro, just one of the many attempts that failed.
Today, Cohiba cigars are renowned for their excellent build quality and flavour. They are among the most highly regarded cigars made by Habanos SA, alongside names such as Montecristo, Trinidad and Romeo Y Julieta. Zenith's Chronomaster Open Cohiba 55th anniversary celebrates the birthday of the cigar brand. And, we have to say, they've accidentally made one of the most attractive watches in their collection. The part-black-part-yellow dial, a reference to the branded box that holds the cigars (Cohiba's is black and yellow), makes for a visually appealing piece. The word 'Cohiba' has been printed on the hour counter for the chronograph and is a subtle reminder of this watch's connection.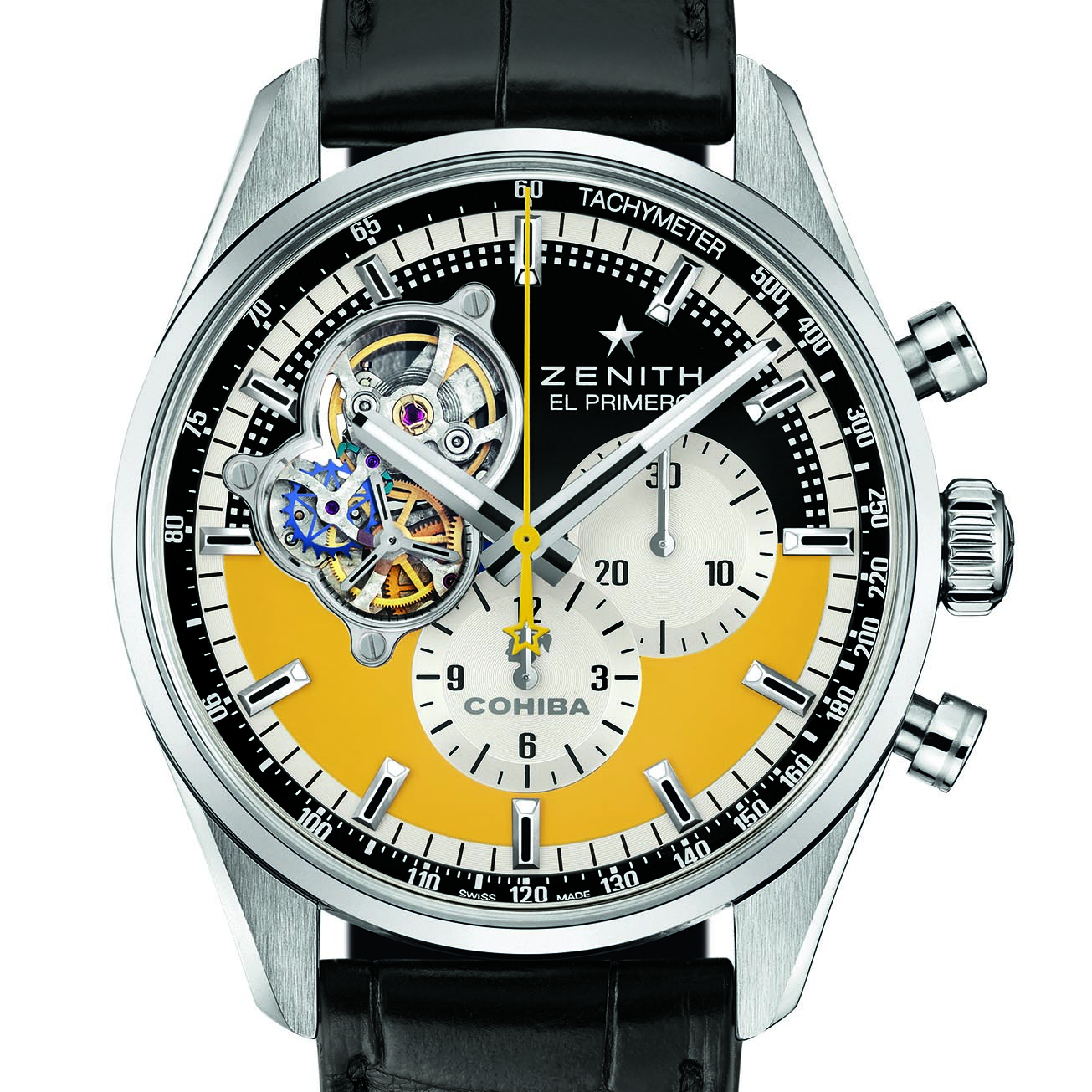 The combination of black and saffron yellow for the dial works exceptionally well. If you're a Cohiba fan, you'll also notice the chequering on the black half of the dial and white seconds track, another note to Cohiba's branding. These same colours are also found on the branded band wrapped around the cigar to identify it when outside of a box or humidor. The chronograph seconds hand is also yellow and is long enough to reach the tachymeter so it can still be read. It also has the signature Zenith star-shaped counterbalance.
The back of the 42mm case is sapphire crystal and has a big stamped image on it, interrupting the view of the movement. The image is a 55th-anniversary design featuring a clever integration of the number 55 along with the iconic Cohiba logo. Underneath it is the calibre 4061, an automatic El Primero calibre with a 5Hz beat rate, column-wheel chronograph and silicone escape wheel and lever. It also has a power reserve of 50 hours and is wound by the signature part-skeletonised rotor.
Zenith is limiting the production of this model to just 55 examples, which is a bit unfortunate as I really love this colour combination. It will retail for CHF9,900.
Visit Zenith here.