Most of us believe that the Swiss make the best mechanical timepieces in the world. Well, I do not disagree but there are other nationalities that are good at it such as the Japanese for example. However for this article, I am going to delve deeper into the complicated watch of Konstantin Chaykin particularly the Russian Time Watch. This is a complicated watch and in this part of the world, conventional ideas are simply overrated. I like the more proactive approach of Konstantin Chaykin when it comes to mechanical designs. Some of you might agree that the said creator pretty much deviates from the traditional methods making adjustment quite dizzying. However for me new ideas are always welcome plus if you own a business in Russia or at least plan to get there one day, mastering Russian time brings lots of surprises.
Okay so enough with my rumblings and let us tackle instead the 44 mm case of the proudly Russian-made timepiece. At this size, it does not fit to be a dress watch but considering its orientation, it is certainly elegant enough to be right where it needs to be, on your tuxedoed attire. The styling is professional no doubt about it plus the color choice and the polished finish of the stainless steel case is simply authoritative and much more complicated than your average dress watch. The bezel is rather thin when accented by the lugs but the coin shaped crown pretty much makes up for the proportions at least in my humble opinion. But throw in the crystal and you simply get a professional calibre watch.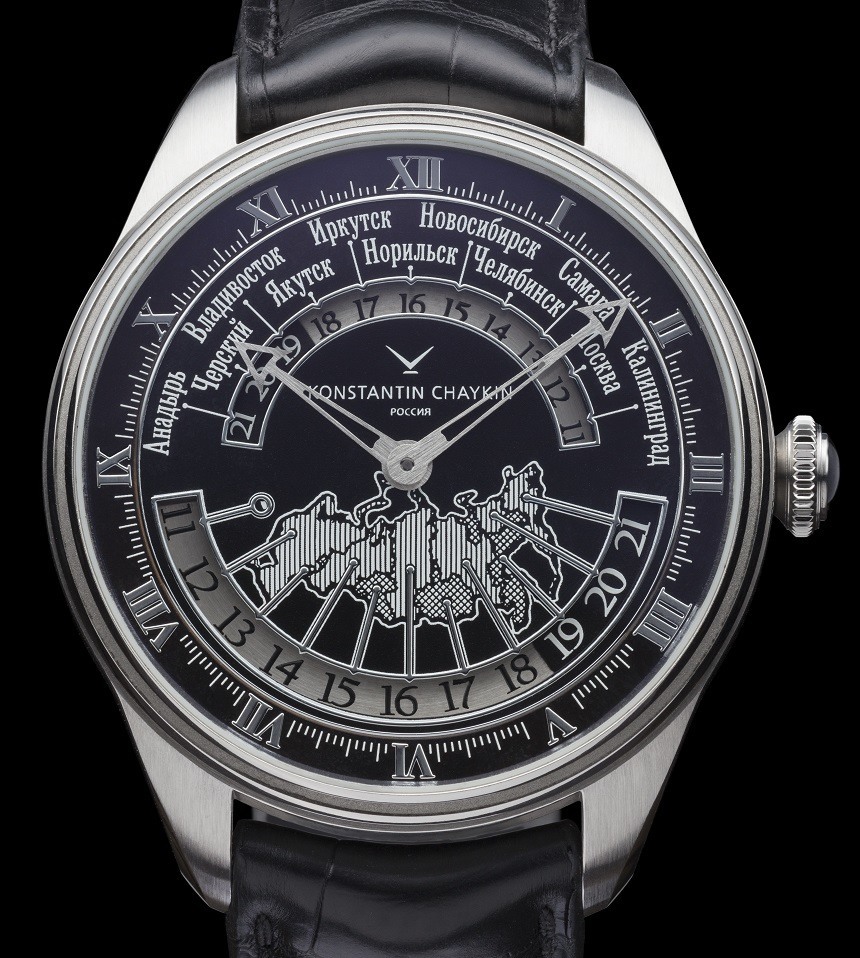 The dial is nicely done and to be honest, given the watch's complications, it is not much use outside Russia. What I mean is that all the eleven time zones presented on the watch are all within mother Russia that is why there is a big Russian map on the lower portion of the dial. So it really only makes sense for Russian peeps or for those doing business in Russia or for some people who just want to have a piece of Konstantin Chaykin's creations. Nonetheless, the navy blue dial is astounding and surprisingly neat when you take into account the nicely crafted roman numerals and applied indices. The hands are arrow tipped with hollow bodies giving more emphasis on the complications which is rather thoughtful of Konstantin Chaykin. It almost looks classic for my taste.
Furthermore, the complicated Konstantin Chaykin Russian Time Watch is powered by an in-house hand-wound K01–7 movement delivers a 48-hour power reserve. You can see part of the movement through the generous exhibition caseback which is performing very well at 21,600 vibrations per hour. I do not know about you, but this timepiece with a price point of $13,750 can go head to head with its western counterparts. With beautifully crafted leather strap and if you share a fascination of mother Russia, I do not see why you would not consider owning this watch. For more info, please visit konstantin-chaykin.com
JOVAN KRSTEVSKI – FOUNDER, PROPRIETOR & EXECUTIVE EDITOR
Watch collector, aficionado and an Event profile in the Swedish nightlife. He launched Watchgeek back in 2011, which is now known as WristReview and is one of the most widely read watch blogs on the Web. He quotes 'WristReview is a site to help people find, explore, discover and enjoy wristwatches.'  His passion jump started in his early teens when he was given his first mid-range wristwatch which was an Omega Seamaster. Since then he has always been in love with wristwatches! Besides WristReview, he also writes for a number of publications. Read his articles here