Germans are known worldwide for their stronghold in the field of engineering. Now, while German cars are some of the best and most popular examples of the country's engineering prowess, German watchmaking is in a league of its own when it comes down to the world of horology, and brands such as Nomos is a testimony to this. Based in Glashütte, Nomos is a brand that specializes in making high-quality mechanical timepieces that follow the minimalist design philosophy focusing on keeping things simple and effective. The Tangente has been a part of the brand's catalog since its inception, and recently I got to spend some time with the Tangente Neomatik 41, a large, modern dress watch, with an innovative date display that took me by Surprise.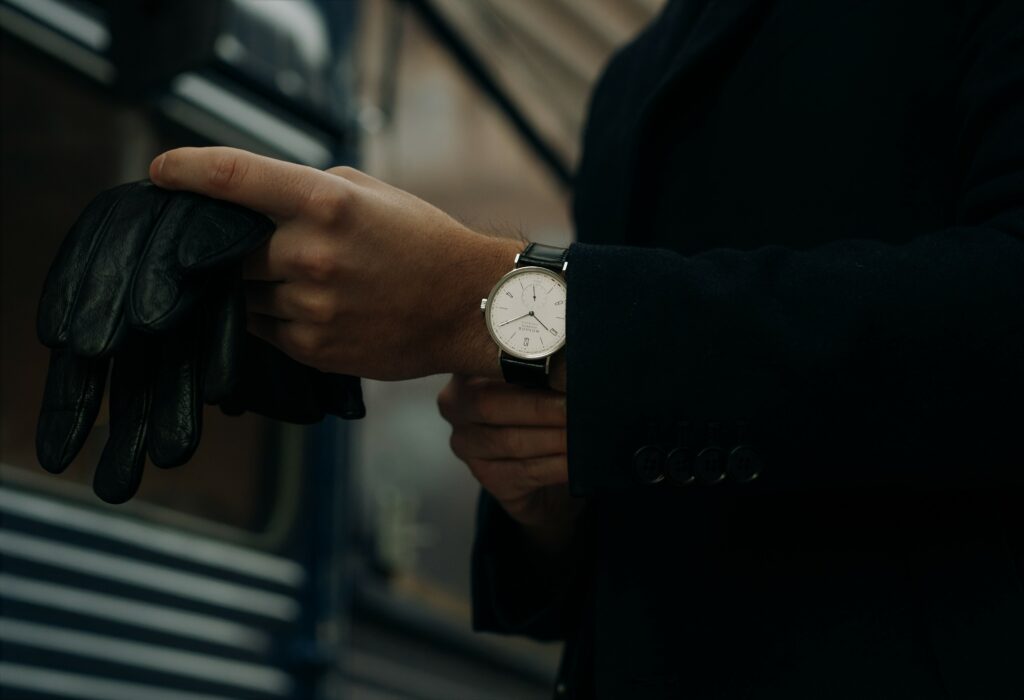 Dial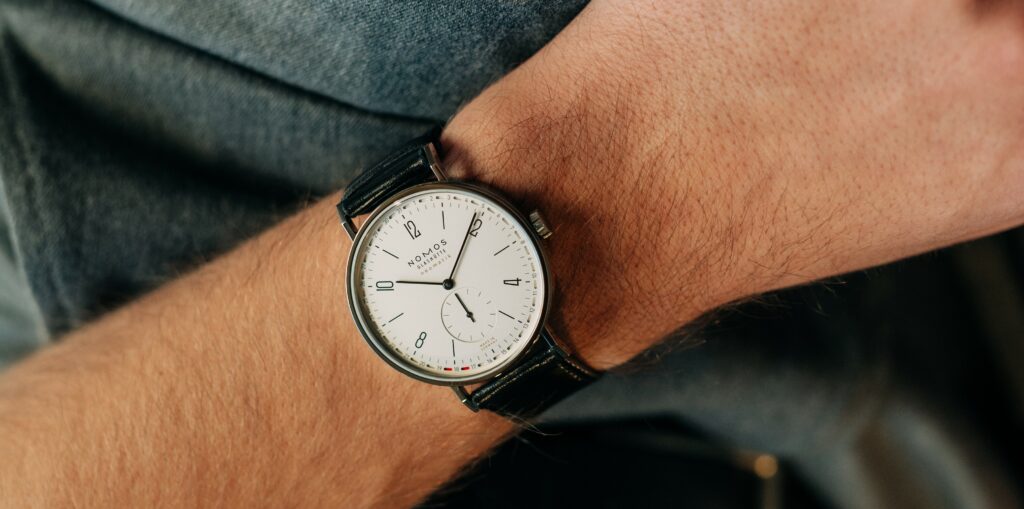 In case you have been following WristReview, especially my reviews then you might be aware that I am a big dive watch fan. There are a couple of reasons I like dive watches. Firstly, they are bold and masculine, and secondly, they are generally easy to read in almost any situation. The Nomos Tangente Neomatik is not bold, and to be honest, when I first pulled it out of the box, I was a little underwhelmed as I am not used to wearing slender and lightweight timepieces. However, after putting the watch on the wrist for a couple of hours, I was hooked to the clarity of the Tangente's dial, which I feel is at par with what some of the best dive watches offer (of course in daylight). No matter what angle you look at the Tangente from, you will be able to read the time accurately and with precision, and the reason behind that is its simple yet effective dial layout.
Starting from the printed hour markers, the minute track, the subsidiary second's dial at 6, the baton-style hands, and the date (which I will talk about later), everything is so well proportioned and aptly sized, making for a delightful timekeeping experience. My review sample came with a silvery-white dial that has a nice sparkle to it, which is more prominent when the dial is viewed at certain angles and makes the dial more visually pleasing. The printing throughout the dial is crisp and has been done in black for the most part except for the "neomatik" and "made in Germany" text which has been painted in a golden tone to give the dial a nice pop of color. The entire handset is also black and looks good, but I wonder how this watch would have looked with the heat-blued handset which is used on some other Nomos watches. What do you guys think? Let me know your thoughts in the comments section below.
Anyhow, coming back to the dial and the one detail that, in my opinion, makes this dial stand out, the date. When it comes down to watches, I generally prefer them without a date, as in most cases, brands don't think about the complication so much and simply place the date at either 3 (which spoils the symmetry) or in some cases at 6 o'clock position. However, I must say that Nomos has elevated the date game with the Tangente Neomatik. As you can see in the pictures, the date wheel has been printed on the outer periphery, which you might have seen on some other watches with a pointer date complication. However, there is no fourth hand here to read the date. So how do you read the date you might ask? Look closer, and you will notice small rectangular cutouts between 2 dates. Underneath these cutouts is a disk that matches the color of the dial at all positions except two positions which are painted in red to highlight the current date in between. Ingenious, isn't it?
Case and Wearability
The case on the Tangente Neomatik is constructed from stainless steel and measures 41mm in diameter and has a thickness of just 7.8mm creating a very thin profile on the wrist, which is a very important detail on an elegant watch. However, let me warn you, that these numbers are quite deceptive and the Tangente Neomatik wears much larger than the dimensions suggest.
To begin with, like any other Nomos watch, the case on the Tagente Neomatik 41 is almost bezel-less, which means that the actual dial span on this watch is almost 41mm which makes the watch appear quite large compared to other 41mm watches which normally have a maximum dial span of around 32 or 33mm. Add to this the angular and sharp but overly long lugs and you have a watch that sits quite large even on a large wrist.
To put things into perspective, in case you have a wrist smaller than 7 inches, this watch might end up looking like a dinner plate on the wrist. Size aside, the case is well put together and is well finished. A few nice touches include the well-sized crown, which has next to no wiggle and is smooth in operation, and the drilled lugs holes which would make strap changing quite easy.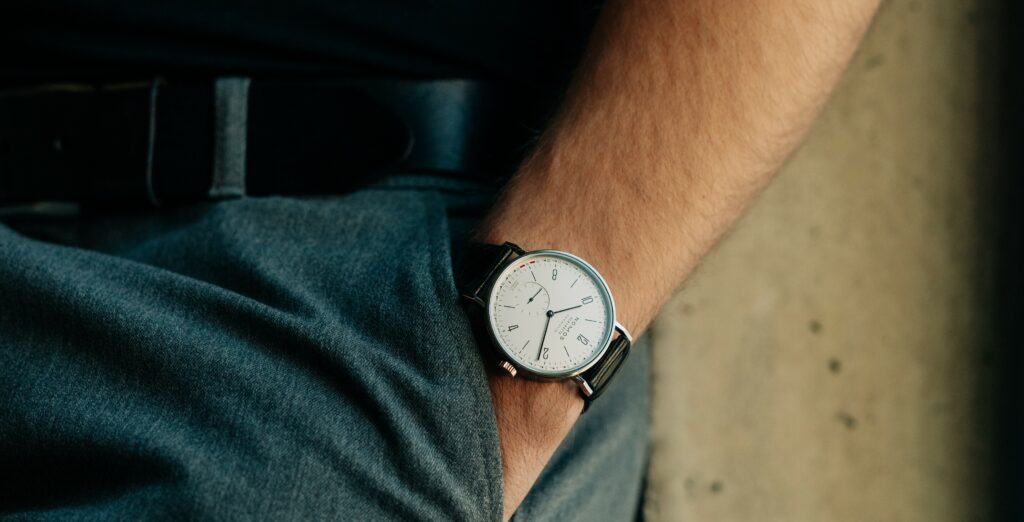 Speaking of the strap, this watch like most other Nomos watches comes attached to a black shell cordovan strap, which frankly speaking I am not a fan of. Don't get me wrong, there is nothing wrong with the strap, it feels high in quality, it's just that it looks quite retrained and dull. But may Nomos was going for that look. So, if I were buying this watch I would for sure make use of those drilled lug holes and swap out the factor strap for another strap.
Movement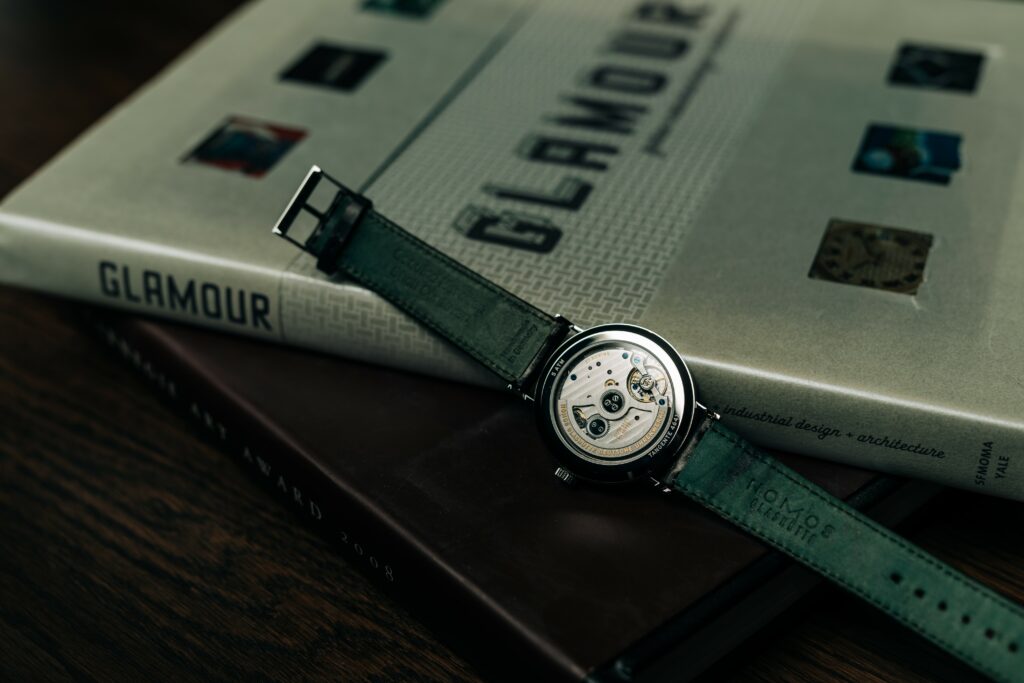 Packed inside the slender case of this watch is the highly capable in-house caliber DUW 6101. An automatic movement, the DUW 6101 comprises 27 jewels, is 35.2mm in diameter, and has a thickness of just 3.6mm. The movement operates at a low frequency of 3 Hz and offers a power reserve of around 42 hours when fully wound.
The movement features a skeletonized oscillating weight and has been beautifully decorated using Perlage, Glashutte stripes, and blued screws. You can enjoy a great view of the movement through the exhibition case back.
Conclusion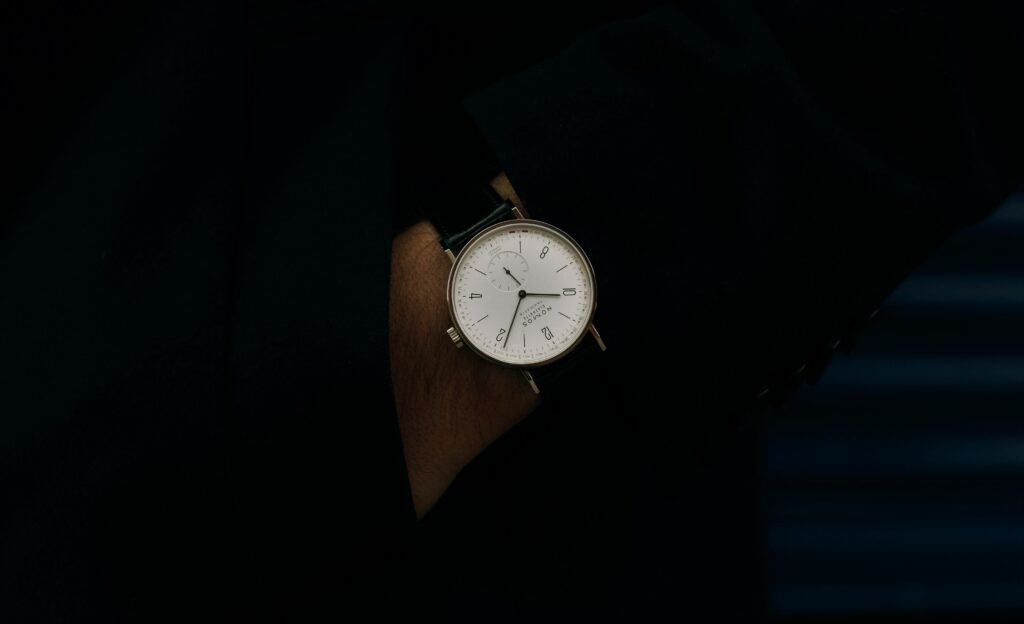 To end I would like to say that the Nomos Neomatik 41 is an interesting watch that I have mixed feelings for. While I do like the clean and legible dial with the innovative display, I don't like the way the watch wears on the wrist. Having said that, in case you are someone who has large wrists and is looking for a dress watch that wears large and offers wrist presence like no other, this could be the watch you are searching for. The Nomos Neomatik Tangente 41 retails for USD 4,100.
Visit NOMOS here.