A while ago we covered two of the SeaQ models, German watchmaking icon Glashütte Original also sent one of their most recognisable models my way, a PanoMatic, but more specifically, the PanoMaticLunar ref.1-90-02-11-35-30. This watch offers contemporary styling using the split-dial layout that is a hallmark of Glashütte watchmaking. Rather than placing everything onto one dial like a Senator watch, for instance, the Pano models split the hours and minutes, seconds, Panorama date and in this case the moon phase from each other to create a distinct style.
The dial – a panoramic view
The most crucial part of any watch is the style, why would you wear something that doesn't suitably reflect you as an individual? To me, the PanoMaticLunar is for someone who can enter a formal situation with ease and grace and yet remain confident and relaxed in a more informal setting. It's hard to design a watch that can be both. Usually, it ends up as a dressy styled sports watch with an integrated bracelet and a hilariously long waiting list, but Glashütte Original subverts this idea by blending rose gold, a staple of high-end watchmaking, with a deep blue colour. If this were any other colour combination this watch would become formal only, but the use of blue balances it out enough to be worn right down to a casual polo shirt and jeans, as I had it for the most part during the review.
But, having said that, it is just as comfortable with a blazer or even a full-on suit. The stepped bezel means the watch glides under the cuff with ease. In terms of wearing experience, the watch is weighty and substantial, as German products tend to be. It doesn't showcase finesse through lightness, rather, elegance through robust design and manufacturing. I also want to mention the blue leather strap. Usually, during reviews such as these, I am wearing the watch all day, and sometimes halfway through the review process, the leather strap starts to relax and loosen up, conforming to the wrist more. Not this one, though, it was so thick and well made that it held its shape from start to finish. That's pretty uncommon, and though it may be a little uncomfortable at first, you only need to loosen it by one notch, and it becomes wearable again. That's high quality, though you'd expect that at this price level, a point we'll come to in a minute.
Part of that wearability ultimately comes down to good case design. Being a dress watch primarily, this piece is conservatively sized at 40mm in diameter and 12.7mm in height. The lugs are relatively short, too, so it can fit smaller wrists without dwarfing them.
The gold clasp is easy to operate and features a brushed/polished appearance with the double G logo engraved onto it. It's not a push-button clasp. Instead, it's a friction type, but to add extra security you need to pull it off from the end of the strap which is usually tucked through the strap minders. Try as hard as you like, it won't budge if you don't pull it from the end, and someone trying to pinch it will find that out very quickly.
The blue dial is clear and crisp. Glashütte Original calls it galvanic blue, and it certainly stands out. It's not as deep as you might expect, it shows up in a lot of the photos as a deep and dark, mysterious blue, but it's lighter than that. It's very susceptible to the lighting conditions at the time and the viewing angle, thanks to a subtle finishing on the parts that aren't time dials. The dials that do display the time have their own circular guilloché which reflects light in another fashion, creating a part gold part blue shimmer that is quite attractive. The dial is made in Glashütte Original's dial manufactory in Pforzheim where experts craft their elaborate and intricate dials.
The Panorama Date and the moon phase (depicted with the delightfully German words 'Panoramadatum' and 'Mondphase') are the extra features on these timepieces. Last year in a hands-on I had with Glashütte Original's Senator Excellence Panorama Date Moon Phase watch, I mentioned that I found the stars on the silvery moon phase disk hard to make out. This watch also features a silvery moon phase disk which contrasts with their blue dial. However, this time, the moon and the stars are in rose gold, matching the case and making them stand out more easily. The sub-small seconds hand doesn't touch the markers on the subdial, but perhaps that's more my undiagnosed OCD kicking in.
The Panorama Date has been a hallmark of the brand since 1997. It uses two discs, sat one inside the other, to switch the numbers independently of each other, which adds to the character of the timepiece. The font is large to allow easy reading and is crisp in appearance, too. It's a smooth mechanism to operate as well.
The power behind the blue
Ticking away in the back of this watch is Glashütte Original's in-house made calibre 90-02. The first thing to become apparent with it is the level of finishing, which is spectacular. The rotor is made of 21k gold with a gold double G logo cut into it and a gold oscillating weight. The rotor runs around a track that makes use of a milling process to create an attractive ribbed design which contrasts the Glashütte striping on the three-quarter plate. The visible gears have a sunburst polish to them as well for added visual attraction. This all contrasts the heat blued screws holding the movement together.
But, once you've taken it all in for a few seconds, perhaps the most prominent part is the balance bridge. That's right. This watch uses a bridge to suspend the balance from. "Why?" you ask? The reason is that it supports the duplex swan's neck regulator assembly, which has been polished and sits on top of the bridge. This is another hallmark of the Glashütte Original brand. A single swan's neck regulator is not that uncommon, but adding a second one improves upon the standard swan's neck adjuster.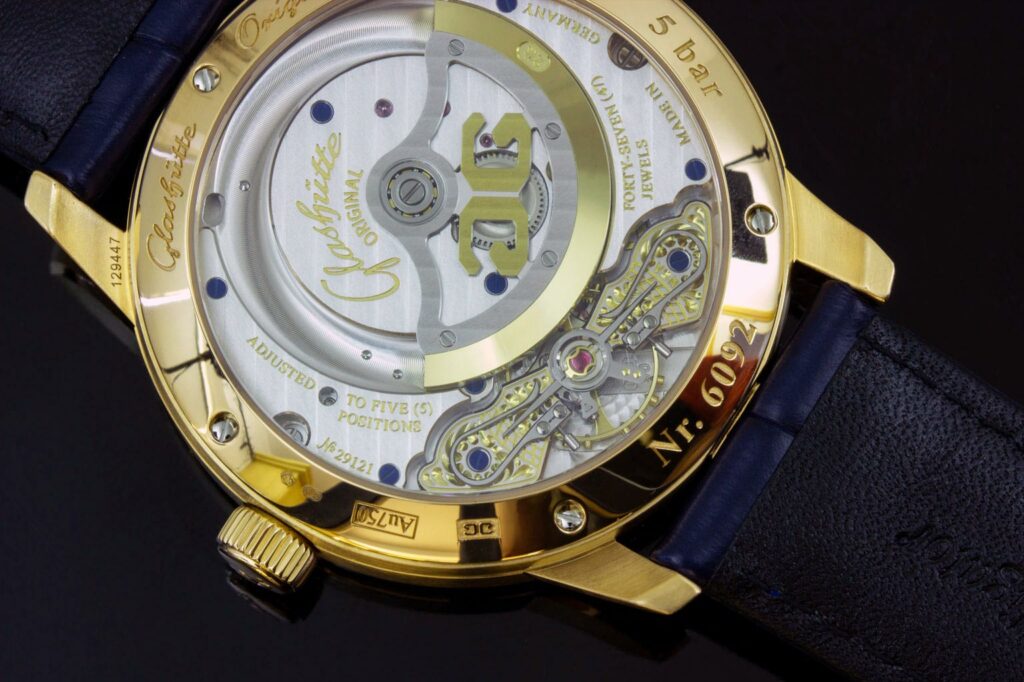 One swan's neck regulator on its own is used to set the rate of the watch finely. In this design, the second one adjusts the position that the impulse pin connects to the fork by turning the balance itself. When the impulse pin is set in the optimal position, it means that the watch is running more efficiently and more accurately than before. This means that the watch can be set with extreme precision that other brands can't do, and while you may not notice the results of that as a wearer, horology fans always appreciate it when watchmakers go out of their way to improve something. That balance operates at 4Hz to provide accurate and precise timekeeping and will continue to do so for roughly 42 hours.
Let's not forget, though, that the entire balance bridge is not only very technical and forward-thinking in its design, but, like the rest of the watch, it's very well executed. The engraving is very high quality. For the photography, I used a super zoom function on the camera to get right in close so that I can focus properly. When doing this, I also took the time to perform my own little unofficial 'inspection', in the broadest sense of the term, and couldn't find a fault in any of the engravings on the movement.
Conclusion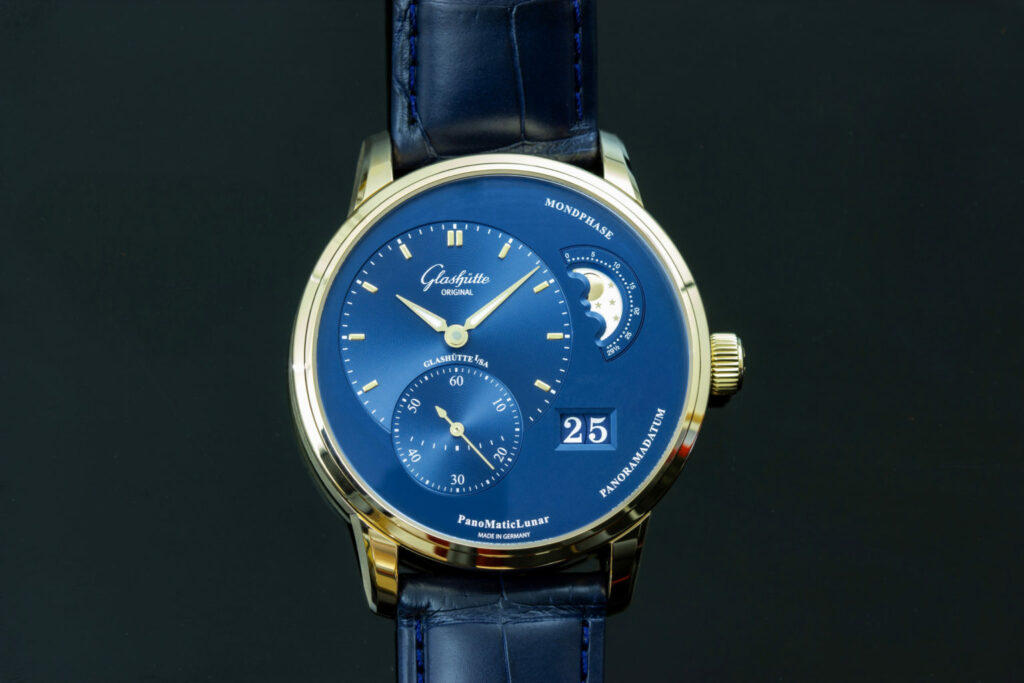 So, should you instantly go and buy this watch? Well, that depends on whether you want something traditional in terms of design. If you are after a more restrained design, perhaps, then you might be better off with Glashütte Original's Senator collection which has some beautiful watches. If, however, you are after a very high-end wristwatch with loads of charm and character, something that doesn't have to be a safe queen, then this could well be the watch for you. This red gold and blue version costs €18,400 including 19% VAT for the version with the folding clasp, and €20,200 (also including 19% VAT for the version with the fold fastener), so it's well priced, too.