Pilot 42 Bronze Automatic
ARCHIMEDE pilot watches now with Bronze case
Bronze is mankind's oldest alloy. The first objects made of bronze originate from the middle of the 4th millennium BC. From then on it has been possible to design and make parts, ornaments and tools from bronze, making them harder, more durable and better than before.
The surface of bronze oxidizes and forms a natural 'patina' of copper oxide. This superficial layer of oxide then protects the underlying metal from further corrosion. It is especially resistant to sea water corrosion. Bronze is also not magnetic, has a high melting point near 1000 °C (~ 1800 °F). It is less brittle and about 10% heavier than steel and is more expensive. It is often used in architecture, outdoor statues and of course in the industry e.g. for coins, blades, marine fittings and ship turbines..
The ARCHIMEDE Bronze case, made by Ickler, uses the Bronze alloy CuSn8, consisting of 92% copper and 8% tin. The crown is made of Bronze too and the case back is made of stainless steel 316L. The case has the Ickler logo in between the lugs at 6 o'clock and the word "BRONZE" engraved on the other side. The surface is natural and has no treatment from the factory and will develop the characteristic bronze vintage patina over time.
ARCHIMEDE uses the Bronze case for its Flieger watches:
Pilot 42 (logo, date, black hands, SL C1) and
Pilot 42H (no logo, no date, blue hands, SL C3).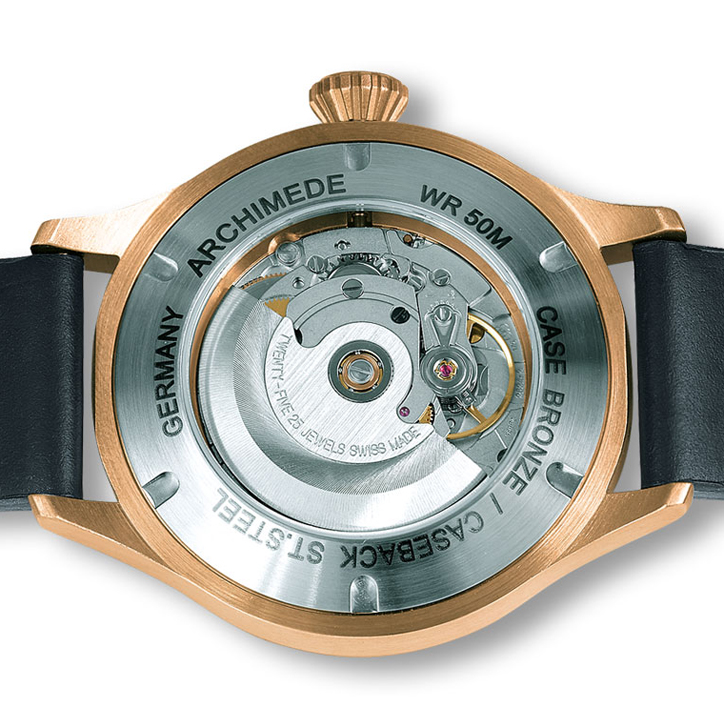 Technical Specifications