Only a handful of the most knowledgeable watch experts fully understand what a resonance watch is, and even fewer watchmakers actually make one, I can only list a few at the most. One of those is Armin Strom, which has been making resonance watches for a little while now. There isn't exactly a simple explanation of what a resonance watch is, the basic idea is that oscillations from two separate balance wheels synchronise to balance out the natural variations of one balance wheel. It's been capturing the minds of horologists all the way back to the Christiaan Huygens (1629-1695), who realised that two adjacent pendulum clocks hung from the same beam would synchronise, made possible by the wooden beam carrying vibrations. Later in the 19th century, Abraham Louis Breguet would demonstrate his mastery of horology with his double pendulum resonance clock no.3177, he also made resonance pocket watches too.
The previous resonance watch from the company, the Mirrored Force Resonance, looks completely different from this new creation, which features two separate time dials, as well as separate power reserve indicators for the two movements inside the watch. The only time these two overlap their displays is on the shared 24-hour display at the bottom centre. You'll have noticed by now that the watch is an oval shape with two crowns placed like bullhorns.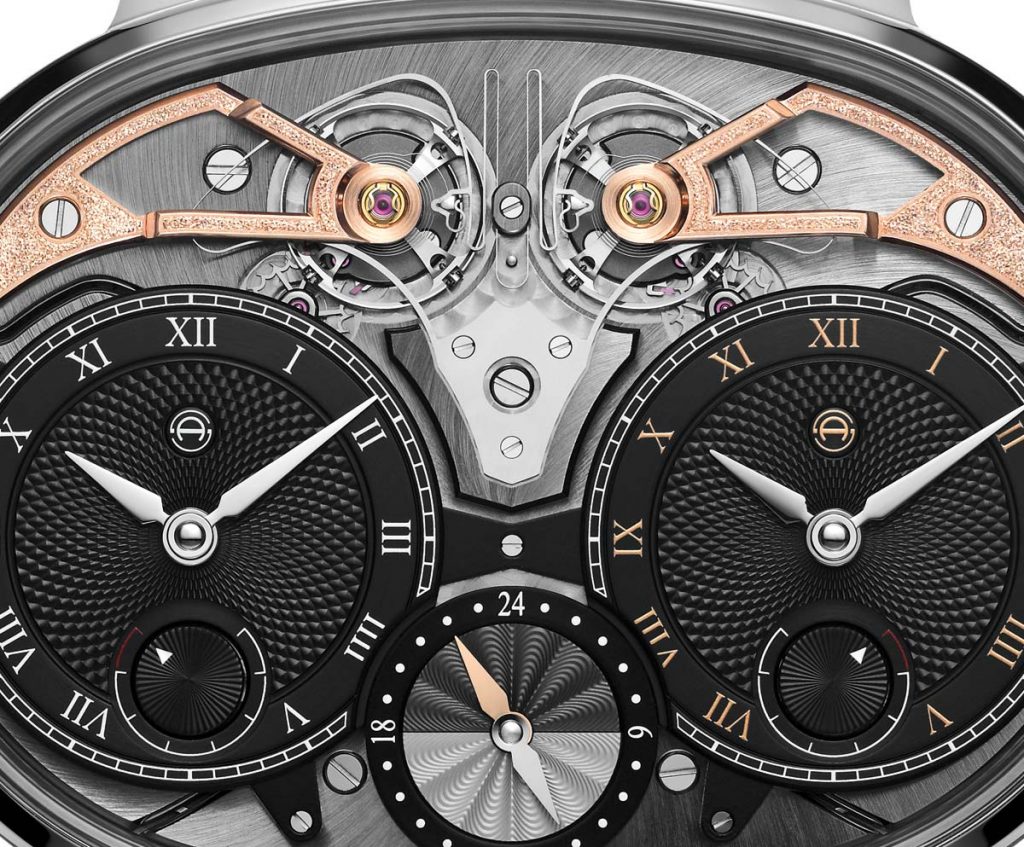 Unlike the Mirrored Force Resonance watch the Dual Time Resonance has two movements side by side with the escapement assemblies visible on the dial. These two balances are connected via a Resonance Clutch Spring, the development of which took over three years to complete. This in-house developed spring eliminates the need for the precise distance setting of the two balance wheels in order to encourage resonance to occur.
Armin Strom also completed some in-house research, which suggests that not only is the watch more accurate thanks to the resonance system (a 15% to 20% gain was found with two COSC chronometer movements running in resonance) but also more power efficient too. They say this is because vibration waves which are generally lost on a single regulator watch are conserved within the system, meaning less energy is being lost. Both movements when fully wound will run for 110 hours thanks to four barrels visible through the caseback, this watch is not automatic, so you're gonna be doing a lot of winding,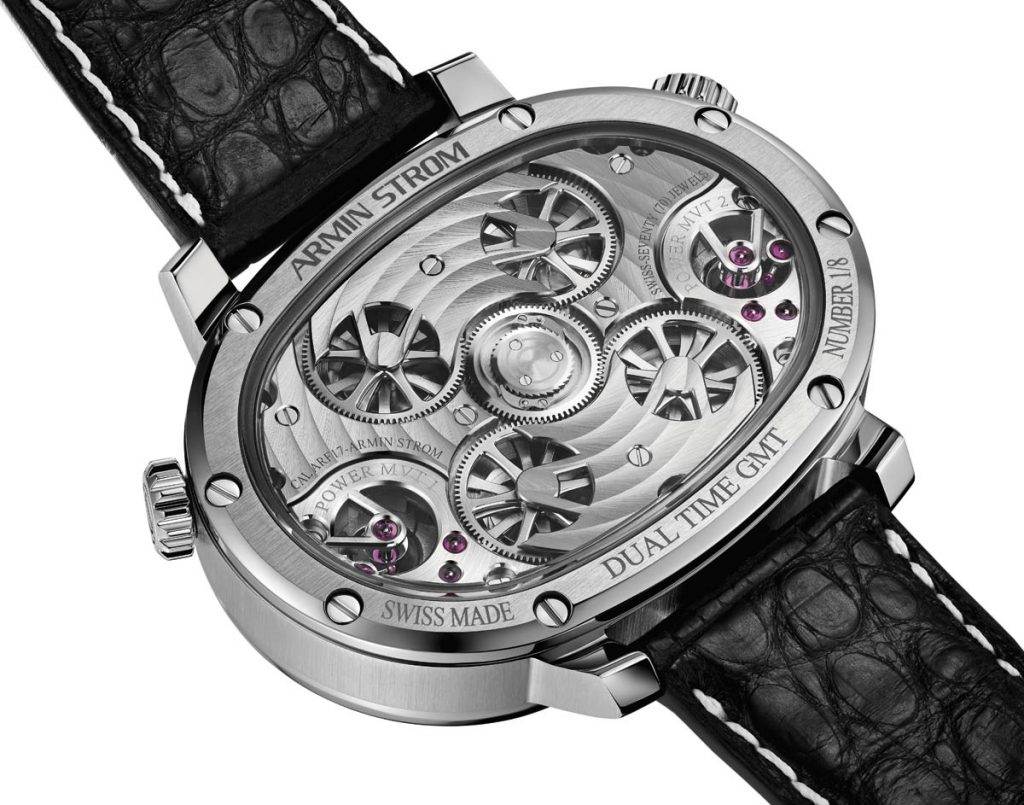 The aim of a resonance watch is not necessarily to have two dials which can be used for two different time zones, this can sometimes annoy watchmakers as it's not the primary purpose. The real reason behind the two different displays on a resonance watch like this is to display the accuracy of the timepiece with a side by side comparison for the wearer. Though, Armin Strom has embraced the fact that people who buy watches like this tend to do as they damn well please. It can also be used as a countdown timer of sorts or for tracking elapsed time.

For those who want to crunch the numbers, the 59mm x 43.4mm x 15.9mm oval-shaped case of this watch is made of grade 5 titanium and keeps both movements dry to a depth of 50 meters. Speaking of the movements, both have a 110-hour power reserve provided by two barrels each and operate at a speed of 3.5HZ. When putting the movements together there are 70 jewels in this piece and 419 components. There is a cost to all this resonance-y goodness, it's 180,000 Swiss Francs. If you can afford it, there's very little else as cool as this. Visit Armin Strom here.