So, how'd you like a really expensive wristwatch that's made in meagre quantities that you probably will never get to see that isn't made by the Swiss or the Germans? If the answer to that is somewhere along the lines of 'hell yeah!', then Grönefeld's new timepiece, the 1941 Principia, could be the very thing for you. It's Haute Horlogerie to the next level and when the independents start singing us horology nuts hear the call.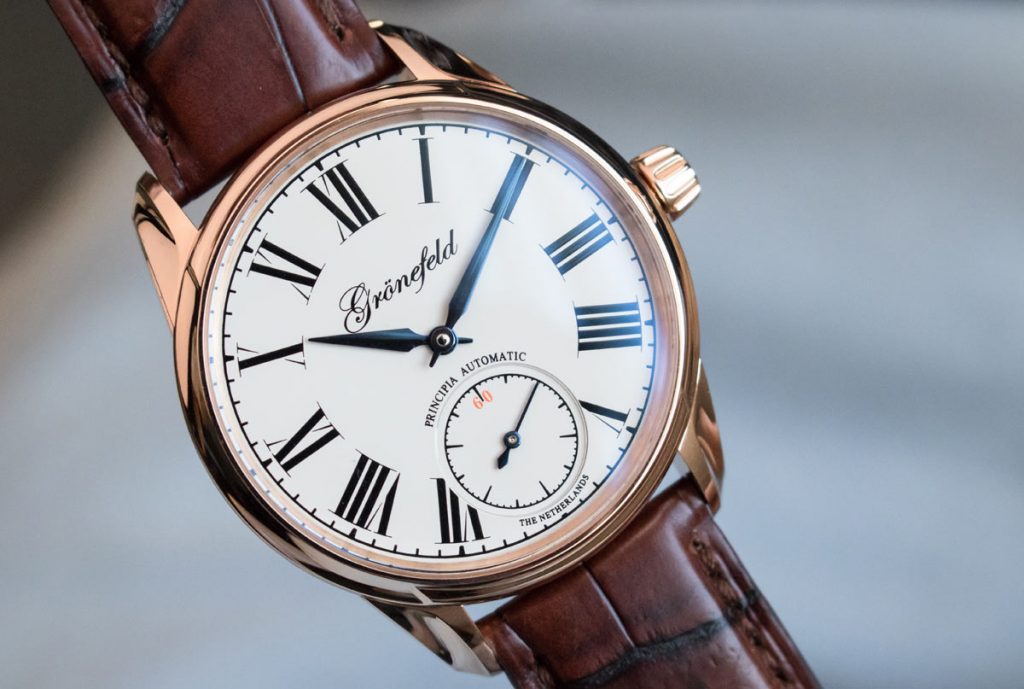 Unlike the standard watches we see from Grönefeld, such as the Parallax Tourbillon and the GPHG award winning 1941 Remontoire, the 1941 Principia has zero complications on it (unless we're counting the small seconds hand). There is one unique twist to it, though, it is Grönefeld's first-ever automatic winding wristwatch. Like so many other wristwatches today, this new one winds itself up with the movements of the wearer's wrist.
As we expect from a watch of this calibre (get it, sorry), the movement of the new 1941 Principia is out of this world. The movement is primarily made of brass, except for the bridges which are stainless steel and have been designed to replicate the rooftops of Dutch houses, a reminder of the place of origin of this watch. The red gold rotor is solid throughout and made of 22k gold, it's been extensively decorated by hand. I like the shape of the rotor, it reminds me of a medieval axe blade, whether this is a part of the Brothers' history I very much doubt, but it's cool nonetheless. This rotor pivots on ceramic bearings, making for a sealed for life unit that requires no lubrication.
The movement has a power reserve of 56 hours when left running, it runs at 21,600 vph or 3Hz. The balance wheel is 10mm in diameter with variable inertia, free sprung and with a Phillips terminal overcoil providing superior accuracy compared to flat springs, the spring is not made of silicone.
The case of the watch is 39.5mm in diameter and 10.5mm thick, just a bit thicker than that of a Lange 1. Interestingly, it comes in a small variety of materials. If you're after something relatively durable (which is still polished, mind), then you could go with stainless steel. The price of one of those is €29,950 regardless of which dial or strap option you have, there's plenty of interesting ones to choose from. If you want solid 18k red gold, that price jumps to €37,300 and goes even further at €38,750 for solid 18k white gold, excluding taxes. If you've got some time the Grönefeld website lets you play around with the strap colour and dial combinations, my favourite is a steel case with a brown alligator strap and cream lacquer dial with a classic cursive style logo on it.
This is definitely an exciting watch and one for the connoisseurs, with a movement to match the attractive dial, it's undoubtedly an attractive offering if you can afford to spend that money. Luckily though, if you're planning to save your pennies up for it you're in luck as it's not a limited edition run. Visit Grönefeld here.