Although BaselWorld officials kicks off into full swing tomorrow (17th March), it seems some companies such as Omega and today's focus, Rolex, were just too excited to wait any longer to share the fruits of their hard labour over the past year and this is something an awful lot of watch fans and collectors have been waiting for because Rolex has finally done something to its legendary Daytona.
Since the 50th anniversary of the Daytona in 2013 the world has been watching and waiting, wondering if Rolex will ever get around to fitting a ceramic bezel to the racing icon, and I'm pleased to say, they have.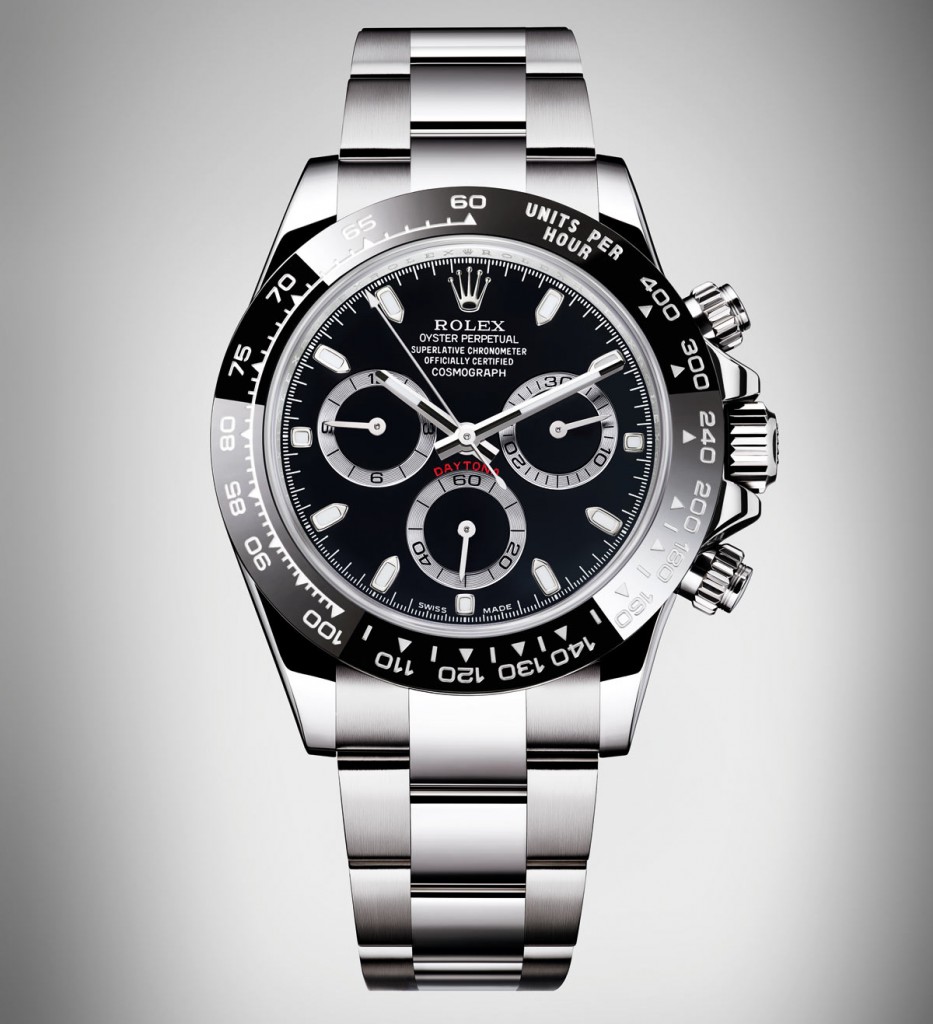 For 2016, the Daytona gets a new black Cerachrom bezel that's reminiscent of their 1965 Daytona that had a black plexiglass insert around the crystal. As with all ceramic bezels, this one benefits from certain advantages bestowed on it thanks to the material it's made of. You can expect a ceramic bezel to be virtually scratch proof on a day to day basis (how often are you likely to scrape a diamond or tungsten carbide along it anyway?), it's extremely resistant to corrosion and it's unaffected by ultraviolet wavelengths. Then again, like all ceramic bezels the biggest risk to the Daytona's Cerachrom halo is sudden impacts, ceramic shares the same issue as sapphire crystal in that it's extreme hardness makes it brittle and likely to shatter altogether if the impact is severe enough.
As well as the bezel being black, the surrounds to the subdials are now also in black on this watch as well, at least, for the white dial version. The black dial Daytona gets silver surrounds instead, quite fitting for the watch I think.
The movement inside the watch hasn't changed, it's still the 4130 automatic self-winding certified chronometer movement which is reliable as ever. The 4130 movement has many high-end features that some top tier watches don't possess. It makes use of a parachrom blue hairspring which is more resistant to magnetic fields than before. It's also using a column wheel setup with a vertical clutch system as well, this means that it's more complex in construction but the system can be more precise, the pushers will feel better to use and also the chronograph can be run all the time without causing damage to the movement (horizontal clutch mechanisms have been known to suffer from this, it's why we recommend you check your manual carefully). The movement is also good for 72 hours of running time without the chronograph being active as well.
Rolex has announced four new variants of the Daytona so far, there's two with the black Cerachrom bezel (that's both the white and black dial versions), a solid 18K yellow gold with a golden dial and a solid 18K white gold version with a blue dial. Note that the precious metal versions don't have a ceramic bezel on them, but you wouldn't spend that much just for a ceramic bezel anyway.
For more info, please visit rolex.com
HARLAN CHAPMAN-GREEN – MANAGING EDITOR
A keen bass guitar player, Harlan enjoys all the perks modern watchmaking technologies the industry has to offer. Although you might catch him sampling Omegas or the "odd" Rolex, Harlan loves all things Haute Horology, with his three favourite brands being Breguet, A.Lange & Söhne and Vacheron Constantin. He hopes to study timekeeping more in depth someday and will never be able to thank his father enough for introducing him to the industry. You can follow him on Instagram Read his articles here