The Manero Peripheral is brought to you by Carl F. Bucherer of Lucerne, Switzerland, a master watchmaker known for complicated design and manufacture of luxury men's and women's mechanical watches. From its early beginnings in 1888 to the present day the Carl F. Bucherer company has been solely owned by the Bucherer family, meaning it's one of the oldest luxury Swiss watchmakers contiguously owned and run by its founding family. This by itself is something of a feat in this modern age of buy-ups, buyouts, and take over's, but here they are, the third generation with Jörg G. Bucherer serving as chairman of the board.
If you know the Carl F. Bucherer brand you will no doubt be well aware of their passion for complications. Where many luxury brands tend to offer a tried and tested offing under the umbrella of 'less is more' Carl F. Bucherer distinguish themselves as purveyors of the complications from flyback chronographs, tachymeters, and tourbillons but it doesn't stop there. This brand also enjoys building moon phases, multiple time zones and perpetual calendars just to mention a few from the top of my head. Basically, this family-owned watchmaker not only 'knows their onions' but positively likes to show them off, and what's wrong with that.
Manero Peripheral (43 mm)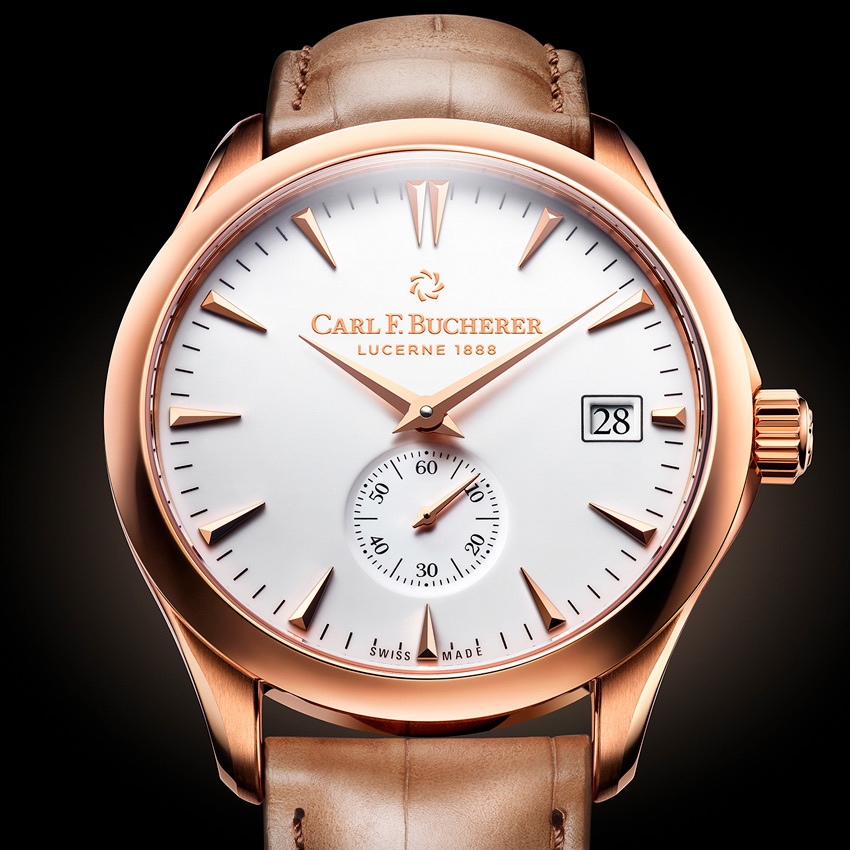 By now you will probably be under the impression I have something of a soft spot for Carl F. Bucherer and you may be right, it's not everyday one finds such a jewel to talk about, but I digress.
Getting back to the subject at hand the new Manero Peripheral which has been exclusively produced in a 40.6mm case has now entered the modern world of 'oversized' or at least larger, more modern incarnations of its usual offering. Yes, the CARL F. BUCHERER Manero Peripheral collection has made a leap of faith and upped the game with a 43mm in 18kt rose gold encasing the highly successful CFB A2050 caliber.
The Movement
One of the interesting points to take from the movement is that it's currently one of the few using peripheral self-winding rotor. This allows winding efficiency without adding to the thickness of the movement, which has been accepted as quite a feat of engineering. After all, the peripheral rotor means the case-back side of the movement can be seen and appreciated, unlike most conventional automatic movements that usually have the oscillating weight hiding a good portion of the movement from sight.
The CFB A2050 mechanical movement uses the peripheral automatic rotor, with the help of 33 jewels to create a smooth wear free movement throughout the calibre and a 55-hours power reserve to boot. Coupled with the view of the living movement through the view window, this all adds up to a stunning piece with the addition of anti-reflective crystal and a water resistant to 30 meters. For more info, visit Carl F. Bucherer online.