I'll be honest here, to me Urban Jürgensen hasn't been making particularly interesting timepieces. I like their story, and as standalone watches are very pleasing things, but when you compare them to the market they look a lot like some other timepieces, particularly Breguet timepieces. That's hardly surprising given it's a popular style, but it's made me wonder why you'd want to buy an Urban Jürgensen. Now, though, they are presenting their new One collection, and I think my opinion on them is about to change dramatically.
It's called the One collection. Perhaps because it's the one that will launch them into the spotlight, I hope so at least because it does look great. All the shapes flow into each other. The bracelet tapers to the clasp, the head of the watch itself, an elegant barrel-shaped watch head featuring a polished bezel that slopes down into a dial that's a wash with textures. This is a clean design which maximises on small spaces that are detailed to perfection. The centre portion of the dial has a grains d ́orge guilloché decoration to it. The hands are proportional to the dial, have some lume applied and also have a bit of skeleton work going on there as well, the hour hand is a huge Breguet hand which is synonymous with Urban Jürgensen watches.
This new collection comes in two forms and several colour variants. The simplest one, which I feel looks the best, is the ref. 5241 watch which is simply a three-hander with a date window. It's available with three different dial colours: charcoal grey, soft white or urban blue. I think you'd be okay with any of these, but I prefer a darker dial which can be worn with different colours for different occasions, so my personal preference is the dark grey.
The alternative to these watches is the ref. 5541 GMT, which uses two extra pushers to control the GMT function forwards and backwards. At 6 O'clock, an extra subdial which indicates the home time over 24 hours, it's nice not to see a central GMT hour hand on this watch, it adds a touch of class. This watch also features a date window like the 5241, and it only comes in urban blue for now.
Inside these new watches is an automatic movement. The in-house made Urban Jürgensen P5 movement is a real beauty to behold, with a skeletonised rotor, elegant finishing and blued screws to add in a bit of contrast to the silver. The beat rate for this movement is 21,600bph, or 3Hz yielding an accuracy of 1/6th of a second. You get essentially the same movement in the 5541 GMT model as well, with the added complication.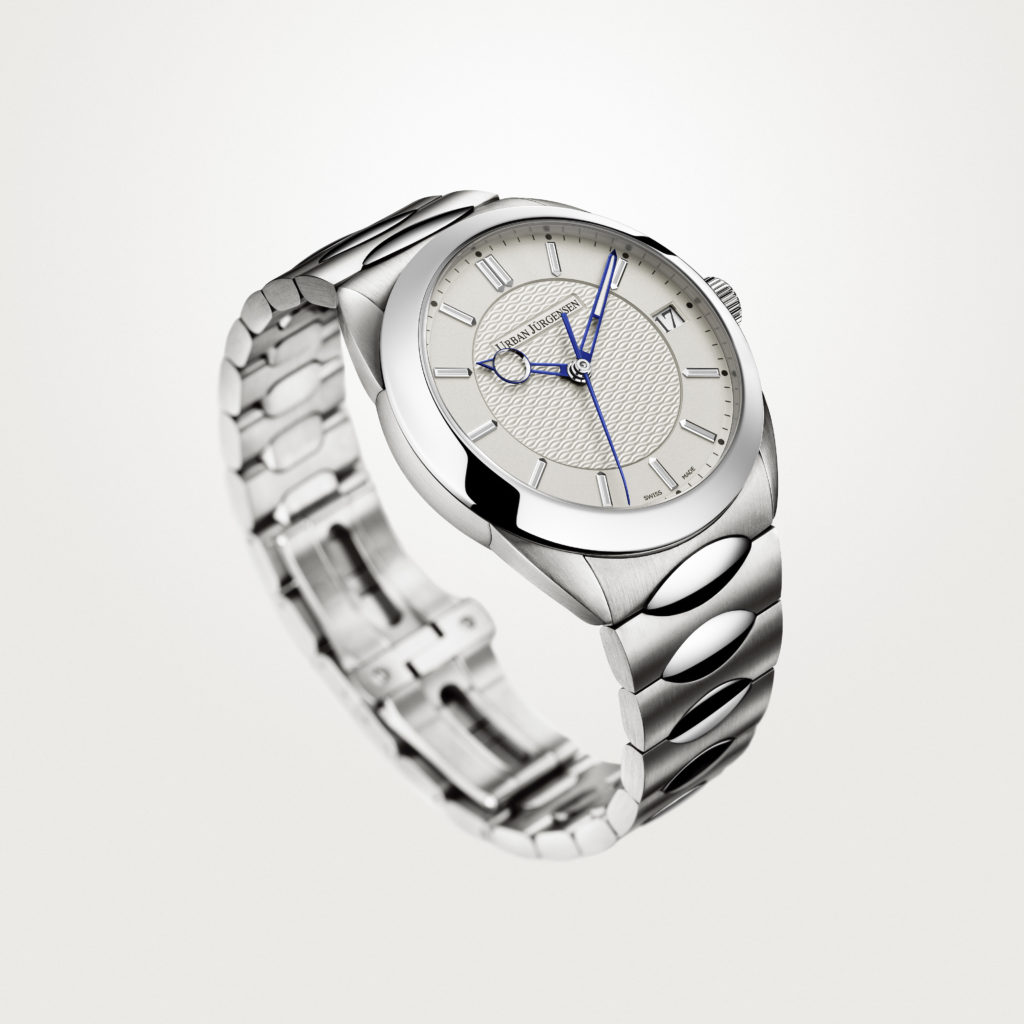 There is just one major problem with this watch: its eye-watering price. The simple three-hander retails for CHF24,500 and the GMT? Well, it's a cool CHF33,500. Now, I know why this is; the watch is made of medical grade steel which has a low nickel content. Also, it's hand made and decorated and comes from a very tiny manufacturer. But, that is unavoidably a lot of money to fork out. I like this watch, but I'd wait to see what the resale price will be, sorry.
Visit Urban Jürgensen here.