We here at WristReview have liked Bell and Ross from the start. Their big square cases which are unashamedly brash but very technically inspired make for some exciting wrist candy. They often allow the wearer to strike up a conversation with other watch enthusiasts. Imagine the kind of conversations that will be had when people see the new BR-X2 Skeleton Tourbillon. It uses big chunks of sapphire and satin polished steel to create a lovely piece which has a reasonable price of $79,000, by no means is that cheap, but it's not that bad for a watch sporting a tourbillon.

"Fusing the case and movement into a single component to make the case disappear, leaving just the movement visible."
Bruno Belamich Creative Director at Bell & Ross

We interviewed Belamich a few years ago at the grand opening of their first UK boutique. He was very focused on creating watches that offer diversity for the wearer, instead of just one or two models with endless variations Bell and Ross would create different watches entirely, so that if you didn't like the square cases, then there's still lots to choose from. When it comes to the BR-X2, however, it's got to be square all the way, it's probably the brand's most significant selling point. With this one the vision was to create a watch case that's as close to invisible as possible, so to the wearer, it seems like they have only the movement strapped to their wrist.

To do this, they had to rethink their strategy for construction. As you can see, this watch is not so much a movement inside a case, but rather a movement and sapphire sandwich. The two sapphire crystals are on the front and back and are rounded squares, while the movement is set inside the middle block which it uses as a base. Where possible the movement has been skeletonised, though that was a little tricky to get a full skeleton effect. The reason for this is because this watch is also smaller, the watch is 42.5mm diagonally and 9mm thick, but the movement itself is only 4.05mm thick. To keep the watch practical, something Bell and Ross prides itself on doing, the barrel and winding assembly obscure some of the skeleton effects. That's not exactly a problem regardless, I know I wouldn't want to see my sweaty wrist all day long.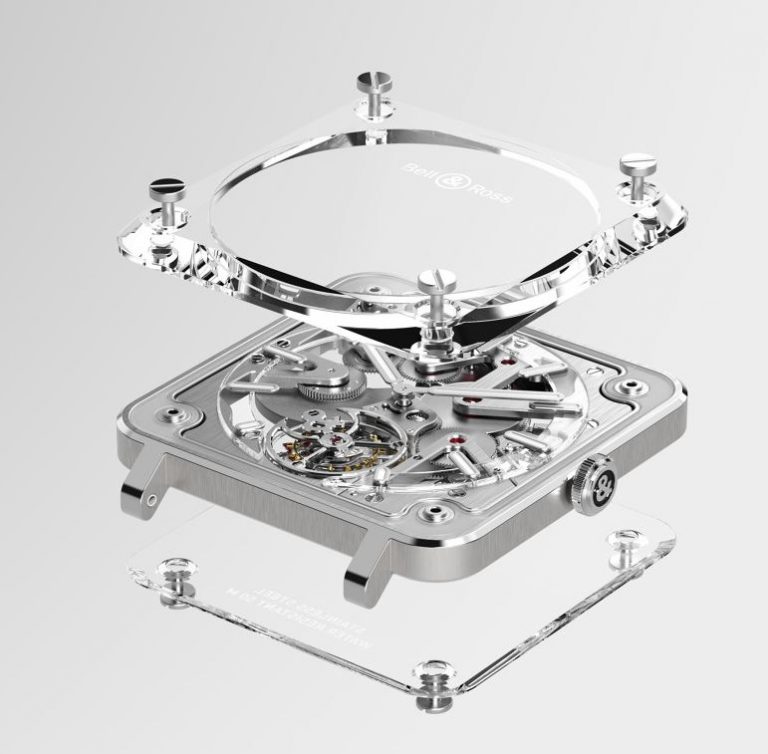 We don't know the exact details about the source of this watch, though I suspect that the BR-CAL.381 inside this watch is made by Manufacture Haute Complications SA, which makes the Cal 283 as well as other calibres for brands such as Romain Jerome, DeWitt, Hysek and the like. There's not much in the way of decoration on this watch, with traditional methods being eschewed in favour of modern sandblasting style, this even extends to the micro-rotor which is practically invisible on the dial.

I can't wait to get to see this one up close, maybe even take it for a two-week test drive if we are fortunate. This is a neat piece just because it's so different; it's not a manufacturer saying they've made a considerable change to watchmaking because two things are different, everything on this watch is different, which means it stands out. With a limited edition run of just 50 examples and that reasonable price tag, this could well be a winner. Visit Bell & Ross here.