If you like Breitling it's probably because you appreciate the complexity of design, I mean as a general rule there are pretty loud in the look and feel department, and the Exospace B55 is no different.
From the initial release of the Exospace collection in 2016 the main focus was on offering tools for Pilots as you might expect and demand, and the Diver. It's good news then, Breitling has released the Exospace B55 Yachting in a belated nod to the long forgotten Sailor meaning their brand can now boast a full commitment to offering pieces for Air, Land and Sea.
Under The Hood
What is the Exospace B55 Yachting and is it a tool that Sailors will use? Well, the B55 Yachting is a SmartWatch offering or at least a semi-Smartwatch or Hybrid in terms of usage. Regardless of the tools it offers, it can never be seen as a true SmartWarch in the same way as other possible competitors can. No, a truly SmartWatch is a self-contained device allowing its wearer to manipulate its functionality directly.
The Exospace B55 Yachting has electronic functions, most of which can only be used by connection to a mobile device via Bluetooth. Things like notifications on your watch when the wearer receives a call, email, or text, which in my view is just fine because if I'm onboard a vessel I've no interest in reading important messages from my wrist.
You'll be happy to know the movement is the COSC-certified Breitling built Caliber B55 SuperQuartz so pretty standard and therefore reliable offering chronograph functions, dual time zones, countdowns, alarms, calendars and set time of course.
The features are 100% Breitling with a 46mm titanium case with unidirectional rotating bezel so it's quite big but visible at a glance and the updated multi-colored dial with hands and indices differing in color to the dial help the overall appearance. The strap comes in blue rubber case-matching folding clasp and "BREITLING" branding.
Regatta Racing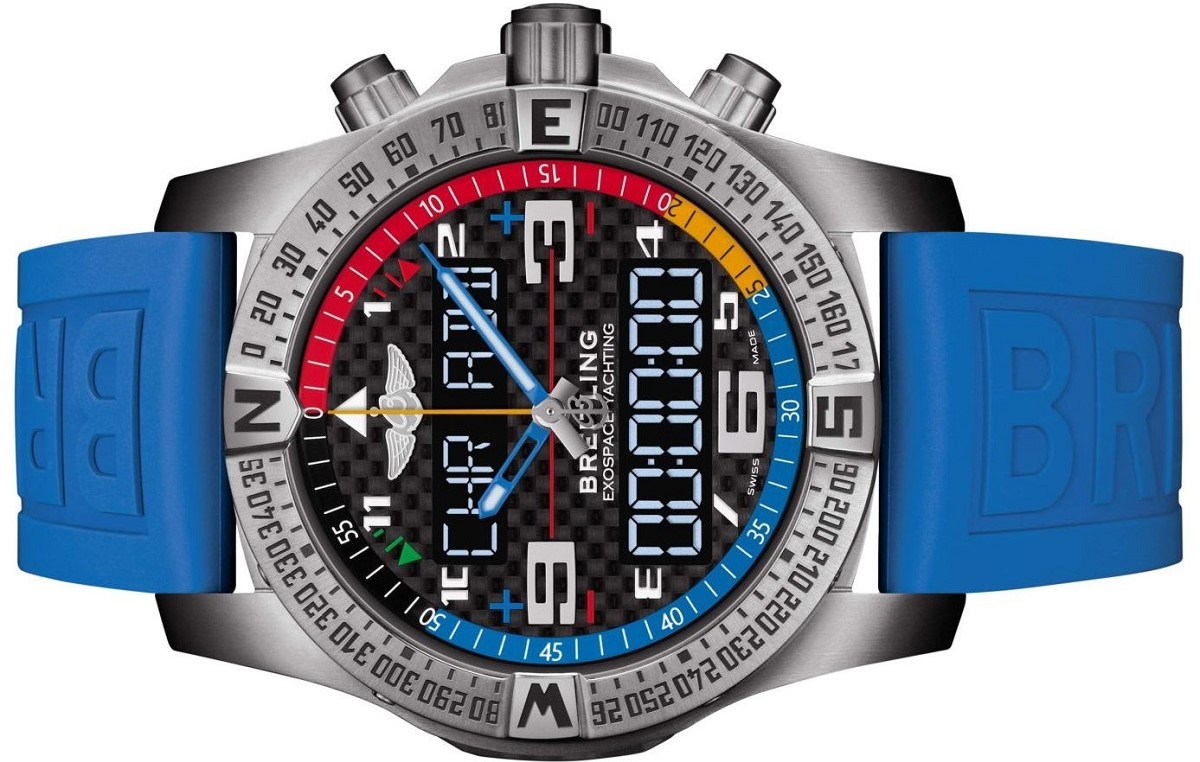 For the true Sailors the updated functions for regatta racing including the Split Time and countdown system making it easy to re-sync times if a timekeeper stops and resets a countdown multiple times.
Essentially, the watch stores split time that's displayed on the digital screens, or your mobile device making it useful in timing laps and digitally recording all time-related information so you can take control without the need for a timekeeper.
While this may be good news for those competing in yachting and regatta racing in a technical sense, it's less clear if it would ever be used in the real world. It's also interesting to learn this piece has a relatively low water resistance at 100m and doesn't feature a screw crown, Hmmm, interesting.
Summary
Far be it from me to cast the first stone, Breitling has been a major influence in my long time interest in watches and that will never stop.
Essentially, this is a nice piece with a bunch of tools thrown in for those with an expensive hobby, but there's nothing new there. Breitling has been and probably will always be known as a Pilot Watch for people with expensive personal pastimes, or lucky professionals being paid to fly. The Sailors version, interestingly enough, is priced at a slightly lower price point, so make of that what you will.
So, maybe this piece isn't a full-blown SmartWatch but it has been said the unidirectional rotating bezel can be used to gather data on wind direction, and optimal starting positions which sounds good, but in my experience, there are other ways to get this done. Really, what it boils down to is this.
It's a lovely piece offering nice tools but it's not necessarily the most practical tool but could offer lots of enjoyment for the enthusiast. I would certainly be happy wearing it and not even bother with its functions. Breitling Exospace B55 is priced at $7,170. For more info, visit Breitling online.