Last year we got to go hands-on with Chopard's then-new release, the Mille Miglia Race Edition watch. They were quite big and chunky, in-keeping with the modern times. Also, they were automatic with in-house movements made in-house by Chopard; it's fair to say that we liked them a lot. So when they came back this year with two watches that looked even better, we just had to share them with you.
It's fair to say I'm a big fan of the company: I like their watches, their history and I particularly love their ethics when it comes to the sourcing of materials. As well as all those and more, Chopard has excellent tie-ins to the motorsports industry, being the partners of the Mille Miglia, Porsche's 24-hour racing teams and the historic Grand Prix at Monaco. It's that last one Chopard focuses on this time around with their new Race Edition watches.
Importantly, both watches are made out of a mixture of metals. You can get either titanium and stainless steel or titanium, stainless steel and rose gold to create a two-tone watch which looks fantastic. I don't like two tones in watches generally, but in life, we must make exceptions, and this is one of them. Contrasting well with the blue on the strap, and dial, the cases are both 44.5mm in diameter and 14.1mm thick. They're not for the faint of heart that's for sure.
Inside the case, well, we don't actually know yet. Chopard hasn't made it very clear about the movement they've put inside it. Some sources reckon that there will be an ETA 'engine' inside the watch like Chopard has used in the past. But, last year's Race Edition didn't use one as Chopard told us. I expect it might be a chronograph modified version of the calibre 01.01-C movement, an automatic movement created explicitly for Chopard by its subsidiary, Fleurier Ebauches S.A., providing perfect vertical integration into the manufacturing of watches.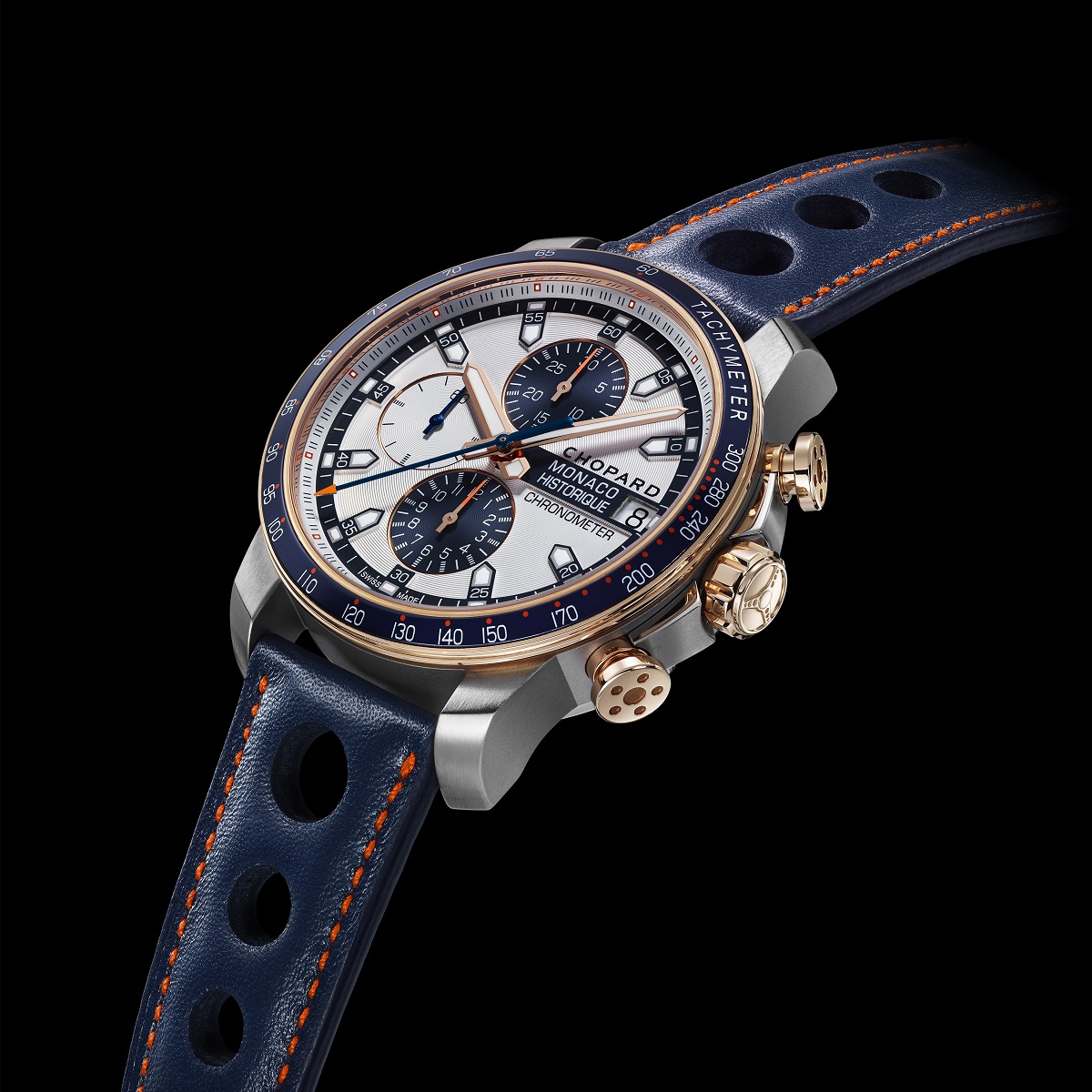 Chopard has changed a few details regarding the racing bits and bobs it adds to its watches. For example, the chronograph pushers now have engraving similar to a brake disk, or perhaps the wheel of an Alfa Romeo if that's your thing. The shape of the pushers remains the same, however, still resembling pistons in an engine. The crown still has a sporty racing steering wheel on it which looks pretty cool.
The screws to the caseback have changed, now they resemble the wheel bolts you'd find, well, on a car's wheel. The difference is though that these have to be female screws, as the male ones (like you'd see on a car) would poke into the wrist of the wearer.
We like the highly legible, highly sexy new watch from Chopard, especially the blue leather strap with orange stitching that matches the orange seconds hand on the dial. These are both going to be limited editions, the price for steel and titanium is $7390 and $11,200 for the two-tone version. For more info, visit Chopard online.